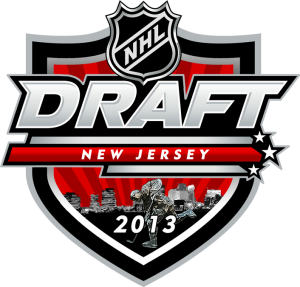 Capitals General Manager George McPhee stepped to the podium this afternoon at the Prudential Center in Newark, NJ, wasting very little time in making his first round selection a reality.
With the 23rd overall pick in the 2013 National Hockey League Entry Draft, the Washington Capitals selected winger Andre Burakovsky.
Listed at 6'1 176, Burakovsky is grooming his game on the International level, playing in Sweden, where he grew up.
Andre was originally born in Austria, where his father Robert, played.
"I will work hard every day to work to get to Washington's team," Burakovsky told reporters today in Newark. "I think about two years I will be ready, but I have to work hard everyday."
Burakovsky, known as an excellent skater with top end speed, played in 43 games in the 2012-13 season for Malmo in the second-tier Swedish league, scoring four goals and adding seven assists.
"Andre is explosive and powerful," TSN Analyst Craig Button said. "His skating is excellent and he has the ability to challenge defenders and put them on their heels."
When the talented youngster is ready to make the jump to the NHL and join the red shirts, he will gladly accept the challenge.
"I really like the club," he said. I really like Backstrom and the other players. I watch Washington a lot and I'm really glad to represent them."
"Thick Bloodlines"
As previously mentioned, Andre's Father, Robert Burakovsky had a lengthy career overseas playing for several European Organizations. He also dressed in 23 games for the Ottawa Senators in the 1993-94 campaign.
Andre's Grandfather Benny Burakovsky was a coach and general manager overseas in the European Leagues.
Lastly, Andre's Uncle Mikael Burakovsky played professionally in Sweden in Denmark.
"My Dad means a lot to me," Burakovsky said. "He helped me a lot in my hockey career so far. We talk every day and he's so big, big reason to why I'm sitting here with this jersey on me today."
A special moment today for the Burakovsky family. Hopefully within two years, Andre will indeed join the Nation's Capitals and provide them with his outstanding offensive skills.
 Follow me on Twitter @DarrenCoslov