Despite not playing an actual game for several months now the Vancouver Canucks ended up being the talk of the 2013 NHL Draft Sunday in New Jersey. It wasn't for who they picked however, it was more for the trade.
The big move was of course moving Cory Schneider to New Jersey for the ninth pick of the draft. That move caused quite a stir in New Jersey and amongst Vancouver fans but at the end of the day the Canucks had a solid day of picking prospects.
Vancouver's prospect cupboard has been left pretty bare over the past few years but they now have been able to stock up. Here is a recap of the 2013 batch of Canucks prospects drafted Sunday.
Round 1, 9th pick overall – Bo Horvat – C – London Knights
With the pick they got from New Jersey the Canucks took Horvat who had a big year in the OHL. Hovart checks in at 6'0″ tall and 205 pounds and potted 33 goals and 61 points for the OHL champion Knights. He is described as a solid two-way player who is physical, can kill penalties, play on the power play and projects to be a possible second line center down the road.
Obviously Horvat will not take over the second line center position right away as Ryan Kesler still has a lock on that. Don't rule out Horvat making the club out of camp as the third line center though – pending what the Canucks do in free agency. Vancouver likes players who are versatile and can play in all areas of the ice, and that is Horvat. There has been some concern about how much of an offensive prospect he projects to be at the NHL level while some scouts feel that he was asked to play more of a defensive role for London and that stunted his numbers.
It will be hard for Vancouver fans to judge Horvat's value compared to what happens with Cory Schneider in New Jersey. After all, he was basically traded for Schneider straight up and with that will come some heightened expectations. While maybe not fair to the young player, Horvat will have to deliver to make the move seem worth it in many people's eyes. The good news is that he has the talent and potential to do just that.
Round 1, 24th overall – Hunter Shinkaruk – LW – Medicine Hat Tigers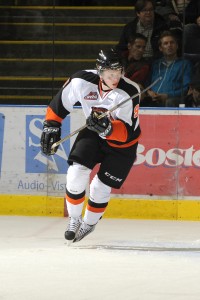 Shinkaruk is a big time scorer and was ranked in the top ten by most scouting services. Scoring 86 goals over the past two years in the WHL Shinkaruk is an exciting sniper who has good speed and a lightning quick shot. In some ways it is a surprise the he fell to the Canucks and they should feel lucky to be able to select him with the 24th pick.
He grew up a Mike Modano fan and plays the game with a great deal of confidence and enthusiasm. Shinkaruk has stated over and over that his goal is to make the NHL in the upcoming season and while that may be a long shot with a playoff team in Vancouver he will be a prospect for the Canucks should give a long look at.
The Canucks had a need to add offense as they have seen their output decline the past couple of years and Shinkaruk definitely fills that need for the club.
Round 3, 85th overall – Cole Cassels – C – Oshawa Generals
Considering the Canucks had to rely on Alex Burrows to play center during the last season, due to injuries and lack of depth, its not surprising that Vancouver picked up two centers with their first three picks. Cassels is not an offensive Juggernaut but is a nice play maker and scouts rate him as a solid two-way player. He has decent speed and not afraid to play with the body.
Cassels is probably three years away from having a realistic shot at making the roster but he will provide the Canucks system with much needed depth down the middle.
Round 4, 115th overall – Jordan Subban – D – Belleville Bulls
The Canucks took P.K.'s younger brother Jordan in the fourth round in what could turn out to be an interesting pick. Subban is not the biggest defenseman and is considered a project but he has a tremendous upside. He has excellent offensive skills, can move the puck, skate and put up 51 points last year. He needs to work on his defensive game but could be an exciting player down the road for the Canucks.
Round 5, 145th overall – Anton Cederholm – D – Rogle BK
The Canucks always seem to find a way to nab a Swedish player in the draft and Cederholm is this year's selection. He is a big defenseman listed at 6'2″ and 200 pounds. He is known as a shut down defender so don't expect Alex Edler type numbers out of him. Scouts seem to feel that he needs to improve on his physical play in order to succeed at the NHL level.
Round 6,  175th overall – Mike Williamson – D – Spruce Grove Saints
Williamson is a big, tall defenseman who played in the AJHL where he was named to the all-rookie team. He is slated to play in college at Penn State next season. The Canucks have had some luck of late snagging NHL caliber blue liners late in the draft and from programs that aren't the brightest star on the map. Could Williamson be the next one?
Round 7, 205th overall – Miles Liberati – D – London Knights
By selecting Liberati the Canucks ended up picking up four defenseman to end the draft. Liberati only appeared in 42 games for the Knights last year with little ice time. This is a project pick but it is believed that Liberati has some puck moving skills – he will be one to keep an eye on.
Andrew writes about the WHL and NHL Draft Prospects. He also covers the Seattle Thunderbirds for 710 ESPN Seattle and spent two years with Sportsnet. Follow him on Twitter @andyeide.