The Chicago Blackhawks have extended Bryan Bickell to a contract loosely identified as a four year deal worth $16 million total according to Mark Lazerus. Earlier in the day the Blackhawks traded Dave Bolland and Michael Frolik for draft picks in order to make room for Bickell.
According to CapGeek, Bickell will earn $3 million in the first year with an added $1 million bonus. In the 2nd year he will earn $4 million, and in the final two years his salary will be increased to $4.5 million each. So in reality, Bickell will earn $17 million over the four years, however his cap hit will actually be $4 million.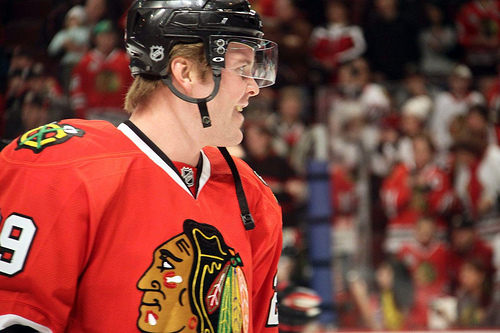 Bickell was essential in the Blackhawks success in 2013 and arguably a candidate for the Conn Smythe after scoring 9 goals (T-2nd in the NHL), 17 points (2nd on the Blackhawks), and plus-11 rating (2nd on the Blackhawks) in 23 playoff games.
In the regular-season, Bickell scored 9 goals, 23 points, and had a plus-12 rating in 48 games. Pro-rated through a full season, those numbers would translate to 15 goals and 39 points. Realistically, his pay day mostly comes from his playoff performance.
During his NHL career, Bickell has notched 40 goals, 50 assists, and plus-19 rating in 220 regular-season games. In the playoffs, he has totaled 13 goals, 11 assists, and a plus-17 rating in 38 career games. In his best season (2010-2011) he scored 17 goals and added 20 assists in 78 games.
Taking a look at the numbers, you can see that this contract is a tad overpriced for the offensive production that Bickell provides. Granted, this is all with third line minutes, with spot duty on the top two lines throughout his career.
Could he have received more money elsewhere? Probably. Is this deal worth the money based on his stats alone? Probably not.
Obviously, the Blackhawks are hoping that Bickell can continue to be a monster in the post season, and maybe even translate that success into the regular season.
If he sticks around his career numbers, this could end up being a bad contract that could handcuff the Blackhawks in the future. But, if he can elevate his play to match his 2013 playoff performance, and continue to develop chemistry on the top line with Jonathan Toews and Patrick Kane, the contract will be a steal. His playoff numbers prorated to an 82 game schedule would amount to 32 goals and 60 points.
I'd like to believe that he will end up somewhere in the middle of that 40-60 point range. For the Hawks sake, they better hope so.