The Washington Capitals took on the NHL's trifecta of California teams over the course of five days and emerged with a winning record (2-1-0). Save for a disappointing, lackluster loss to the Kings, the Capitals played a throwback style of high-scoring, frenzied hockey. Here's a look at the numbers behind each win, in context.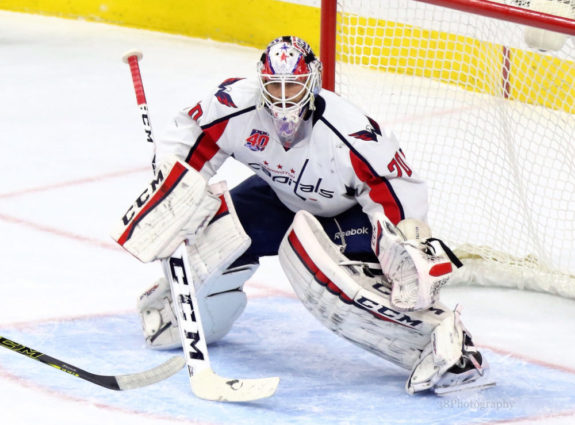 2/11 at San Jose
The Capitals flew to California hoping to shake off a halfhearted loss to the Philadelphia Flyers. Heading into their matchup with the Sharks, the Capitals had outshot (or broke even) their opponents for three straight games. The streak continued, as they posted a strong even-strength Corsi-for of 52.4%. They also won the puck luck battle courtesy of a high shooting percentage of 12.5%. Braden Holtby ended his night with an uncharacteristic .867 save percentage, having allowed four goals on 30 shots.
The end result? A thrilling 5-4 overtime win for the Capitals, with the game-winner scored by Joel Ward.
2/14 at Los Angeles
With a few days of rest separating their first and second California contests, the Capitals returned to L.A. after thumping the Kings earlier in February. Despite sitting out of the playoff picture, the Kings looked like defending Stanley Cup champs. They demolished the Capitals in possession, shut down their offense, and dominated in the offensive zone. The Capitals' defense was weak, allowing an unusually high number of shots (30), and Holtby made 27 saves for a .900 save percentage. Final score: 3-1 in the Kings' favor.
2/15 at Anaheim
Coming off a disappointing loss to the Kings, the Capitals repeatedly battled back to tie the game and eventually secure a lasting lead over the Ducks. Alex Ovechkin continued to slay at both ends of the ice. Andre Burakovsky returned not only to the lineup, but the first line, and made his presence known by tallying two goals. The Capitals continued to allow numerous shots (33), but backup Justin Peters finally got a win despite allowing three goals (.909 SV%.) Their power play went 1-for-5, but a robust penalty kill was a perfect 4-for-4.
Takeaways
California road trips are challenging for any team. The Capitals fared (mostly) well against a tough trio of opponents, but a closer look at their possession numbers validates that they need to outshoot tougher competition more. Their even-strength CF% is 51.2%, good for 13th in the NHL, and worlds away from the shoddy numbers brought on by Adam Oates. Getting outpossessed for two games is hardly a cause for panic, especially when taking on two difficult opponents.
All stats courtesy of War on Ice, Puckalytics, and Hockeystats.ca.