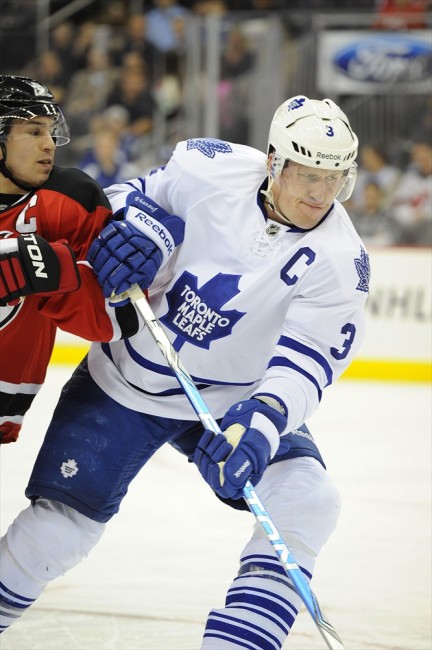 Having won two of the last three Stanley Cups, the Los Angeles Kings know how high the climb to the top of the mountain really is. Just two weeks away from the trade deadline, they also see how far the plummet back to Earth can actually be.
The unfortunate Slava Voynov situation, a tight salary cap and the recent demotion of Mike Richards have certainly thrown wrenches into their efforts to repeat. In fact, just a handful of games ago, sportsclubstats.com pegged their chances of making the playoffs at a lowly 26.3%.
What a difference nine days can make. After wins over Tampa Bay, Columbus, Calgary and Washington, the Kings' record now stands at 25-18-12, good for 62 points. As of this writing, the Kings are 10th in the crowded Western conference standings, but just three points out of a playoff slot. Their odds of securing a playoff spot have more than doubled, jumping to 53.6%.
If Los Angeles hopes to play a role in the defense of its Cup, it appears a trade or two may be in the offing. Given their problems on defense, it's likely general manager Dean Lombardi will be focusing his energies in that direction.
The Kings need help on defense
Although there have been several disappearing acts with respect to the offense this season, it isn't that side of the ice that makes or breaks the Kings' chances. After all, the Kings have scored an average of 2.74 goals per game, about one goal every three games more than they did last year. It's the defense that remains key to their fortunes, as the loss of Voynov (indefinitely suspended) and stay-at-home defenseman Willie Mitchell (exited to the Florida Panthers this past offseason) have significantly hampered their efforts. After finishing with the lowest goals-against numbers in the NHL in 2013-14, Los Angeles has fallen to 11th this season. Decent, but not nearly good enough to hold sway in the playoffs.
The tough situation is putting a strain on the remaining defensemen. Minutes-eater Drew Doughty is averaging a career-high 29:24 of ice time per game.
Rumors are rampant that Lombardi is wheeling his shopping cart around the league, kicking tires and working the phones. It's fair to say that shoring up the defense has to be at the top of his wish list, but the situation is dicey. Los Angeles has to reserve cap space for the possible (albeit unlikely) return of Slava Voynov; furthermore, the Kings are already stuffed full of long-term contracts, several of which are all but untradable.
What defensemen are on the club's radar screen? Only team insiders know for certain, but the following players have been linked to Los Angeles in recent weeks:
Dion Phaneuf
A favorite whipping boy of Toronto Maple Leafs fans, Phaneuf and his bloated contract are likely to find greener pastures within the next few weeks.
On a recent episode of Hockey Night in Canada, (Elliotte) Friedman suggested a Phaneuf for Mike Richards swap would make sense for all parties involved. Know what? Friedge ain't wrong. Both men are on long-term deals with high cap hits attached, and it feels as though the 2004 world junior teammates could both use a change in scenery. The Leafs are always in need of a quality two-way centre who can go up against an opposing team's top line, and with the future of Slava Voynov in question, the Kings could be in need of another talented defensive blueliner able to chew up minutes to alleviate pressure off Drew Doughty.
The salaries don't exactly match, as Phaneuf's cap hit is $7.0 million and Mike Richards' is $5.75 million. Phaneuf's deal also has two years longer to run. However, Los Angeles could use the big-bodied defenseman and Toronto might be able to resurrect the career of the cagey Richards, a player who has won everywhere he's been. The odds aren't high for a swap of bad contracts, but given that the teams are still talking, don't rule it out just yet.
Andrej Sekera
NHL rumors: Kings, Stars among teams interested in Hurricanes D Andrej Sekera http://t.co/bxSiIKc5Ho pic.twitter.com/Ts5hN9G9VN

— CBS Sports NHL (@CBSSportsNHL) February 15, 2015
The Carolina Hurricanes are out of playoff contention. Way out. Thus, it is little surprise that the team has placed the pending unrestricted free agent on the block. Per cardiaccane.com, Los Angeles is interested in the 6'0″, 200′ puck-mover to augment the defense:
As of now, it appears that the Los Angeles Kings are the more likely team, in fact, Carolina Hurricanes head coach Bill Peters and general manager Ron Francis will be in attendance for tonight's OHL games between the Kingston Frontenacs and Ottawa 67's, a game that will feature 3 LA prospects including 2014 2nd rounder Roland McKeown.
Sekera carries a much lower cap hit than Phaneuf, giving L.A. more options with respect to both salary as well as assets going the other direction.
Mark Methot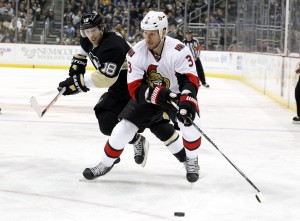 The Kings have been linked to the pending UFA-to-be in recent weeks. The large-framed blueliner, who stands 6'3″ and 230 pounds, could provide the defense-first mentality L.A. desperately needs. Like Sekera, he doesn't carry the massive salary Phaneuf does.
According to Bob McKenzie, who spoke during tonight's 'Insider Trading' segment on TSN, the Los Angeles Kings are looking at Senators defenceman Marc Methot as a prospective trade option given the team's situation with Slava Voynov.
Methot's cap hit is a manageable $3.0 million, so once again, he would be much simpler for Lombardi to acquire to shore up the defense.
What do you think? Will the Kings make a trade to help out their defense, and if so, who do you see them zeroing in on? Leave your thoughts below, or send a tweet to @McLaughlinWalt.