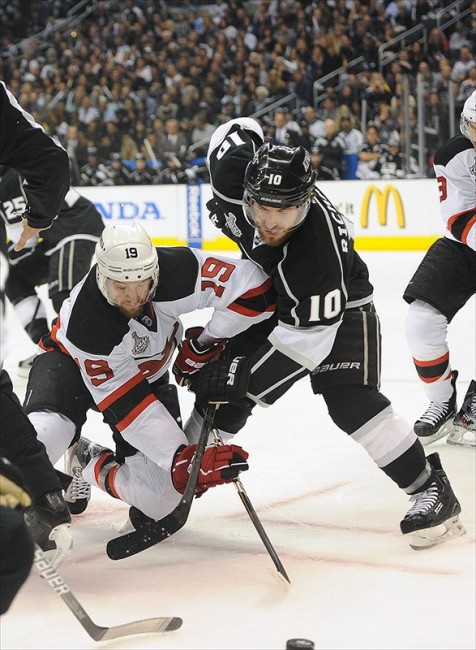 stun·ning (stŭn′ĭng)
adj.
1. Causing or capable of causing emotional shock or loss of consciousness.

For Kings fans, the news about Mike Richards being placed on waivers was a puck width's away from fitting the above
Free Dictionary
definition, and only that much because it didn't cause actual loss of consciousness. After all, Los Angeles General Manager Dean Lombardi made perhaps his boldest trade
by acquiring Richards
back in June, 2011 for Brayden Schenn, Wayne Simmonds and a second round pick.
Considered a heart-and-soul player, Richards was a major upgrade for an up-and-coming Kings team that had finished the previous season with 98 points before losing in the opening round of the playoffs.
After having averaged 28 goals and 71 points over the previous four years, the 26-year old Richards appeared poised to earn every penny of his 12-year contract signed back in 2007.
Richards is highly decorated
Today's news is even more shocking considering the fact that Richards is a proven winner.
– Memorial Cup championship (2003, Kitchener Rangers)
– Memorial Cup All-Star team (2003)
– OHL Second All-Star team (2005)
– Calder Cup (2005, Philadelphia Phantoms)
– World Junior gold medal (2005, Canada)
– NHL All-Star game (2008)
– Gene Hart Memorial Award (2008, Philadelphia Flyers)
– Bobby Clarke Trophy (2007-08, Philadelphia Flyers)
– Bobby Clarke Trophy (2008-09, Philadelphia Flyers)
– Prince of Wales Trophy (2010, Philadelphia Flyers)
– Clarence S. Campbell Bowl (2012, Los Angeles Kings)
– Stanley Cup (2012, Los Angeles Kings)
– Clarence S. Campbell Bowl (2014, Los Angeles Kings)
– Stanley Cup (2014, Los Angeles Kings)
Clearly, there is plenty of hardware on his mantle. Most importantly, with 15 points in 20 playoff games, Richards was instrumental in helping bring the Stanley Cup to Los Angeles in 2012.
With that said, the question everyone is wrestling with is straightforward enough: is there any gas left in his tank?
The likely next stop: Manchester
Although a number of outcomes are possible, the most likely scenario is that Richards will remain unclaimed by noon Eastern Standard Time on Tuesday. If that ends up transpiring, he will be assigned to Manchester, the AHL affiliate of the Kings.
The move may be a calculated gamble to shake things up. The struggling Richards (15 points in 47 games this season, after just 41 points in 82 games last year) was considered a compliance buyout candidate until the Kings decided against doing so last summer. Assuming he clears waivers, sending him to Manchester might light the fire the Kings hoped for when he reported to training camp after having narrowly avoided being bought out.
Furthermore, the team has struggled (20-15-12) so far this season and with the cap situation extremely tight, the move not only frees up some room ($925,000), but is one of the few arrows left in the quiver to generate a spark — not only for the team, but Richards as well.
It's up to Mike," Lombardi said. "There's no doubt in my mind. I believe that if he wants to, that he can get back to that. But it's going to be up to him."
The Twittersphere reacts
As always, there has been no shortage of opinions on Twitter about the subject. A typical reaction:
Things haven't been amazing for Mike Richards to say the least, but still shocked he's been put on waivers. LA needs to shake it up.

— Julie Stewart-Binks (@JSB_TV) January 26, 2015
There's more, of course. Much more:
The Kings not using a compliance buyout on Mike Richards remains the weirdest move/non-move of the offseason.

— Adam Gretz (@AGretz) January 26, 2015
Somewhere, Flyers president Paul Holmgren is smiling. #MikeRichards

— Sam Carchidi (@BroadStBull) January 26, 2015
Eventful couple of days for Mike Richards. Engaged one day, put on waivers the next. Yikes.

— Hannah Stuart (@HockeywthHannah) January 26, 2015
Others practically begged their favorite teams to claim him:
How have the @MapleLeafs NOT made a waiver claim for Mike #Richards !? You want a real centerman? There he is. #Leafs @CoachsCornerCBC

— Zach Davidson (@zjdavids) January 27, 2015
https://twitter.com/JeFfRoW19/status/559971906611187712
https://twitter.com/stevennhuynhh3/status/559963360947482625
League reactions
Early reactions of NHL veterans, as expected, were supportive of Richards.
"From a personal standpoint, from a coaching standpoint, Mike's been a really good player for us," said Kings head coach Darryl Sutter. "He's had a tough year, this year. It's natural for people on the outside to want to have all the answers, but you know what? Mike's still got lots of game left, and he's been frustrated with it this year, too."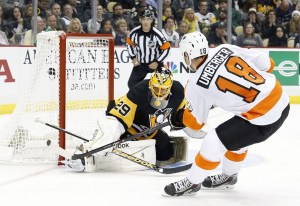 Current Flyers winger
R.J. Umberger agreed
. "I never dreamed that would be happening to him. Maybe if he was on a different team he'd be in a different situation. Who knows? Obviously I haven't followed him real close over the last few years with him being in LA … but I know he can still play the game."
"It's surprising for sure," said Flyers coach Craig Berube. "Good player. I'm not there, so I don't know what's going on, but you're always surprised when you see something like that."
What's next?
Other than a probable stint in Manchester, nobody knows for sure how the Richards situation will resolve itself. With a compliance buyout no longer an option and a $5.75 million cap hit that runs through the 2019-20 season, the franchise's best hope is for him to find his game and return in time for the playoffs — assuming, of course, the Kings qualify.
Another option is a trade, although a rumored Richards-for-Phaneuf exchange appears to be a dead:
"@socalfan61392: How likely is this phaneuf-richards rumor to be true?" (See previous tweets) Not. Happening.

— John Hoven | The Mayor (@mayorNHL) January 24, 2015
Kings fans will always have fond memories of Mike Richards. No matter what happens, he was instrumental in helping bring two Cups to Hollywood. For everyone's sake, here's hoping he's able to place a little more hardware on his mantle before it's all said and done.
Walter McLaughlin is a Los Angeles Kings correspondent for The Hockey Writers. He is an avid sports fan, having followed the Kings since living in L.A. in the mid-1970's, as well as suffering through Seattle sports teams' general futility. He has a Bachelor's degree in Finance and has worked in community banking for over 25 years, specializing in SBA loans. He is married and has two daughters.