It's no secret that the Blackhawks aren't playing at the elite level that many expected them too this season. They currently sit in third place in the NHL's Central Division, 10 points behind the league-leading Nashville Predators and six behind the St. Louis Blues. And while they've played well against the likes of Nashville, St. Louis, and other playoff-bound teams this season, they're struggling through a very important part of the season right now.
One of the major factors in this struggle has been the inconsistent play of their blue-line. In last Sunday's (February 8) contest against the Blues, Johnny Oduya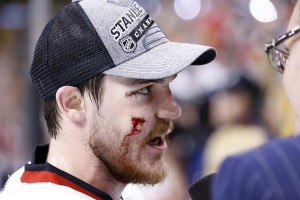 had arguably his best game of the season. He was sound defensively, rarely caught out of position (although a bad pinch from him did lead to a Vladimir Tarasenko breakaway goal), and was smart with the puck from the most part.
Just 3 nights later, against the Vancouver Canucks, Oduya served up a beautiful breakout pass up the middle of the ice, right to…. Chris Higgins of Vancouver. Five seconds later, Oduya was made to look silly on a 3-on-1, and the Cancuks scored.
This is just one example of bad defensive play costing the Blackhawks this season. There have been plenty of cases where Michal Rozsival, David Rundblad, or Tim Erixon have been culprits of being out of position or committing a costly turnover. We don't have to hash over all of it.
Suffice it to say that the Blackhawks need help on the back-end. In an ideal world, they would acquire a guy like Arizona's Keith Yandle, who is solid in his own zone, as well as an elite puck mover from the backend, a penalty kill's worst nightmare. The problem is, while Yandle may be available, the Blackhawks just don't have the cap space for is $5.25 million cap hit, at least not without moving a player of significance. Of course, the 'Hawks did have the Yandle prototype in Nick Leddy prior to this season, but I digress.
The main issue that the Blackhawks face on the trade market is cap room. They're extremely limited, with just over $1-million in cap space. Most any defenseman they could trade for that would really help would carry a cap hit somewhere in the $3-million range. That means any trade the 'Hawks could make may require the movement of local favorite Andrew Shaw.
While he may be one of the more popular players on the Blackhawks, it's becoming harder and harder to justify Andrew Shaw's role on the team, especially his usage. He's been used at center for the majority of this season, but has often looked outmatched on the dot and under water defensively. It's undeniable that he's one of Coach Q's favorite toys, but whether or not that favoritism is deserved is definitely up for debate. His play has been extremely lack-luster and disappointing this season, leading some members of the Blackhawks online community to question what it is he does for this team at all.
It's not as though Joel Quennveille has been blind to Shaw's low level of play. He was benched for the majority of the third period in a game against the Dallas Stars on January 18 for poor play. Shaw responded well, scoring 2 goals in the following game, a 6-1 pounding of Arizona. But since then, Shaw has just 1 goal in 10 games.
Many of Shaw's key stat areas this season have been below expected, and several are at career lows. The chart below, courtesy of stats.hockeyanalysis.com, illustrates this: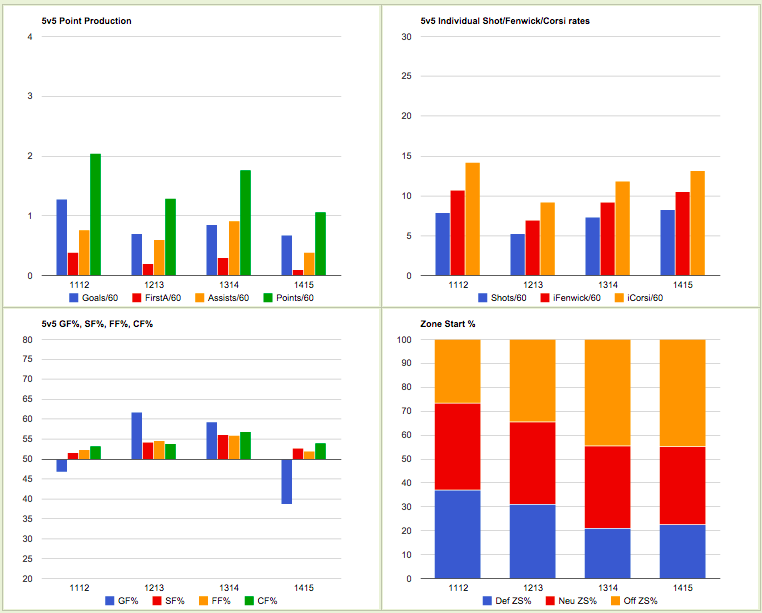 While Shaw's Goals/60 might not be much worse than they have been in the past his Assists/60 and Points/60 are easily the lowest of his career. On top of that, his possession starts are about as low as they've been, in spite of the fact that he's starting more shifts than ever in the offensive zone. Not exactly encouraging.
Shaw has shown promise in the past, and was a key figure in the winning of the 2013 Stanley Cup. But this season has brought with it a lot of inconsistency for the young, scrappy, 23-year old, and it might be time for the 'Hawks to move on. They recently called up Ryan Hartman, who has often been billed as Shaw-2.0, but with more skill. More skill is better than less skill, if you ask me.
Hartman is also still on his rookie deal, and is cost controlled for the next 2 years, with a cap hit of just under $895k. That's over a million dollars less than Shaw's $2-million hit, and that extra $1-million+ could make a huge difference when GM Stan Bowman is trying to fill out his roster next summer.
Shaw is also still 23-years old, and could be a solid third line player on a rebuilding team such as Toronto, and could maybe even play in a top-6 role if necessary (although, that experiment didn't go so well in Chicago). The Leafs reportedly are looking to receive a prospect and a first-round pick for Franson, so if the 'Hawks were willing to trade Shaw, they might be able to keep their first rounder and use a later pick to acquire Franson.
Shaw is a bit of a favorite in Chicago, thanks in part to his tendencies to make big hits and play the physical game in addition to scoring goals. Fans love that stuff. But the production isn't there this year, and the physical play isn't helping. It might be time for the Blackhawks to cut ties with the former fifth round pick in an effort to address one of the roster's biggest issues.