The DC fan base exploded with joy this past week over the Grabovski signing.  While this is an improvement in the current roster, Grabovski does nothing more that put the Capitals back to early playoff exit status.  More on this later.
The events leading up to it were humorous with a Belarus news agency first reporting the signing and no one really believing it.  Washington people are a little gun-shy knowing how General Manager George McPhee (GMGM in shorthand) can play media politics with the best of the pols at nearby Capitol Hill.  Who is less trustworthy:  A news agency from a country still rife with post-Soviet corruption or a General Manager who stated Brooks Laich was absolutely his second line center this year?  Belarus takes this round, but the fans got Grabovski.
Time to separate the facts from the hyperbole.
Disasterous Offseason
First, the Capitals cannot re-sign Mike Ribeiro at a decent price and he heads off to Phoenix.  Some seem to believe that the Caps gave Ribeiro the big money opportunity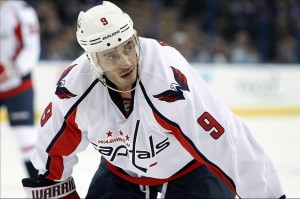 when he played one, lockout-shortened season scoring 49 points.  Those believers must have missed his previous six seasons in Dallas where he was a point-per-game player and hovering around 20 goals a season.
The Capitals also waived Jeff Schultz and lost Matt Hendricks in the offseason.  While these guys were not big point producers, the Capitals' problem was never about scoring goals. Forward Matt Watkins was signed to a two-way contract with Hershey and must be hoping Tom Wilson and other Bears were going to be ready to step up.  It is a stretch if Schultz and Hendricks roles will be adequately replaced.
Washington did re-sign defensemen Karl Alzner and Tomas Kundratek, which made the offseason not a complete coup for free agents.  But again, the problem in Washington is defense and nothing was done to shake up the old guard.
The Rumors
Another reason for the skepticism on the Grabovski signing was because of the other signing rumors in the offseason.  There was a lot of talk about the Capitals re-signing Ribeiro.  Then, the Caps were in the running for Vincent Lecavalier.  Then, the Caps were in the running for Daniel Alfredsson.  Maybe there was even a Jaromir Jagr whisper or two.  Gordie Howe playing for his sixth decade?
The Capitals just have a hard time with the salary cap and likely for other reasons (which could be discussed at length) attracting big time free agents.  Not just big time free agents, but people who will legitimately get the team over the hump.  Arguably, Ribeiro was supposed to be that guy.
Grabovski, Grabovski, Grabovski
Almost immediately the big DC blogs and Caps writers began discussing the Grabovski signing–not that he was a replacement for Ribeiro, but that he is a better player.  That he will produce more and at better times (regular strength).  That his Corsi for and Corsi against and other advanced stats show that he will make his teammates better, while Ribeiro generally made his teammates worse.  Oh, and puck possession—Grabovski really can possess that puck.  On the fringe, we have the fans that somehow believe Coach Adam Oates will "bring out the best" in Grabovski; or, that Coach Oates understands him.
Here is what we know about Grabovski in facts.  On a really bad Toronto team, he got to 50 points twice and 48 points once.  Different from Ribeiro, his points come in goals.  So with less points and less assists, I do not really get the argument that Grabovski makes his teammates better than Ribeiro, because historically Ribeiro has assisted others in scoring a lot more.
Grabovski helped get his team to the playoffs once, in last year's lockout shortened season, when he had his playing time reduced.  Could it be argued Toronto was better when Grabovski was playing less?  In the last playoff year, Grabovski put up two assists in their seven game series.
Professionalism?  Yikes.  This guy quit on his team it appears because of conflict with the coach who he called an "f**king idiot" after his contract was bought out.  You can read about his off-ice issues here (and the on-ice one's too, also here).  The truth is, while the Caps are getting a lot of credit for being patient for Grabovski, they picked up a guy way down the list from who they were really going after and someone no one else really wanted.  Now Alex Ovechkin (not known as a great locker room presence) has a potential problem child to deal with.
At times Grabovski has score more goals than Riberio, but he has little, unproductive playoff experience and he is now on a team that needs a lot of playoff help.
What About Brooks?
Brooks Laich is known as a team player and a leader.  We also have no idea what the team was saying to Laich.  Were they telling fans that Laich would be 2C or were they feeding that line to Laich too?
What the Caps potentially have is the fourth highest paid player on their team under a long-term contract that might be a bit tired of getting screwed around.  Two years in a row, Laich is getting demoted for two one-year contract guys that are basically patching holes in the roster.  How will this affect his play and development with the Caps?  It is something to be considered.
Caps Make Playoffs, Exit Early as Usual
At the end of the day, even with the Grabovski signing, the Caps offseason has been a net loss.  Grabovski does upgrade their roster, but there is no reason to believe that another skater with minimal playoff experience or professional winning record is going to get this team over the hump.  Throw in a potentially healthy and upgraded Red Wings in the East, and some professionalism issues with Grabovski, this could be a disaster season for the Caps.
The Caps are not that close to being a championship caliber club and they needed more help than just Grabovski.  Defense is their main issue.  They need more than that one piece to get them to the next level.  Even if Grabovski plays better than he has historically, this team has still not improved from last season.
For those who are pointing at advanced stats, Coach Oates' great quotes, Grabovski's opportunity to get a multi-year big money deal next year or anything else as the reason the Caps are now contenders are grasping at straws.  The simple facts are that the Caps needed more than Grabovski and Grabovski is not the player you think he will be.