With the fantasy hockey season fast approaching, managers might be preparing their draft day strategies and going through some guides in order to get the best possible result at their respective draft tables. While some managers will certainly be rallying to take established forwards, defensemen, and goalies, there will undoubtedly be a number of young players available during the mid-to-late stages of one's draft.
Not only will some young players be looking to make their mark in the NHL this season, they will be looking to secure top minutes with their team in order to become staples in professional hockey lineups. A number of rookies will obviously be vying for NHL ice-time aside from a customary nine game cup of coffee with their parent club, but a good amount of second and third year players will be looking to add to their resumes and continue impressing their employer.
Repeat Offenders
Dougie Hamilton (Boston Bruins – D)
Dougie Hamilton certainly impressed fans during the lockout-shortened 2012-2013 NHL seasons as the defenseman recorded 16 points (5 Goals, 11 Assists) in 42 games played for the Bruins. What was even more impressive about Hamilton was the fact that a fourth of his points (2 Goals, 2 Assists) came on Boston's man-advantage – an indication that the second year defenseman should be ready to handle more time on the powerplay for the 2013-2014 NHL season.
While hockey fans do not have an estimate of what type of play Hamilton can provide over the course of a full NHL season, there is no reason to believe that the defender won't be able to shoulder an 82-game workload. With Hamilton in the Boston lineup, the Bruins are bound to pile on some wins, so it might be worth it to check out the WillHill Sportsbook Android App and make yourself some coin. After averaging slightly over 17 minutes of ice-time for the Bruins in '12-'13, Hamilton will likely see his ice-time rise for the upcoming hockey season, something that fantasy managers can expect the d-man to handle in stride.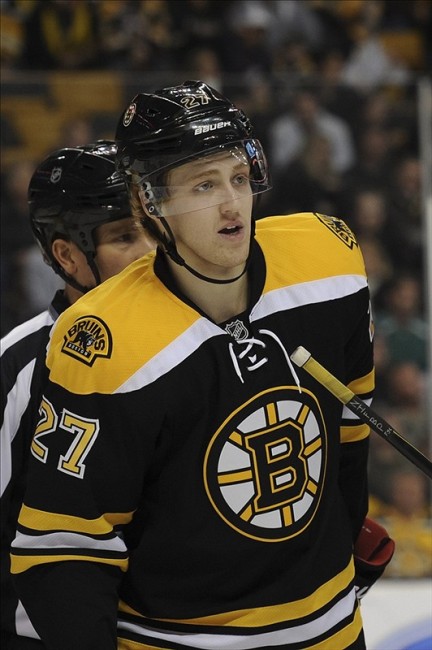 Gustav Nyquist (Detroit Red Wings – C)
It might have taken a bit longer than some hockey fans might have expected, but Gustav Nyquist and the Red Wings agreed to a two-year contract several days ago. Nyquist has definitely been coveted and praised by the Red Wings, and fantasy managers would be wise to consider selecting Nyquist on draft day as he is poised to take on a bigger role with Detroit.
Despite the fact that Nyquist has only recorded 13 points (4 Goals, 9 Assists) for the Red Wings in 40 games played over parts of the last two seasons, the forward's ice-time is due to see an increase. With uncertainty surrounding the return of Daniel Cleary and Damien Brunner to the Red Wings' roster, fantasy managers should definitely add Nyquist to their queue as he is set to have a promising campaign with Detroit in 2013-2014.
Jonas Brodin (Minnesota Wild – D)
Jonas Brodin was quickly entrusted with key minutes for the Minnesota Wild in 2012-2013. The native of Karistad, Sweden logged over 23 minutes of ice-time on a nightly basis for the Wild in 45 games played and even managed to register 11 points (2 Goals, 9 Assists) in his first season in the NHL.
All signs currently point to Brodin getting a hefty workload for the '13-'14 season as the young defender is the next best option on the Minnesota blueline after Ryan Suter. Fantasy managers looking to draft Brodin should expect the defenseman to continue his responsible two-way play for the upcoming season and shouldn't be at all surprised to see the d-man increase his point totals as he solidifies his role in the Wild's top defensive unit.
Alex Galchenyuk (Montreal Canadiens – C)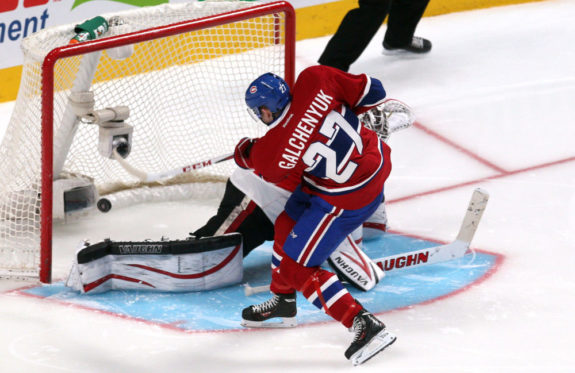 Galchenyuk might have had a streaky start to his NHL career as a member of the '12-'13 Montreal Canadiens, but there is no reason to believe that the centerman won't be a key piece of the team going forward. Galchenyuk definitely had some very hot (April) and cold (February) times with the Canadiens, but the forward certainly didn't disappoint Canadiens' management as he amassed 27 points (9 Goals, 18 Assists) in 48 games played during the lockout-shortened season.
Not only is Galchenyuk one of Montreal's top developing talents, the forward will be primed for more ice-time in 2013-2014 as he only averaged a little over 12 minutes of play in '12-'13. Fantasy managers should absolutely monitor Galchenyuk's status on draft day as the forward could be a steal in any league that is sleeping on or doubting what the player is capable of doing in his second year with the Canadiens.
Brandon Saad (Chicago Blackhawks – LW)
It might have taken a little while for Brandon Saad to find his rhythm in the NHL, but the forward definitely clicked during the last two months of the '12-'13 regular season. Much like Alex Galchenyuk, Brandon Saad also recorded 27 points (10 Goals, 17 Assists) with his team during the 2012-2013 NHL season.
As a member of the Blackhawks, Saad averaged nearly 16:30 of ice-time per night – something that already indicates that Joel Quenneville was comfortable giving the left winger a huge chunk of responsibility. With added responsibility, potential time alongside Jonathan Toews, and a full season's worth of work waiting for Saad, fantasy managers should not hesitate to draft Saad if he is available during the mid-to-late rounds.
First Time Offenders
Sven Baertschi (Calgary Flames – LW)
Sven Baertschi might have played in 25 NHL games over the last two hockey seasons, but the left winger is still considered a rookie. With the Flames embarking on a rebuild, Baertschi will undoubtedly be given a huge chunk of ice-time in Calgary's top six forward rotation to prove himself.
Fantasy managers don't have much of an indication of what type of production Baertschi can contribute over the course of a full NHL season, but the forward has shown an ability to generate offense as he has recorded 13 points (6 Goals, 7 Assists) during his two stints with the Flames. Baertschi's current sample size might be too small to judge over the long haul, but there will certainly be more than enough opportunity for the forward in '13-'14 to cement himself in the Flames' lineup for years to come.
Ryan Strome (New York Islanders – C)
Ryan Strome might be battling with Brock Nelson and Anders Lee for a roster spot on the Islanders, but there is no reason to believe that the forward doesn't have a shot at cracking New York's roster for this upcoming hockey season. For the last two summers, Strome has been working out with John Tavares, and it is plain to see that the forward is working very hard toward earning his spot on the Isles' roster.
As a member of the Bridgeport Sound Tigers, Strome registered seven points (2 Goals, 5 Assists) in ten games played at the AHL level. While Strome's sample size of work in the OHL and AHL cannot give fantasy managers an accurate idea of how the forward's point totals might translate at the NHL level, there is no doubting the fact that the centerman is one of New York's brightest prospects – one that could definitely earn himself more than just a nine-game stint with New York in '13-'14.
Filip Forsberg (Nashville Predators – LW)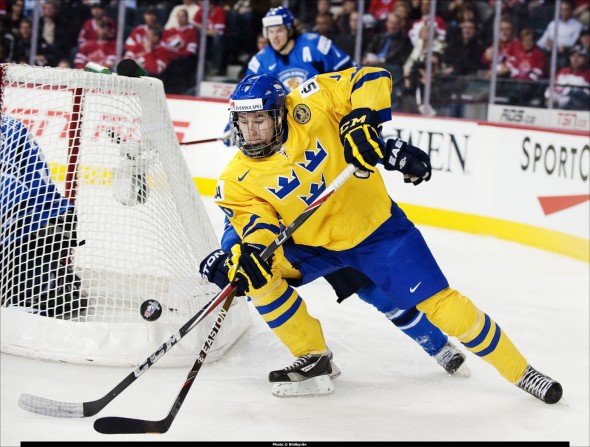 David Poile has made some shrewd and savvy moves during his tenure as the Predators' GM, and acquiring Filip Forsberg was definitely one of them. Forsberg might not have had the strongest of tryouts when he played in five games with Nashville and registered one point, 14 shots on goal, and a -5 rating, but there is more than enough upside to the young Swede that can be appealing to fantasy managers.
Along with Seth Jones, Forsberg will be one of 22 rookies at Nashville's rookie camp in early September. While some fantasy managers might be apprehensive when it comes to drafting or adding Forsberg to their fantasy lineups, there is no reason to believe that a five game audition with the Preds during the '12-'13 season didn't help prepare the forward for the rigors of NHL life.
Nathan MacKinnon (Colorado Avalanche – C)
Nathan MacKinnon has already chosen the jersey number that he will wear as a member of the Colorado Avalanche, so the only thing left for the centerman to do is to dazzle NHL crowds in much the same way that he did in the QMJHL. After recording 75 points (32 Goals, 43 Assists) in 44 games for the Halifax Mooseheads en route to a Memorial Cup Championship, MacKinnon was selected first overall by the Avalanche and will go into the '13-'14 NHL season with plenty of hype surrounding him.
Of course, there will likely be an adjustment period when MacKinnon breaks into the NHL, but there is very little reason to believe that the young forward will have to struggle mightily until he finds his niche in Colorado. Fantasy managers should absolutely target MacKinnon, especially if he is available during the later rounds, as the centerman could provide the Avalanche with depth at the center position and another dangerous offensive weapon for opponents and defenseman to keep their eye on.