The AHL published this season's schedule last Thursday, and it took me no time at all to find the away games that Texas Stars fans likely won't watch on AHLLive or, in the cases of the final two, won't even know about until later that night or the next day:
5 January 2014 @ Charlotte
18 January 2014 @ Charlotte
2 February 2014 @ Oklahoma City
25 February 2014 @ Lake Erie
4 March 2014 @ Abbotsford
What makes these games so special? They're matinee games. Start-time no later than 1:30 local.
In the AHL, matinee games are typically on weekdays and designed as a field trip for local schools. In places like Lake Erie, the puck drops at 10:45 AM.
This is the first time I've seen matinees scheduled in Charlotte or Oklahoma City, and in fact those are weekend games. The other two are during the week.
Texas Matinee History
Texas has a 4-4 record in eight matinee games:
23 Jan 2010 @ Lake Erie Monsters
In the first matinee game in Texas history, almost 6,600 Lake Erie fans watch as Perttu Lindgren scores a pair of power play goals and Stars replacement goaltender Todd Ford earns a shutout in a 3-0 Texas win. It was Ford's second straight shut-out of what amounted to 163 minutes straight without allowing a goal.
12 Jan 2011 @ Chicago Wolves
11,600 fans jammed into Allstate Arena to see their Wolves score less than one minute into the game and control it for two periods, only to give up four unanswered goals to Texas and lose 4-2. Stars forward Fabian Brunnstrom came within a penalty shot of a hat trick.
16 Feb 2011 @ Lake Erie Monsters
Matthew Ford's three points and former Dallas draft pick Jason Bacashihua's 29 saves lead Lake Erie to a 4-2 win.
7 Mar 2011 vs Syracuse Crunch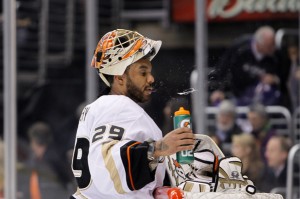 Widely regarded as one of the worst games in Texas Stars history, the franchise's only experiment with a matinee ends badly as Syracuse beats the sleeping home team 3-1. Matt Kennedy beat Tyler Beskorowany on a penalty shot in the first, and Crunch goalie Ray Emery stopped 27 shots for the win. Emery, on rehab assignment from the Anaheim Ducks, is the only opposition goalie I have ever seen hand his stick over the glass to a Texas fan at game's end. It was a very classy move.
Officially there were 3,600 in attendance. Unofficially, it looked closer to 360.
A man sitting near me had brought several of his employees to the game. Early on, he was struck in the head with a puck and had to leave. Furthermore, Texas had scheduled an autograph session in the upper concourse after the game. Not only did it feel like a stifling 90 degrees up there, but the players hadn't had a chance to eat, and some of them had just learned they had been left off the Clear Day Roster.
It was just one of those games.
16 Jan 2012 @ Rockford Icehogs
Rockford goalie Carter Hutton pitches a 2-0 shutout in front of 4,700 fans. Andrew Raycroft stops 32 shots in a losing effort for Texas.
15 Feb 2012 @ Lake Erie Monsters
Patrick Rissmiller breaks a 3-3 tie under a minute into the third period to win this matinee in front of nearly 9,000 at Quicken Loans Arena. Ryan Garbutt earns a ten minute misconduct for abuse of officials.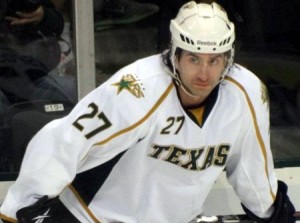 4 Mar 2012 @ Abbotsford Heat
Stars enforcer Luke Gazdic scores a pair of goals in a 4-1 win over Abbotsford. Predictably, just 2,400 attend the game. Both of Gazdic's goals are assisted by former Major Juniors stand-out Angelo Esposito.
21 Jan 2013 @ Rockford Icehogs
The NHL labor dispute finally over, Texas stuns 3,840 at the BMO Harris Bank Center in Rockford by coming from a 3-0 deficit in the second period to win the game 6-3. Texas gets goals from six different players.
Matinee Idle
Players I've talked to seem ambivalent about matinee games: they're no good because they throw you out of your rhythm but they're good in that you have the rest of the day free. I think most longtime Texas fans are just as ambivalent— provided Texas never hosts one again.