If you ask a Sabres or Jets fan, the Caps are in a good place. But with two weeks of hockey left there's still enough time for a major Eastern Conference shakeup. The Caps have a tenuous hold on 8th place with 80 points and nine games remaining. They're likely going to have to win at least six of those to guarantee a playoff date.
What needs to happen?
In the final nine games left in the season the Caps need to reach that magic 91 point mark that is believed to guarantee a playoff berth this season. As it stands the Caps are on pace to reach 90 points. Even if they can clinch those six wins, anything can happen. What's fortunate for the club is they are still in control of their own destiny, playing three games against teams in the running.
The three most important games of the season:
March 23rd vs. Jets
March 27th vs. Sabres
These are the must-win games for the Caps, who need to rob their competitors of two points each night to avoid feverously watching the out-of-town scoreboard to determine their playoff fate. And to the chagrin of the other teams, all will be played at the Verizon Center. In fact five of the final stretch games are at home in a building that has been kind to the Caps this season. The Jets, who have been notoriously dominant at home, only have three home games of their remaining nine. The Caps have gone 23-10-3 at home this season making them the best fourth-best at home in the conference.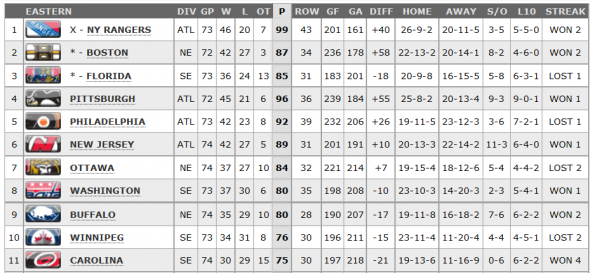 Who to cheer for:
For the next two weeks Caps fans will have to let go their hatred for teams who've already clinched (or come close) like the Rangers, Flyers, Boston and yes, the Penguins, as well as rooting for those who have already booked tee times like the Lightning, Maple Leafs, Islanders and Canadiens.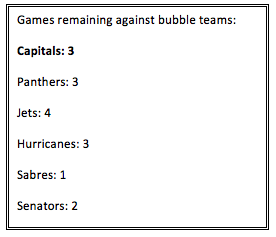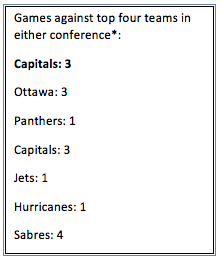 The table is set for the Capitals to make it into the post-season, but there are no certainties for a team that's struggled to find consistency all season. It's the Caps' playoff berth to lose, but at least they're making it exciting.