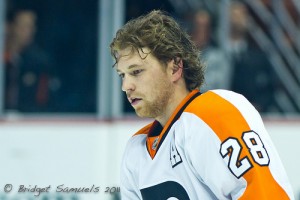 The Flyers have had great production up and down the lineup so far this season. The team has overcome injuries to key players such as Chris Pronger, James van Riemsdyk, Claude Giroux and Jaromir Jagr but are still within striking distance of taking first place in the Eastern Conference sitting only seven points behind the Rangers with nine games to go. In my opinion there are five guys who should be in contention to be called the team's MVP and here they are.
Claude Giroux
Do I really need to explain this one? In 69 games this season, Giroux has contributed 26 goals and 58 assists for a grand total of 84 points which has thrown his name into talks to win the Hart Trophy at the end of this season along with guys like Evgeni Malkin of the Pittsburgh Penguins and Henrik Lundqvist of the New York Rangers. Giroux's line has easily been the most productive as he, Jagr, and Scott Hartnell have combined for 195 points, 25 more points than last year's top line of Danny Briere, Hartnell, and Ville Leino combined for over the entire season. While Giroux has definitely been the best player on the team this season, I don't think he's the MVP.
Max Talbot
Coming into the season, nobody had very high expectations for Talbot. He was simply coming in to be the glue guy in the locker room, something the team really needed a year ago after they lost Aaron Asham to free agency and Ian Laperriere to a career ending concussion. Talbot has filled that role beautifully but has also taken on another surprising role on this team, goal scorer. Coming into this season Talbot had 52 career goals over six seasons with the Penguins, not including the two he scored in a 2-1 Game 7 overtime win in the 2009 Stanley Cup Finals to bring Pittsburgh the cup. This season though, Talbot has knocked in 18 goals, five more than his previous career high of the 13 in 2007. Without the contributions the team has gotten from Talbot, they really would have struggled to replace the offensive production they got out of guys like Mike Richards, Jeff Carter, and Ville Leino, but Talbot is not my MVP.
Jaromir Jagr
Jagr is the second former Penguin to make this list. Coming into the year, there was a lot of mixed opinion on the Flyers GM Paul Holmgren giving Jagr a one year $3.3 million deal. Since then though, Jagr has silenced all of his doubters and been one of the most productive players on the team. When his groin or hip aren't bothering him, Jagr is one of the most dangerous players on the ice. He still shows some of the moves that made him one of the best players in the history of the league. Jagr has also shown an incredible work ethic showing up at the Flyers practice facility in Voorhees New Jersey after midnight to get a workout in. That work ethic has really payed dividends for a team that has relied heavily on a lot of rookies and has certainly helped with the emergence of Giroux. Jagr has shown these guys that no matter how good you are at this game, you always need to push yourself to stay and shape and perform at a high level night in and night out. Not many 4o year old men can take the grind of a full NHL season, especially after spending the last few years in Russia's KHL where the most games he played over the past three years was 55 in 2008-09. Jagr has exceeded the expectations many had for him back in July, but he is also not my MVP.
Kimmo Timonen
Prior to the season when all the experts were predicting what to expect from the Flyers this season they all seemed to say the same thing, that the success of this team would be hinged upon the health of Chris Pronger. Well Pronger has only played in 13 games this season but the Flyers still have the third most points in the Eastern Conference behind Atlantic Division rivals the New York Rangers and Pittsburgh Penguins. One of the major reasons for that has been the play of veteran defenseman Kimmo Timonen. Before the Flyers acquired Pronger three years ago, Timonen was the Flyers number one defenseman. He was thrown back into that role this year after Pronger went down and earned his first invitation to the NHL All Star Game since 2008. Timonen has been out on the ice shutting down the top forwards of opponents and has a plus-11 rating in 68 games thus far. While he has only accounted for three goals so far, he has 37 assists which is good for third most by an NHL defenseman this season. Timonen will be relied on even more the rest of the way as it appears Andrej Meszaros will be out until May after undergoing surgery on his back. Timonen has been the team's most valuable defenseman, but not player in my opinion.
Scott Hartnell
There is no way I would have been able to predict this back in October. Hartnell opened the season on a line with rookies Sean Couturier and Matt Read, and to put it simply, Hartnell was bad. When Brayden Schenn was healthy enough to be called up from the AHL most expected Hartnell to be dropped to the fourth line. Instead, Flyers head coach Peter Laviolette took a chance and broke up another highly productive line of Giroux, Jagr, and James van Riemsdyk and inserted Hartnell on the left wing with Giroux and Jagr. Since then, Hartnell has taken off and only has nine less points than the 73 Jeff Carter and Mike Richards have combined for all year. While other key players have been suffering pretty bad injuries all year long, Hartnell has played in all 73 games and continued to produce at a high level. High enough to earn him his first invitation to the all star game of his career. He has done this while being the same player he has always been taking dumb penalties and never stepping down from a challenge by a player of any size, he almost fought Bruins' mammoth defenseman Zdeno Chara this past weekend. Prior to this season, Hartnell's career high for goals scored came in was 30 in 2008-09. This year, he's got 35 in nine less games. His tendency to hang around in front of the opposing net has also opened up the ice for guys like Giroux and Jagr to work their magic and score this team points. While he is still one of the worst skaters in the league (see Hartnell's own website www.hartnelldown.com – named for his tendency of falling on the ice) Hartnell has been the surprise of this season and is my MVP of the team.