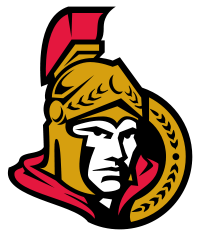 The Ottawa Senators began what was supposed to be a long slow and painful rebuild last year. The season has not gone according to plan; instead they sit comfortably in a playoff position with less than ten regular season games remaining. A pleasant if not shocking turn of events to be sure. But the thing that has Sens fans most excited is not necessarily the current success the team is enjoying but rather the promise their prospects offer for the future. The Ottawa roster is laden with talented players who are under 30 such as Jason Spezza (29), Erik Karlsson ( 22),  Kyle Turris (22), Milan Michalek (26) and Nick Foligno (23) to name a few. The Hockey News recently released its annual edition of Future Watch and graded the Senators an A- with the fifth overall best prospect depth in the NHL. Among their list of the Sens top ten there are five players in the top 100, and three in the top 50.  The Sens boast in impressive group of young talent consisting primarily of forwards with only one goalie and one defenseman cracking the list. For purposes of this list I only included players who are under the age of 23, and have played less than 50 career NHL games.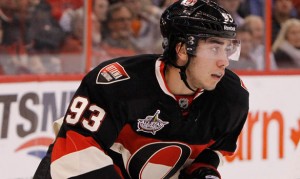 1. Mika Zibanejad, Center, 18, 6'0", 176 Lbs Djurgarden (Sweden)
Drafted with the sixth overall pick in the 2011 draft, Zbad nearly made the NHL this season as he played in nine games before ultimately being sent back to play junior in Sweden. His career highlight came in the World juniors as he scored the Tournament Gold Medal winning Goal against Russia. Zibanejad is best known for his soft hands and offensive abilities. He makes soft and accurate passes, is a slick stick handler, and has a heavy shot. He is far from a one dimensional player though. He is being used in a defensive role this year in Djurgarden as he is a sound player on both sides of the puck. He is a very responsible defensive two-way forward that can also play a tenacious physical game. With the mid-season addition of Kyle Turris to play center on the second line behind Jason Spezza it seems as though Zibanejad will see third line duties. Either on the second or third line make no mistake, Zibanejad will be in the NHL next season for sure with the Senators.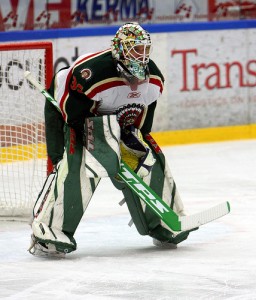 2. Robin Lehner, Goal, 20, 6'3", 200Lbs, Binghamton Senators (AHL)
Last season was a disaster for the Ottawa Senators partly because of poor goaltending and injuries in that position. Neither Pascal Leclaire, nor Brian Elliott was able to carry the mail. As a result, Lehner was thrust into the NHL for eight games. His stats were modest, but he showed plenty of promise. Then he was instrumental for the Binghamton Calder Cup Championship win with a post season record of 19-14-4 a 2.1 GAA, .939 save%, and three shutouts. Lehner was awarded the Jack Butterfield Trophy for the Calder Cup playoffs MVP. This season the second tour of duty in Ottawa for Alex Auld has been a complete failure, and with a record of 2-4-2 a GAA of 3.35 and a save% of .884 the team has no confidence in him. As a result Bryan Murray acquired Ben Bishop from the St. Louis Blues. At 6'7" Big Ben is a very dependable back up with season stats of 7-3-2-2 1.96 GAA and a save% of .925. With Work horse starter Craig Anderson and Ben Bishop ahead of Lehner, expect Lehner to start more games in the AHL than the NHL again nest season. Despite the team being patient with Lehner he is very confident to the point of being cocky. There is no questioning his ability, but him maturity has been called into question. Nevertheless he is the future starting goalie of this franchise and will assume the mantle as such as the team is coming of age.
3. Jakob Silfverberg, Right Wing, 21, 6'1", 187Lbs, Brynas (Sweden)
Yet another young Swedish prospect in the Ottawa system. Perhaps Silfverberg does not have as much upside potential or fantasy value as other prospects in Ottawa's system, but he is much closer to entering the NHL. Now at 21 years old the Senators desperately wanted him to come to North America this season. Silfverberg choose to fulfill his final year of his contract with Brynas and not risk playing in the AHL. There is no doubt he will join the organization next year and challenge for a roster spot. The young Swede is another solid two-way forward whose greatest asset is his hockey smarts. Being responsible defensively and playing a physical style of hockey should help him transition to North America well. This season he has 24 goals, 30 assists for 54 points in 49 games for Brynas.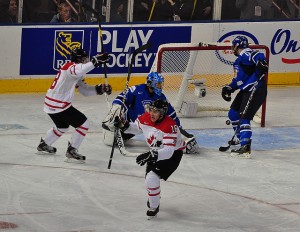 4. Mark Stone, Right Wing, 19, 6'3", 200Lbs, Brandon Wheat Kings (WHL)
Ottawa drafted Stone in the 2010 draft with the 178th pick in the sixth round. It looks like the Sens found a real hidden gem with that pick. Perhaps he was overlooked so much at the draft because his skating skills were so poor. Ottawa drafted him because he had tremendous goal scoring abilities and size. You can practice and coach skating techniques and improve skating. You can not teach goal scoring instincts or coach a player to grow bigger! Since being drafted his stock has sky rocketed! Last season he was named the team MVP, finished third in the WHL in scoring with 106 points, was named as a first team All-Star. This year he has continued to increase his stock as he finished second in WHL scoring with 123 points and lead the Canadian World Junior team in scoring with 10 points. Stone has the skills, size, and smarts to become a solid NHL power forward with tremendous fantasy value. He is a keeper!
5. Stephane Da Costa, Center, 5'11", 180Lbs, Binghamton Senators (AHL)
Da Costa made his NHL debut last year with the Sens after signing out of the NCAA. There were plenty of teams in pursuit of signing the Paris France native but it was in Ottawa where he chose to play. He had no points in his four game audition last season, but he impressed the team enough to earn an audition in the NHL on the second line to start the 2011-2012 season. Unfortunately he only played in 22 games and had three goals and five points. But it was his plus/minus stat of minus -9 that had him demoted to the AHL. His offensive stats were not impressive, but his ice time became limited and his skills were evident. Da Costa is a playmaker with top level passing abilities and a creative vision similar to Adam Oates. He possesses an elusive and quick shot to match his play-making abilities. In order for Da Costa to crack into the NHL he must hone his defensive abilities and gain more strength. With Spezza, Turris, and Zibanejad all in front of him on the depth chart there seems to be no room for him in Ottawa any time soon. Not to mention the injured Peter Regin whose career may or may not be over. However if he addresses his weaknesses he will force his way into the NHL and his fantasy value could be considerable.
6. Matt Puempel, Left Wing, 18, 6'0", 190Lbs, Peterborough Petes (OHL)
Ottawa drafted Puempel 24th overall in 2011 with the first round pick acquired from Nashville in the Mike Fisher trade. In his draft year he played for a poor Petes team and suffered a cracked hip injury that may have cost him a top ten ranking in the draft, despite having been named the 2009-2010 CHL rookie of the year! Even having required hip surgery he still managed to score back to back 30 goal seasons in the OHL. This season he was limited to only 30 games after sustaining a concussion after a hit to the head from Kingston Frontenacs Alex Gudbranson that cost Gudbranson a ten game suspension. With the OHL season over for the Petes, Puempel has been cleared to play and will now join the last place Binghamton Senators for the rest of the season. Puempel has the vision and goal scoring abilities to play in the NHL no question. His area of development has been his skating and strength and conditioning and given the time he has missed with hip and concussion injuries those needs are even more glaring. Puempel needs to stay healthy and develop for a season in the AHL. If he can do that, he will surge up the Sens prospect depth chart and garner the attention of fantasy hockey leagues and fantasy rankings.
7. Stefan Noesen, Right Wing, 18, 6'1", 193 Lbs, Plymouth Whalers (OHL)
Noesen was ranked 39th in his draft year, but the Sens drafted him with the 21st overall pick in the first round. Noesen moved from Texas to Michigan because he wanted to play in the OHL. He was the drafted by Plymouth but only played in 33 games in his rookie season. In his draft year he exploded with 34 goals, 43 assists for 77 points in 68 games with 80 PIM's. After last seasons success he was determined to crack the NHL saying "I want to make the team (next year). I will work my butt off and see how it goes." He did not make the team and reluctantly returned to the OHL. This season he has 38 goals, 44 assists for 82 points in 63 games. Noesen continues to develop but was disappointed to be omitted for team USA at the World Junior Tournament in Buffalo. Noesen has offensive instincts and goal scoring abilities and he is not afraid to get his nose dirty. He has skating abilities, good size, leadership qualities and plays a feisty style that has drawn comparisons to Anaheim's Corey Perry. Noesen will need to continue to develop his game for another season in the OHL and then some time in the AHL. He has top-six upside potential at best, but at least he should achieve third-line winger status in the NHL.
8. Shane Prince, Left Wing, 19, 5'11", 185Lbs, Ottawa 67's (OHL)
The Ottawa Senators had four picks within the first 61selections of the 2011 draft, and Shane Prince was the player they chose with the 61st pick that they acquired in the Chris Kelly trade. Ranked 58 overall at the draft by the ISS Prince fell slightly to 61 mainly based on his lack of size and skating ability. While Prince is a prolific goal scorer not all are convinced he is complete enough to make the NHL. All sizzle, but no steak. His offense is sizzling though! In the '09-'10 season he only scored 18 points, but in his draft year the next season he managed 25 goals, 63 assists for 88 points in 59 games. This season playing on a line with Los Angeles Kings top prospect Tyler Toffoli Prince has 43 goals, 47 assists for 90 points in 57 games and finished fourth overall in OHL scoring. After his first NHL training camp this season Prince began to draw serious attention and began to change the perception he was not big enough or complete enough. Prince showed he is a smooth skater with puck skills, but it was his physical play in the rookie games that impressed the most. While only 5'11" he may not be the tallest guy, but he has a solid frame. Prince may return to the OHL as an over-age player, otherwise he will see time in the AHL next season. If you are in a deep fantasy hockey leagues that drafts prospects, Shane Prince should rank high on your draft list.
9. Patrick Wiercioch, Defense, 21, 6'4", 192Lbs, Binghamton Senators (AHL)
Wiercioch has fallen down the depth chart, and with Erik Karlsson and Jared Cowen anchoring the NHL blue line for the next few decades there is no rush on Wiercioch. Trading David Rundblad for Kyle Turris has given hope that there may be room on the NHL roster for him once veterans Filip Kuba, and Sergei Gonchar move on. Drafted in the second round 42nd overall, the Sens hoped that he would develop into a top four defender who has size and offensive ability. Wiercioch needs to improve his game overall, both offensively and defensively. He can skate well and carry the puck, has offensive instincts, but with only 15 points, and two goals in 47 games this season and a plus minus of minus -14 those stats are not good enough. His rookie pro-season did not live up to expectations and hopes were higher for his sophomore year. Unfortunately he suffered a devastating throat injury when he struck in the neck by the puck off a point shot, and that may have set him back. If he can improve his physical and mental aspects of his game, he may develop into a top four pairing all-around defenseman in the NHL, but that is looking like a long shot now.
10. Andre Petersson, Right Wing, 21, 5'9", 179Lbs, Binghamton Senators (AHL)
The diminutive sniper has elite offensive skills. He can play either wing and loves to have the puck and score goals. Petersson is a magician with the puck has great speed and makes crisp passes. The reason why the 21 year old is ranked so low is he is tremendously inconsistent and completely indifferent to back-checking. Aside from his defensive liabilities he is also physically limited and making the NHL at his size will be a challenge. He made the move this year to North America and played one game in the NHL before being sent to the AHL and in 52 games has 21 goals, 18 assists for 39 points and a plus/minus of minus -4. Petersson is the ultimate risk reward player. If he makes the NHL it will not be on the third or fourth line, he will be in a top six role. It is all or nothing for Petersson as it is with similar players such as Rob Schremp, and Linus Omark. In terms of fantasy hockey value, he is a true wild card and should only be looked at in extremely deep leagues. A real long shot.
Follow me on Twitter: @pharling
Peter Harling of Harling Fantasy Hockey covers the Ottawa Senators for The Hockey Writers. Peter also writes for fantasy hockey coach contributing to the annual draft guide and author of the Fantasy Hockey in Canada column and Hockey Tracker