Last Saturday, Canada's premier Hockey Franchise, Hockey Night in Canada (HNIC) used their newest segment to feature one of Canada's greatest players.  Your captain: Jonathan Toews.
HNIC's new program called GAMEDAY airs from 5-6pm EST on Saturdays, which for Hockey Fans in Canada is a pre-emptive strike for those just itching to find out more about their favorite game.  This show is hosted by former Boston Bruin tough guy P.J. Stock (@PJStockHNIC) and former Leafs TV host Andi Petrillo (@andiPHNIC).   What fans love most about this new show is that it covers a lot more than just the nuts and bolts of hockey, these two take the time to get intimate with the players, coaches and anyone else involved in the game.  They find out more than just what's on the surface.  And from my viewpoint, they have fun doing it.
This week's feature was Jonathan Toews.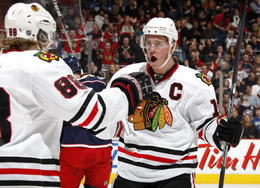 Fans of Hockey in Canada are well aware of Jonathan Toews. Not only has this great Blackhawk captain from Winnipeg helped Canada to earn World Junior Gold, World Championship Gold and Olympic Gold, but he has also won a Stanley Cup for the Chicago Blackhawks, their first in 49 years.
But HNIC's PJ Stock flew to Chicago and with Millenium Park as a backdrop found out more about this seemingly always serious young Captain.  As many of great fans of the Chicago Blackhawks don't have HNIC, I decided to share my learnings with that audience.
PJ: Favorite Music?
Toews:  Love Rock and Country in the summer.  Country in the morning and Hip Hop before games.
PJ: Favorite Movie?
Toews: Love movies, latest movie I actually liked is Horrible Bosses
PJ: Favorite Actor?
Toews: A lot of people say I look like James Franco
PJ: Favorite Food?
Toews: Sushi.  There are a lot of great restaurants in Chicago, but I love to treat myself to Sushi.
PJ: Favorite Color?
Toews: Red

PJ: Favorite Song?
Toews: Goin' down the road
PJ: Smelliest Blackhawk
Toews: Patrick Kane
PJ: If you could be an animal which would you be?
Toews: Tiger
PJ: Why?
Toews:  They run fast and they eat things.
At this point, Stock asks Toews if he likes Bears (because he's from Winnipeg) and if he would like to wrestle a bear.  Toews obviously says no.
PJ: Which one of your teammates resembles a bear?
Toews: I've wrestled Dustin Byfuglien and it felt like I was wrestling a bear.
PJ:  Do you miss Winnipeg?
Toews:  I don't miss the Winter, but it's great to go back in the summer.  Miss my family and friends, but Chicago is a great city.
PJ:  Are you happy the Jets are back?
Toews:  Yeah exactly, that city loves hockey and I think that's kinda how I grew up wanting to play in the NHL watching the Jets when I was a kid and now Kids are gonna get a chance  again watching hockey.  People there have been starving for a team for a long time and I think they're very deserving of it.
PJ: Do you love the fans here?
Toews:  I love it, love it.  Chicago is a great city.  I've had 4 great years and we won the Stanley Cup and we want to do it again so we'll think about that.  That's our first priority.
—
With that, the interview concluded.
PJ Stock from Victoriaville, Quebec and Toews who's mother is from Ste Marie, Quebec ended the interview in French. Which is another thing I bet you didn't know about your great Captain, that he is fluent in both of Canada's official languages.  Seeing Toews in a pair of Jeans in Millenium Park reminds you he's just a regular guy that is a damn good hockey player.
Captain serious as you like to refer to him is off to another great campaign.  He won't rest until his team is back to the promise land and as you now know, he is always seeing red.
I thought I'd leave you with another great Toews move.  There' s much more where this came from.
http://www.youtube.com/watch?v=hO2tc6um3kc&feature=fvsr
For the full HNIC Gameday interview click here
Go to Hockeydb.com for more on Jonthan Toews' career stats, or click here