Martin Brodeur's career as the New Jersey Devils franchise netminder is drawing to a close, and the last few seasons have seen him struggle with injury and something else he's not used to: being outplayed by his backup goaltender.
Last season, he had the first losing year of his career, as he went 23-26-3 in 56 games with a .903 save percentage. Despite the poor totals, he still posted six shutouts, showing that he still does have some gas left in the tank.
But this year, he faltered out of the gates again in October, playing just two games due to injury and taking the loss in both of them.
He has also faced competition from backup goaltender Johan Hedberg.
Although Hedberg is 38 year old and a well-traveled goalie in the NHL, he has been impressive in the early goings of the 2011-12 season. He currently has a record of 5-3-1 with one shutout to go with a .920 save percentage and 2.34 GAA. He has posted two wins against the Los Angeles Kings and has also reigned victorious over the Nashville Predators and Philadelphia Flyers. All of these teams are contenders in their respective conferences.
Hedberg's wins over stronger opponents are an advantage over Brodeur. Brodeur has rebounded in November, as he has won his last two starts, stopping 18 shots out of 23 in a victory over the Winnipeg Jets. He followed that up with 25 saves on 27 shots against the Carolina Hurricanes this past Tuesday night.
While any win will be good for Brodeur to get his confidence back, it's worth noting that both the Jets and the Hurricanes are worse off than the Devils in the Eastern Conference standings.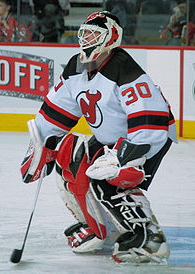 As of this writing, the Devils sit in ninth place in the Eastern Conference with a record of 7-5-1 with 15 points. The Jets are in 14th place with a record of 5-8-3 for 13 points, and the Hurricanes are 13th with a record of 5-7-3, also with 13 points. Beating a weaker opponent is not a real test for Brodeur or any top player in the NHL, for that matter.
However, this weekend, Brodeur will likely play in one of the games of a home-and-home series against the Washington Capitals. Although the Caps have lost four of their last six games after starting the season 7-0, they are still a force to be reckoned with. They are second in the Southeast Division and sixth in the Eastern Conference with a record of 9-4-0 for 18 points.
It is obvious that we will never see the Brodeur of the 1990s and early to middle 2000s again. We'll always remember how he consistently played at least 70 games a year while putting up 40 wins and managing to get at least 10 shutouts a few times, including 12 in the 2006-07 season.
Due to injuries and aging, the Brodeur of days past likely won't show up this weekend against the Capitals.
But, if he can find some confidence and show that he recovered from his October shoulder injury, the Devils will have at least one win against the Capitals once the final horn sounds Saturday night.