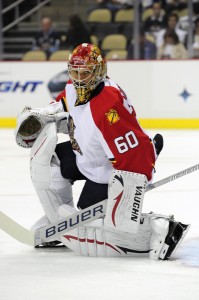 After defeating the Winnipeg Jets last night, the Florida Panthers gained two points which moved them in to first place in the Southeast.  Yes, it's early in the season, but it's looking more and more like this team has made a major turnaround since finishing last season in last place…not only in the Southeast, but in the entire Eastern Conference.
The Panthers were impressive against the Jets, a game which stretched their point streak to six games.  Kris Versteeg got his first hat trick to help the Panthers top the Jets 5-2.
Head coach Kevin Dineen had this to say about Versteeg after the game:  "Opportunity presents itself in different ways. I think that what he has done is that he realizes he is getting a quality opportunity on this team that he may not have seen in Toronto or in Chicago when he was with all of those incredible offensive players that those teams have. It hasn't just been one game. He's been really consistent and a good player for us all year."
Earlier, that same day, the NHL released it's list of players available on the 2012 All Star Ballot.  Three Panthers made the list:  Brian Campbell, Ed Jovanovski andTomas Fleischmann.
The Panthers have shown improvements in several areas, which have helped them turn around.  The offense has improved.  Defenseman Brian Campbell is tied for first place in Assists.
Last year, the two most dreaded words for Panthers fans were "power play."  The Cats finished last in the NHL with a low 13.% power play percentage.  So far this year, their power play has improved to 24.5% and fifth best in the NHL.
The Cats are averaging slightly higher shots on goal per game as well as more goals per game.  They seem to have a  more physical presence and are improving on defense.  When Dale Tallon came to South Florida, he promised a winning team.  So far, that's what they're doing.
While there is plenty of hockey left to play, the Panther's can enjoy that first place spot for at least a day.  However, fans are hoping that this is a trend that will continue.  I know I am.
Mark is a 42 year old sports fanatic, who lives with his family in West Palm Beach, Florida. He has his Masters Degree in Clinical Psychology and works as a psychotherapist when not following sports. Mark is a passionate sports fan, who has worked as Sports Category Editor on hubdub.com and currently works as the head of Customer Support at fanduel.com