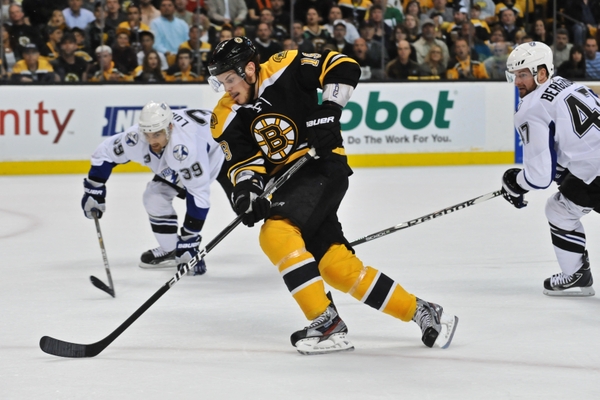 It's amazing what an offseason can do. Even in the wake of his four-point second-period outburst in the 2011 Eastern Conference Finals' game two, there were plenty who thought Tyler Seguin had a long way to go. And they were right. Over the remaining eleven games of the postseason, Seguin was relatively ineffectual and generally a non-factor, only adding one point (an assist) to his playoff totals.
But even that looked decent when compared to his rookie campaign, when he scored eleven goals and eleven assists for twenty-two points in seventy-four regular season games.
Fast-forward to the fall of 2011, and seventeen percent of the way through the regular season, Tyler Seguin has been the Boston Bruins best and most consistent skater. With points in eleven of fourteen games and nine goals and eight assists for seventeen points to start the year the second-year forward from Brampton, Ontario has been tearing it up.
The question we must ask – is this just a flash, just a glimpse of the future or is Seguin the real deal, ready to make the jump into consideration among the NHL's elite.
The Case for Sustainability
No Cheapskates- In looking at Seguin's nine goals to date, there have been only two 'cheap' goals: A tally in the waning minutes of a game against Montreal and last night's fluky score against the Oilers. As for the rest? They're a veritable smorgasbord of skill including a few absolute jaw-droppers. He's creating his own offense. In fact, you could look at some of the opportunities he created that were not finished and argue that with a bit of luck he might be leading the NHL in scoring.
Balanced PP Scoring – Seguin isn't getting unreasonably lucky on the powerplay. In 5-on-4 situations, he's grabbing just over five points per sixty minutes of icetime; it's not average by any stretch, but it's certainly reasonable. A small drop-off isn't out of the question, but with his skillset, if the Bruins don't tank with the man advantage, the numbers will remain in this area code.
Limited Icetime – The NHL's eleventh-highest scorer is not exactly getting skated into the ground. At 16:50 per game, he's barely among the Bruins' top-ten in icetime per contest and fifth among the B's forwards. On the powerplay he's seventh on the squad and fourth among forwards. Looking around the league, he's outside the top hundred (134th) in ice per game and powerplay T.O.I. per match (117th). It's hard to imagine those numbers falling much as the season progresses and it's easy to make the case that they'll increase and his production as well.
The Case for a Decrease in Production
Exorbitant Even-Strength Production – In the past four seasons, among players with sixty games played, there have only been fourteen occasions of players scoring more than three points per sixty minutes at even strength and only one player has grabbed more than four points per sixty minutes (Daniel Sedin in 2009-10). Seguin currently sitting at 3.96 P/60m at even strength. It's pretty unlikely that Seguin will maintain that ridiculously high rate as the season progresses.
Shooting Percentage – Seguin's shooting percentage is hovering above 20% after his recent tear – five goals in three games. While it's pretty fair to call Seguin one of the more talented snipers in the league (he has it all: accuracy, power, deceptiveness and a quick release) the rate he's making shots at is likely to diminish as the year progresses. In the past three seasons, only three players have topped 20% shooting (among qualifiers) in a season and the 15% barrier has only been broken 94 times during that span. Expect Seguin's number to trend downward before settling nearer to his 11.4% career number.
Limited Icetime – Since the 2007-08 season, only two players scoring 80 or more points have averaged less than 18 minutes of icetime per game: Teemu Selanne last year and Michael Cammalleri in '08-'09. Seguin's 16:50 per just makes it that much harder to reach 80 and beyond. The most recent to get there at Seguin's current minute levels? Tomas Vanek in 2006-07. If Seguin's totals don't increase (and significantly) it will be that much more difficult for him to reach the Promised Land.
–
So what's the verdict? Seguin's start to the 2011-12 season has been just a shade beneath immaculate. Just two goals and three assists away from his '10-'11 totals (in 74 games) fourteen games in, who could ask for more? While it's hard to argue that Seguin hasn't earned the points he's accrued, it's by no means advisable to assume he's going to continue at these levels. In particular, unless he sees a pretty significant increase in his ES/PP time-on-ice (around a minute per game minimum) he can kiss a shot at eighty points goodbye.
That isn't to say Seguin will end up with mediocre totals. Most projections of his 2011-12 season envisioned him ending up with somewhere between 40 and 60 points. If he maintains a forty-point pace over the remainder of the regular season, he'd end up with 33 additional points for fifty on the season. At a sixty-point pace the rest of the way, he'll wind up with fifty more for 67 points on the year.
Despite scoring on 9 of his 44 shots taken, it's fair to project his success rate will drop. But if he continues to shoot at that rate he'll end up with an additional 214 shots on the year (for a total of 258). That's a big jump over last season's 131, but not an altogether unreasonable total. If he shoots a bit under his career number (say, 10%) over the remainder of the year, we can estimate he'll grab around 21 more goals for 30 on the season.
So, while it's fair to say that an 80-point campaign might be out of Seguin's reach this year, a thirty-goal, sixty-five-point season is not only plausible, it's very well within reach and for a nineteen-year old, that's more than impressive.
Bob is a Boston Bruins Correspondent for The Hockey Writers. He lives in the Boston Metro Area with his wife, Amanda and their five-year-old son, Cormac.