Largely thanks to the market that is Montreal, Carey Price is being touted by many as a Hart and Vezina Trophy favorite. The hockey media of the day has all but anointed Price, which with so many games left in the regular season is somewhat telling if not surprising. Relegated to the back burner in this debate is Pekka Rinne, sidelined for eight games with a minor lower body ailment. The Feb. 17, 2015 game against the San Jose Sharks reinforced that despite a mild gap in GAA and Save Percentage, Rinne should be in the conversation as an equal for at least one of these awards, regardless of whether he plays in a Canadian (Canadien?) hockey Mecca.
Rinne's Injury Should Not Be a Factor
Injuries are a fact of life in sports. For an athletic, Gumby-like goalie like Rinne, one might assume his risk is even higher. With fewer minutes played comes fewer shots against and, as we've seen in seasons' past, playing too few games is a mark against Vezina voting. Rinne however will, if current trends continue, be among the League leaders in games and minutes played. He will also finish among the leaders in wins — the "important" stat — a testament to his quality of play regardless of time missed. In fact, even despite Rinne's injury, he was ahead of Price in wins. Price tends to remain durable and available, a testament to his controlled, clinical style that remains remarkably consistent if not all that thrilling to watch. Price supporters will point to games played and resulting higher shots against as a direct correlation to increased quality scoring opportunities, which is accurate if not true.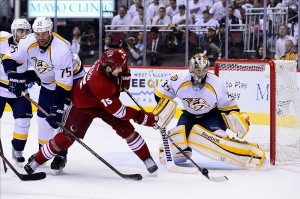 Price Faces More Shots, Helping Him Statistically
Fans that have watched hockey for more than a couple seasons understand that shot quantity doesn't always mean too much. In fact, too few shots are often hindrances to goalies maintaining concentration and staying "in the flow." Carey Price plays the bulk of his games because, to his credit, outcomes are far more guaranteed with him in net vs. Dustin Tokarski. However, examining shot quality — a metric gaining popularity in fairly evaluating goaltending — indicates that many of these shots are direct results of Rinne's superior rebound control. Nashville is quite average in terms of shot suppression, but Rinne is well-known for gloving pucks most guys would have bounce off their pads, suppressing second and third threats. By creating extra chances for opposing forwards, Price — like Toronto's James Reimer and Jonathan Bernier — tend to inadvertently increase their shots against and, as an offshoot, their save percentages. To Price's credit, his numbers haven't suffered as a result, but by not offering offenses extra chances Rinne's numbers actually work against him in direct comparisons to Price's (SportingCharts.com has excellent breakdowns between players).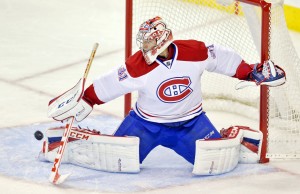 The NHL Remains Largely Old School
Very few teams employ analytics as an official function. In fact, many GMs still feel that the eye test means more. This is where, even if one could create an overwhelming statistical case for Carey Price winning the Hart, Vezina or both over Rinne, many of those metrics will be ignored. In fact, only two teams jump out as embracing (or beginning to embrace) moneyball-style measuring — Toronto and St. Louis. Where Price holds an advantage is one that as old as the League itself — a preference in major award voting toward major market, Original Six and yes, Canadian teams. Like Henrik Lundqvist winning the Vezina a few years back over arguably equal candidates, there can be little question that the sentiment was it was "his turn" after many nominations and no wins. In Price, we have a young, popular goaltender in perhaps hockey's biggest market, where sentiment and a sense of entitlement runs high. Added to this is the "Ryan Miller effect", where a player's recent Olympic performance is inappropriately added to the decision making process for an NHL award. This is not to diminish Price's efforts in the 2014-2015 season; rather, to serve as a reminder that these choices are not made from an objective, purely numbers-based perspective as many would have us believe.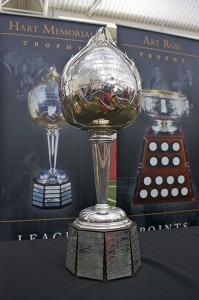 Price Versus Rinne is Largely Semantic
An honest case can be made for NHL goaltending supremacy for both Price and Rinne. With two top-notch stars, one in each Conference and playing very different styles, fans have a chance every night to witness highlight-reel play. However, it's a bit early to determine which of these men should win which award, since we don't have a grasp on the season's outcome and their final numbers. Regardless, fans of hockey in general should be happy to have an abundance of riches and a fun, impassioned debate over minute differences in world-class goaltending.