The saying goes, "It's not personal, it's business." For the Carolina Hurricanes it was business. But, for their Hall of Fame radio broadcaster Chuck Kaiton, not returning to the radio airwaves for the team is very personal. It's personal because, for the first time in 39 years, he is not working on radio preparations for the upcoming season.
Always the consummate gentleman, though, he has nothing negative to say about the Hurricanes or ownership.
On May 27, when it surfaced that the team may not proceed with Kaiton, I wrote, "Kaiton is a legend, having never missed a game in his entire career. Radio people deal with colds and the flu and sore throats like everyone else, but Kaiton has not once been sidelined by any ailment. He is the sound that Hurricanes fans expect to hear booming through their radios when they can't get to the game or in front of their television."
His trademark closing out of every broadcast was the running tally of games. The streak has come to an end, stopping at 3,412 games.
I spoke with Kaiton at length Wednesday evening and it's clear that Kaiton is a professional and certainly understands "it's business." His biggest request was that I let the fans know how much he appreciates them and their overwhelming support. He said he is not defeated and that the word "retirement" is not in his vocabulary.
Kaiton Move Simply Business for the Hurricanes
The Hurricanes announced Kaiton's departure on Tuesday, July 24. Team president and general manager Don Waddell said in a statement, "After a series of discussions with Chuck and his representation throughout the summer, Chuck informed us today that he will not be returning as our radio broadcaster. We thank Chuck for his service over 38 seasons and appreciate everything he has done to represent this franchise for such a long time."
The owner of the Hurricanes, Tom Dundon, told a local Raleigh, NC sports talk show that a plan to finalize Kaiton's time with the team through a two-year deal, wherein there was a definite end and the time could have been spent honoring Kaiton, was talked about even before he became the owner, but "that didn't get done."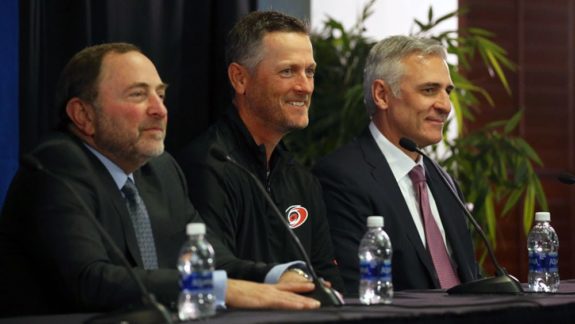 Dundon also said that he was open to doing a similar type of plan with Kaiton on a one-year deal, even though it went against his instincts. Dundon said, "It probably was time to move on, but we were willing to go that one more year. But, it didn't work out."
Kaiton a Victim of Alleged Poor Radio Ratings
The reality of technology is not lost on Dundon, who said that people can watch a game on their mobile devices and are likely only taking advantage of radio when they are in their car. He said that his experience in Dallas was listening to a simulcast of the Dallas Stars on the radio, and that the Hurricanes will implement the simulcast model going forward. Dundon said he "wants to put all the money on the ice."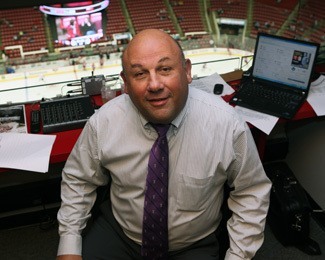 Interestingly, the subject of listenership and ratings was a driver of this entire situation with Kaiton. At one point it was reported that only 500-2,000 people are listening to a Hurricanes radio broadcast on any given night. However, Kaiton told me that he is not aware of any official ratings research that has been done.
A call Thursday to the office of his agent, Lou Oppenheim confirmed that neither Kaiton nor his agent were shown any ratings research. Regarding the estimate of only 500 to 2,000 people listening Kaiton said, "Any numbers that got thrown out there are totally fictitious unless somebody can prove to me that they've taken ratings."
In summary, regardless of whether or not there is actual ratings data, the Kaiton era is over. It's emotionally challenging, and for many fans, is not the most popular decision — but again, it's business. Kaiton understands that and did not seem bitter one bit when talking with me on Wednesday. Kaiton said,
It's not my place to be bitter. It's not my place to be upset with a situation that I can't control.
Kaiton also said that he would like to have continued to work with the Hurricanes, but also admitted, "If they have other ideas or financial constraints, I don't have any control over that. I don't take it for granted that anybody has to give me a job just because I'd done it for all these years. I'll let fans make their decision on what they think of this stuff on how I was treated. I'm not going to say anything because I don't really have an axe to grind with the ownership. This could have happened to me 20 years ago. But, I've been lucky enough to have worked with some really good people."
https://twitter.com/gbfishel/status/1021798871956119552
In private Kaiton may be emotionally distraught, but in public, he remains the ultimate professional and refuses to say anything negative about the Hurricanes or Dundon.
Offer Valued Kaiton at 80 Percent Less
Kaiton told me that at the end of last season, in or around June, he was told that he would be offered significantly less to continue broadcasting the Hurricanes games on the radio. His loyalty to the team for nearly 40 years and his string of 3,412 games called, notwithstanding, Kaiton essentially was told that his value to the organization had dropped 80 percent.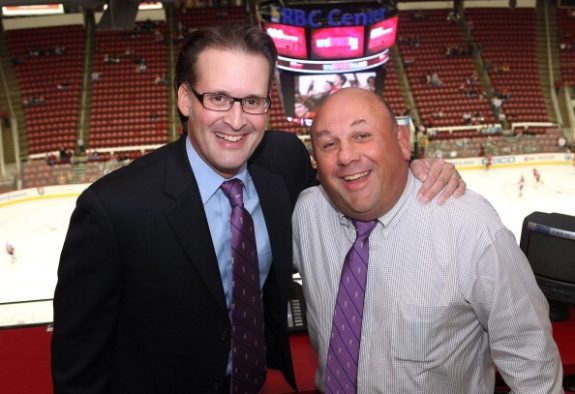 Kaiton told me, "Right after the season, they talked about possibly wanting to simulcast the broadcast. I was kind of surprised to hear that at first. And then about close to two months ago, they came up with an offer that really I wasn't interested in taking but I kind of contemplated it for a while. I was hoping that it would go back and forth and that my representative would talk to them and see if they could do better and it just didn't happen."
Luke DeCock of the Raleigh News & Observer reported on Tuesday that Kaiton's agent, Oppenheim told him that Kaiton was offered an 80 percent cut. DeCock wrote, "Kaiton's agent submitted a counterproposal to the Hurricanes after Kaiton's contract expired on June 30, but the team stood firm on its final offer to the broadcaster, which included what Kaiton's agent, Lou Oppenheim, said was an 80 percent pay cut as the Hurricanes and new owner Tom Dundon attempt to reckon with their money-losing radio broadcast while giving Kaiton the opportunity to recoup some of the losses by selling sponsorships, an arrangement more typical on the minor-league level."
Kaiton told me he viewed the offer from Hurricanes owner Dundon and the organization as an "invitation to leave more than anything else." Kaiton also said,
It was a substantial decrease which I really wasn't interested in taking. I hoped it could be a little better but there was no flexibility basically on the Hurricanes' part at all. I think they had it in place that they didn't want an autonomous radio broadcast anymore.
Kaiton said that through his agent he offered the counterproposal to do just home games if that would solve the economic side of the problem. Kaiton said, "I didn't really want to do that, but that was my suggestion." Obviously that suggestion did not come to fruition.
Kaiton, Start Pounding the Pavement!
Kaiton wondered aloud to me if the team had packaged the radio broadcast properly. Through the years the Hurricanes have not had a very aggressive community awareness campaign. I wrote in 2015 about going to a local sports restaurant and not being able to find the Hurricanes game on even one of their over 40 televisions. The Hurricanes were not promoted aggressively in their home market under previous ownership.
DeCock reported that there was an aspect of the Hurricanes' offer that indicated he could sell sponsorships to help make up for his cut in pay. The first thought one has is that it is demeaning to even consider asking a Hall of Fame broadcaster with nearly four decades with the team, to suddenly start cold calling and pitching sponsorships for the team's broadcast.
Kaiton acknowledged that this was not realistic, but also that he had paid his dues early in his career pounding the pavement and the phone. Kaiton said that he worked in sales as a college broadcaster and in the minor leagues, but that once a broadcaster makes it to the big league, their attention of necessity has to be focused on the games and in preparation.
Kaiton also mentioned that he did a lot of his own production. Segments like the popular "Kaiton's Corner" wherein listeners would email a question about hockey that he would answer on the air during intermission, were parts of the broadcast Kaiton really enjoyed. Kaiton said, "I love doing radio because I love the sport and the one-on-one connection with the fans, the people on the other side. Anyone who says radio is dead is wrong."
Chuck Kaiton's one of the best people in our game….Hurricanes games won't be the same without him

— Bruins Radio Network (@Bruinsradio) July 26, 2018
What's Next for Kaiton?
The future is wide open for Kaiton who sounds like a guy half his age when talking about what's next. A different NHL team, satellite radio and even local projects with a financial planner are opportunities Kaiton is exploring. But first he's going back to Hartford for a Whaler's reunion put on by the local double-A baseball team, and then crossing the country to visit his family.
Kaiton is obviously a professional and could be hiding any bitterness he may have over the separation with the Hurricanes. However, I choose to believe what I have come to know from a guy I talked to numerous time in the press area during Hurricanes games, that I interviewed in 2015 for  two-part series on his career, and who told me in no uncertain terms that he is not bitter.
Kaiton said, "I wish it could keep going but what are you going to do? A lot of things you can't control. I'm lucky I'm still alive and healthy and looking for the next chapter. I want to stay in the NHL there's no doubt about that." Seattle may be fielding a team in the near future. Maybe…