Scott Darling came to the Carolina Hurricanes last season anointed as the team's new starting goaltender. Even so, in an in-depth report on Darling published in the Raleigh News & Observer earlier this month, author Luke DeCock wrote that Darling had come to the Hurricanes "out of shape."
DeCock wrote that Darling said this about coming to the Hurricanes:
"It was a big move for me personally. I think I just let my foot off the gas and figured it would just work out as is. I learned pretty quickly you can't do that at this level."
He's right and even though the team missing the playoffs was not entirely his fault, it paid a large price for his lack of preparation.
The good news is that he is now grinding, doing the hard work necessary to be in NHL shape.
Grind.

Then grind some more. #TakeWarning pic.twitter.com/2dfR24Dv2W

— Carolina Hurricanes (@Canes) July 27, 2018
Hurricanes' Darling Season One Revisited
It seemingly mattered not to the Hurricanes' then-general manager, Ron Francis, that Darling had not been a full-time starting NHL goalie, nor that he had not played in a game as a starter for the Hurricanes. In fact, as seemingly was Francis' custom, he signed Darling to a four-year $4.15-million-a-year contract essentially sight-unseen as a full-time starter.
Francis had done the same thing before with Eddie Lack in 2015, signing him to a two-year, $5.5-million deal without him having shown what he could do in a Hurricanes sweater. Other than getting fans excited about tacos, Lack did not do very much as a goalie for the Hurricanes and was traded to the Calgary Flames in June 2017. He fell all the way down to the minors but has staged a comeback and is now a backup with the New Jersey Devils.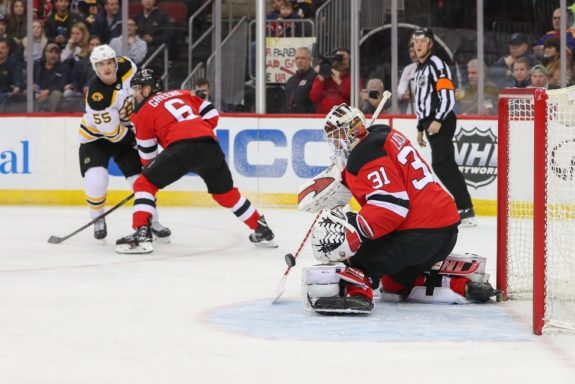 The experience with Lack was not enough of a primer on signing goalies for Francis to keep him from going all-in with Darling.
The Disaster
As last season unwound, it became glaringly clear that something was not right with Darling. The footage of him filling in for Chicago Blackhawks' starting goaltender Corey Crawford, of him hoisting Lord Stanley's Cup with his Blackhawks teammates, and of him showing the right stuff to play goalie at the NHL level seemed a stark contrast to what Hurricanes fans and teammates were watching night after night with Darling.
By mid-November, it looked as if longtime Hurricanes starter Cam Ward would regain his spot. After a game on November 19 wherein he played like he was unconscious, Ward claimed he was not trying to send a message by his outstanding play. But, the message was there whether by his design or not: Ward was still the man and Darling would have to fight to regain the spot as the Hurricanes' starting goaltender.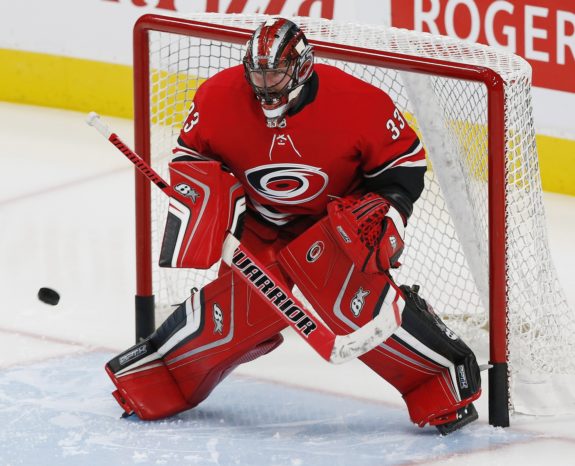 The former owner of the Hurricanes, Peter Karmanos, said prior to last season that if Darling were to have an average season that his team would make the playoffs. That did not happen, and Darling is now in the hands of the new owner of the team Tom Dundon, who said after last season that the tandem of Ward and Darling would likely not be seen in the future for the Hurricanes.
Darling and Mrázek: Dynamic Duo?
Some thought or hoped that Darling would be shipped out—there was talk that the Blackhawks might want him back. But, in the end, it was Ward who was blown to the Windy City. Then Dundon and general manager Don Waddell brought in Petr Mrázek, the sometimes back up, sometimes starting goalie formerly with the Detroit Red Wings and then the Philadelphia Flyers. The two will work this summer, in training camp, and during the exhibition schedule to see who will get the nod as the starter.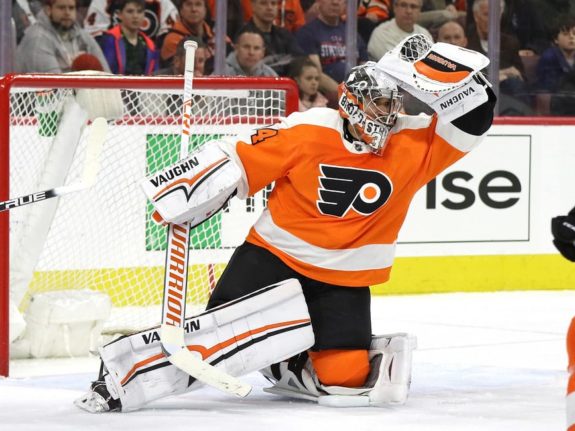 For some, however, the tandem of Darling and Mrázek is not a team strength and could derail them from making the playoffs. Greg Wyshynski wrote at ESPN a few days ago that the Hurricanes have had a great offseason and could be close to contending.
The caveat to that analysis lies in-goal, as Wyshynski wrote, "The only two things giving us pause on the Hurricanes' ascension to contender status is Rod Brind'Amour as a novice head coach and a current goaltending tandem of Scott Darling and Petr Mrázek; incredibly, that duo might be a downgrade from last season's awful .897 team save percentage nightmare."
Fortunately, Darling is doing work and is not likely to have a repeat of last season. At least logic would tend to dictate that an in-shape, focused Darling will perform at a higher level than an unfocused, out of shape Darling. Mrázek could be magical or he could be inconsistent. Before the Hurricanes can be contenders at any level, their play in front of the goal will have to be strong and reliable.
Canes goalie Scott Darling stopped by to talk to some kids at the junior Canes camp. pic.twitter.com/yk8KwVFZDp

— ABC11Charlie Mickens (@GameDayCharlie) July 24, 2018
Both Darling and Mrázek have shown that they have what it takes to excel in the NHL. At least this season Darling should be ready.
Mark lives in the Raleigh, NC area and covers the Carolina Hurricanes.