Jeff Skinner is no longer a Carolina Hurricane. Skinner being shipped out was not the surprising part, however. What was surprising was what seems like a very weak return that they got for him. Sure, Cliff Pu shows some genuine promise, but in fact the entirety of the package they received for a 26-year-old bona fide goal scorer consists of magic beans and hope. They're all futures. And this begs the question: where is this team going?
When asked about his opinion of the Jeff Skinner trade on SportsNet 590, SportsNet blogger and popular outspoken YouTuber Steve 'Dangle' Glynn said, "The worst teams in the NHL are the teams where you don't know what direction they're heading in…I think the Hurricanes did well in getting Dougie Hamilton, but I'm starting to wonder if that was just a bit of a fluke or if it was actually smart. I don't know what this team is." Dangle brings up a good point. Does this trade insert uncertainty into the direction of the Hurricanes organization? The answer, contrary to popular belief, is 'no,' and here's why.
Time to Move On
Jeff Skinner has spent plenty of time in the doghouse over his last number of years in Carolina, first under Kirk Muller and more famously under Bill Peters. Skinner has had increasingly lengthy stints on the third line playing with role players and depth entities such as Derek Ryan and Phil Di Giuseppe. This is not to disparage him at all, however. Skinner was, based on his production and offensive prowess, undeservedly playing fewer minutes and in lesser roles, but it has become more and more clear as of late that Skinner was not a go-to guy for their past couple of coaches. It was well documented that Peters, in particular, was not fond of Skinner's ability — or lack thereof — to play both sides of the puck.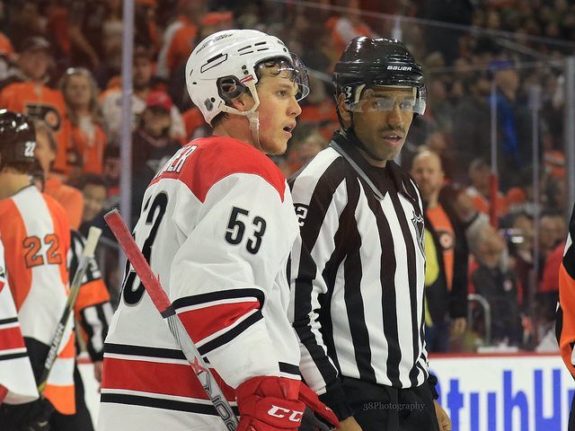 Ultimately, however, it appeared that the Hurricanes' brass was simply looking to continue to reshape the makeup of the roster to look more like what the new regime of Tom Dundon, Don Waddell, and Rod Brind'Amour desire in a hockey squad. The News & Observer reported that Waddell said this of the Skinner trade in an interview: "We said at the end of the year we were going to look at all our options. With Buffalo, we got a plethora of draft picks. We got a prospect we like…Jeff's a good guy. He's a good player. But he has been here eight years and we felt it was time to move on."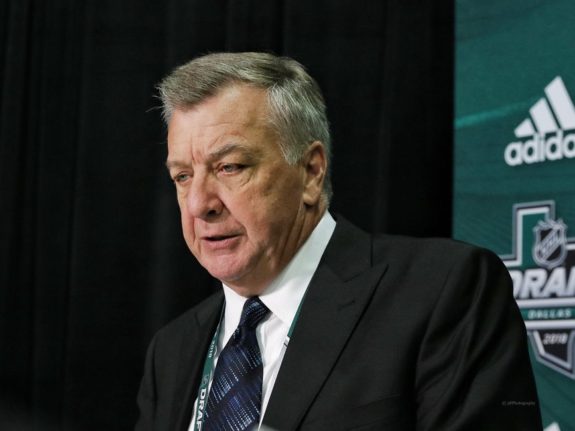 This highlights how Skinner's defensive issues may have been overblown in Waddell's decision to deal him at this time. It seemed that Skinner was becoming a stale figure in the organization and the brass was looking for some fresh faces. Also, there was no guarantee that Skinner would sign a contract extension past this year, risking the prospect of losing him for nothing, a la John Tavares.
At the end of the day, this trade needed to happen at some point. Last week, THW's Mark Shiver wrote in his analysis of the Skinner trade that "the exact reason for the timing may not be evident to the fans or even to the media that covers the team. But, it is clear that the team has wanted to move on from Skinner since the end of the season," so there is clearly a deliberate direction that the 'Canes management wants to go in making this move in particular.
Slow and Steady
The push to end the Hurricanes' nine-year playoff drought is well apparent. Dundon, Waddell, and Brind'Amour have all addressed it as well as many Hurricanes players. Not receiving a roster player back from dealing Skinner does not nullify or discredit a legitimate push to end the drought, rather it highlights the way in which the brass wishes to achieve their goal.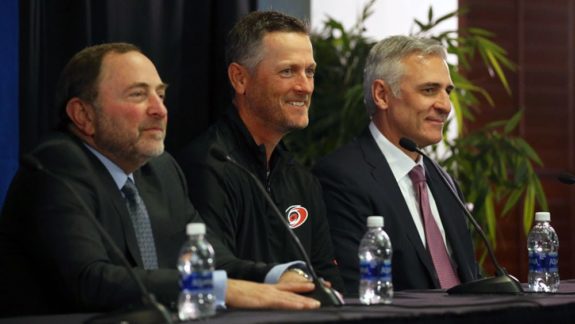 In other words, it has become more and more apparent that the team management is employing the tactic of building through the draft and allowing young players to make a difference. For instance, all signs point to Andrei Svechnikov and Martin Necas making the team this season, and it is believed that the 'Canes would like to see guys like Valentin Zykov, Warren Foegele, and Lucas Wallmark spend more time up with the big boys. All three of those youngins made a reasonable impact in their respective stints with the team previously.
Don Waddell even said himself that the fact that the second overall pick fell into their laps this season put more of an emphasis on wanting to let the young guys prove their worth. They were basically handed the opportunity to draft a guy that could play NHL minutes at 18 years old in Svechnikov.
All this to say, everything that Dundon and Waddell have done since taking over has clearly been deliberate in forming a new identity and making wholesale changes to a squad that hasn't seen a game 83 in almost a decade. This is something that the fans themselves have demanded. However, it may not be the most straightforward path to achieve what they wish to achieve.
Consider the Toronto Maple Leafs for a moment. When the wheels began to fall off the wagon after their humiliating playoff defeat at the hands of the Boston Bruins in 2013, they purged both the entire roster and front office in search of a new culture, identity, and direction. They committed to build through the draft, surround the youngsters with wise veterans, and to be patient in their rebuild.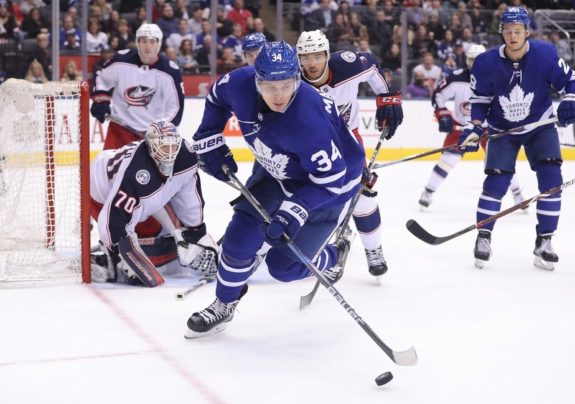 Fast forward five years and the Leafs have the best forward corps in the NHL made up of mostly players younger than 25, they landed the biggest free agent fish since Marian Hossa in John Tavares, and they are a top-five team in the league with Stanley Cup aspirations. Obviously, Carolina's situation is different in many ways, but it appears the 'Canes brass believes that their drafting and patience will be more helpful in righting the ship than keeping players around until they have to sell them for pennies on the dollar.
We may not understand or agree with everything that the Hurricanes organization does, but it is clear that they have a defined plan in place to turn this team around.