In what has to be one of the most amazing developments of the NHL offseason, the Carolina Hurricanes traded forward Jeff Skinner to the Buffalo Sabres. According to WKBW in Buffalo, in return, the Hurricanes acquired prospect Cliff Pu, a 2019 second-round draft pick, 2020 third round pick, and 2020 sixth round pick.
August 2 may go down in Hurricanes lore as one of the team's most significant days. It will either be a day that fans and talking heads look to as a stroke of genius or as a horrendous deal for the Canes. Only time will tell.
Don Waddell, Hurricanes president, and general manager said in a statement, "First and foremost, we thank Jeff for the impact he had on our franchise and our area, both on and off the ice. He's a good person who has been an excellent representative for our team in the community throughout the past eight years."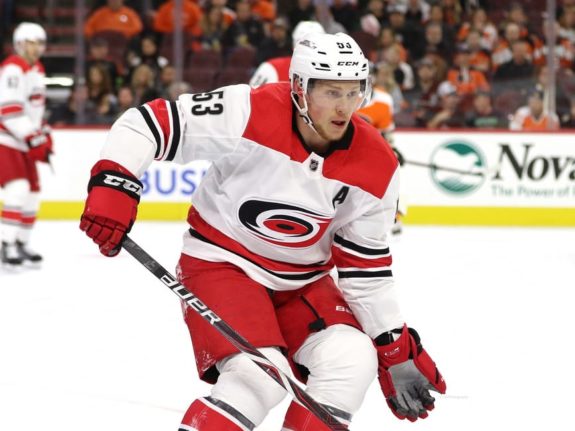 Waddell continued, "However, with Jeff becoming an unrestricted free agent next summer, this was the right time for us to move on, and to provide Jeff with a fresh start in Buffalo. We talked to every team in the league over the past four months, and ultimately the Sabres were the team that provided us with the best value in return, including three picks and a prospect we like in Cliff Pu."
One of the most telling things that Waddell said was later in the evening on a conference call with the media. When asked if the Hurricanes had negotiated with Skinner's representation Waddell replied, "No. we did not." It was clear to Hurricanes management the Skinner era was over in Raleigh.
Skinner for Pu. Who?
Earlier Thursday, Carter Fricano, who also covers the Hurricanes for The Hockey Writers, speculated about a possible Skinner for Artemi Panarin trade between the Hurricanes and the Columbus Blue Jackets. That speculation was short-lived, even though it made much better sense in terms of a return for Skinner.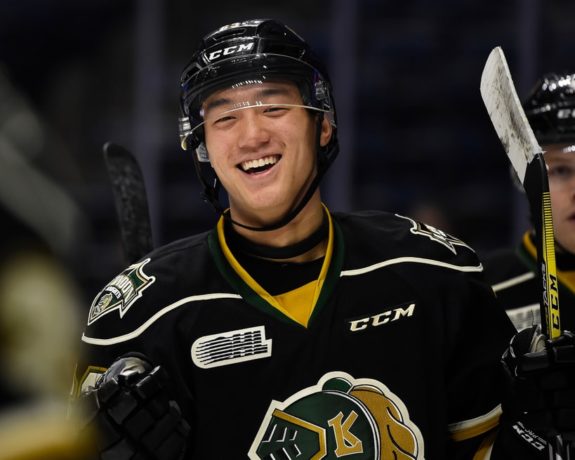 Cliff Pu is a prospect. Steve Kournianos of The Draft Analyst posted on his Twitter Thursday after the trade, "Solid move by the Sabres. For Carolina, Cliff Pu is a speedy 2-way center with size who stood out for London back in 2016 when Marner, Dvorak etc. were at the WJC. He then became their best player a season later. Was teammates with Janne Kuokkanen, who was Carolina's 2nd in 2016."
Hard to knock the Skinner trade on Buffalo's end in terms of asset management.

Turned a 3rd-round pick (Pu), a 2nd rounder in 2019 (three 1sts in same draft) and a 3rd & 6th in 2020 for a premier goal scorer who just turned 26.

This didn't dent a thing.

— The Draft Analyst (@TheDraftAnalyst) August 3, 2018
As prospects go, the Hurricanes could have done worse. Michael Smith of the Hurricanes organization wrote this about Pu in his breakdown of the trade on the team's website: "Pu is coming off his fourth season in the Ontario Hockey League, in which he totaled 84 points (29g, 55a) in 65 games with London and Kingston. The 20-year-old winger ranked eighth in the league in assists and 10th in the league in points. Pu, who inked his three-year, entry-level contract last October, will begin his professional career this season."
In summary, the Hurricanes acquired a player who is showing promise. If, or when, he will become a contributor to the team is unknown. For now, it is safe to say that if the Hurricanes were going to get a prospect, Pu was a good one to get.
Skinner for Picks, Too
The Hurricanes also acquired three draft picks from the Sabres in exchange for Skinner. They received Buffalo's second-round draft pick in 2019 and their third- and sixth-round picks in 2020. Smith also noted in his breakdown, "Whether they are utilized to make picks in 2019 and 2020 or packaged in a separate transaction, they are quality future assets."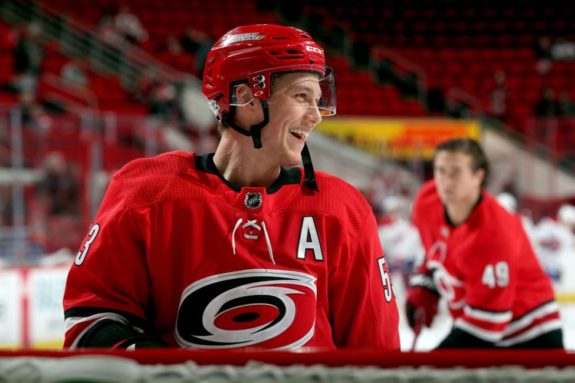 This is a mantra that former Hurricanes general manager Jim Rutherford used to roll out whenever he employed his grand plan of "acquiring assets." His successor Ron Francis followed in that train of thought, at times choosing to stockpile picks instead of pulling the trigger on a trade that would help the team.
It is nice to have draft picks. For those who are "glass half full" folks, Skinner for Picks and Pu is a wonderful deal. But, that does not tell the whole story.
Why Deal Skinner for Pu & Picks?
Much has been written about Skinner's situation with the Hurricanes. The former Calder Trophy winner and 2011 All-Star was the team's most dangerous scoring threat and at times its biggest frustration. Luke DeCock of the Raleigh News & Observer wrote Thursday after the trade, "First Kirk Muller and then Bill Peters was unable to get Skinner to commit to the kind of two-way game that would have enabled them to give him more ice time and more responsibility. Only rarely during the course of his career here did he get the true first-line minutes his offensive production appeared to deserve on paper and his unquestioned scoring ability appeared to deserve on the ice. It was a constant battle between player and coach."
Skinner refused to play the kind of defense that his coaches wanted him to play. My own position on this was, "So what?" Having Skinner playing on the top line and possibly scoring 35-40 goals a season might be a worthy tradeoff. I wrote on April 28,  "Let Skinner work with a new coach and see if there is a chemistry that was lacking between him and Peters."
I have been asking all offseason, "Why and for who?" when it came to discussions of the Hurricanes trading Skinner. Yes, he is in the last year of his contract. Yes, it is good to get rid of him before that contract expires. I get all of the "reasons."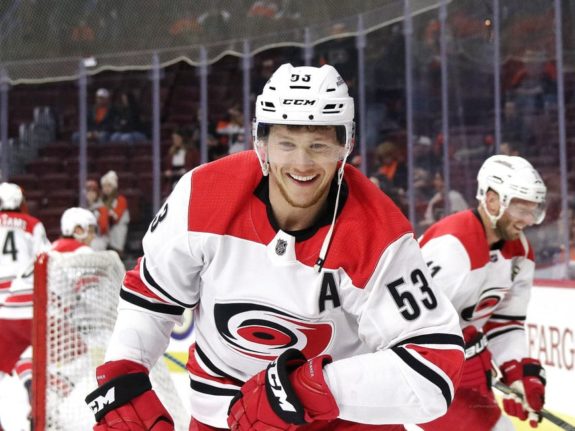 Waddell also told the media Thursday night that the decision had been made after the season to begin to listen to what other teams had to offer regarding Skinner. Waddell said, "As you know when it becomes time to have extra draft picks in today's day with salary caps and you have an opportunity to improve your team during the year to have those extra picks is very important. So we just made a decision early on that we would listen to people and if there's a deal that made sense to us we would make a decision and move in that direction."
The exact reason for the timing may not be evident to the fans or even to the media that covers the team. But, it is clear that the team has wanted to move on from Skinner since the end of the season.
LOVE the Jeff Skinner trade!! The #Sabres gave up inconsequential picks for a player who scored 37 goals a season ago and has never played with a center like Jack Eichel. They're gonna light it up this year. Oh they have Rasmus Dahlin too!

— Pete Prohaksa (@buffalasagna) August 3, 2018
Waddell saying that the Hurricanes had talked to every team in the league and that the Sabres – Pu, and picks – provided the best value is huge. Panarin must never have even been close to a reality for the Hurricanes. Getting the Montreal Canadiens' Max Pacioretty for Skinner must have never been close.
Do all of the other teams in the NHL see Skinner as value-less? Is this 26-year old with potentially astronomic goal-scoring ability really only worth Pu and a few picks? Was it his no-move clause that kept the Hurricanes from getting the kind of value they should have for Skinner?
Asked if he was concerned about giving up a 30-goal scorer and how the fans would react Waddell said, "I'm always concerned about goals, but I'm more concerned about winning." He elaborated that the team has picked up pieces in the offseason that should enhance the team's goal-scoring potential such as Martin Nečas and the number two overall draft pick, Andrei Svechnikov.
Waddell also said that there are players in Charlotte that can score who may be ready to move up and that the trade with the Calgary Flames brought Michael Ferland and Dougie Hamilton to the team who can also score.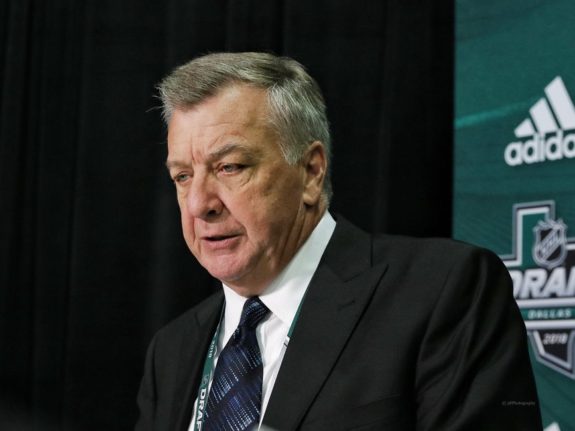 Waddell said, "Again, this isn't about Jeff Skinner and us not winning, it's about us feeling it was time to make a change. We feel the pieces we've added this offseason will make up for the goals."
On the opposite side of the analysis, Scott Cullen at TSN summed up the trade saying, "Buffalo got a first-line scoring winger at a discount price, so they have to be ecstatic. Perhaps Skinner's no-move clause limited his potential marketplace, but the Hurricanes are clearly worse after getting rid of Skinner, and it doesn't look like the return makes the deal worthwhile. Essentially, if this was the best deal available, why not keep Skinner next season and try to make the playoffs?"
Buffalo and Skinner are clear winners in the deal. But, Waddell is confident that the trade is in the best interest of the team. If what Waddell hopes comes to pass regarding the team finding goal-scoring from more than just one player, it will be a win for the Hurricanes.