It's been more than a year since the Los Angeles Kings made a pair of perplexing transactions involving goaltender Ben Bishop — first acquiring him from the Tampa Bay Lightning for Peter Budaj, Erik Cernak, and a couple of picks, then dealing him to the Dallas Stars for a fourth-round pick — all within 72 days.
They're a pair of trades that still confound even a season removed. However, in order to completely understand the trades, the context in which they took place, and the impacts they had on the Kings and others, we need to do a little time travel back to the beginning of the 2016-17 NHL season and visit both coasts.
Lightning's Goaltending Situation
Our first stop is sunny Tampa, where Ben Bishop was coming off the best season of his then seven-year NHL career. He made 61 starts, posting a 35-21-4 record with a sparkling .926 save percentage (SV%) and a tiny 2.06 goals-against average (GAA). He was nominated for a Vezina Trophy and was a key member in the Lightning's deep playoff run, in which they fell short of a berth in the Stanley Cup Final by a single win.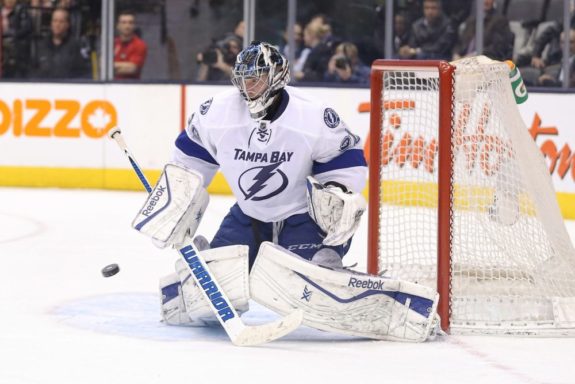 However, all was not stable in the crease to begin 2016-17. Bishop was entering the final year of a two-year deal worth nearly $12 million and set to be an unrestricted free agent that summer. With cap concerns, the expansion draft looming, and a contract extension to stud goalie prospect Andrei Vasilevskiy, the Lightning shopped Bishop over the summer. They came close to sending him to the Calgary Flames, but the two sides couldn't quite reach a deal, so Bishop remained in blue and white.
Meanwhile, on the West Coast…
Our second stop is Cali. The Kings, at the time, had (and still have) one of the NHL's premier goaltenders in Jonathan Quick. However, his campaign got off to the worst start imaginable, as he sustained a lower-body injury in the team's first game of the season that forced him onto the shelf long-term.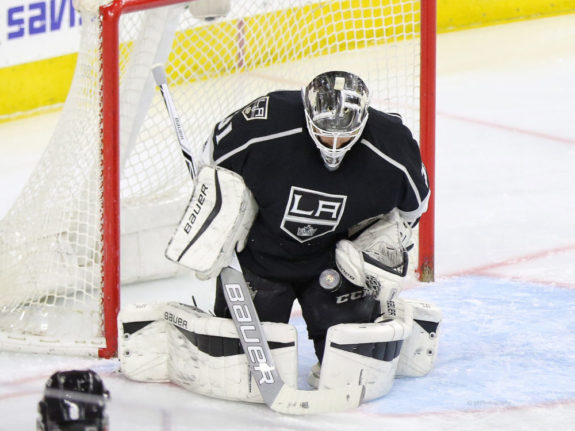 It was a huge blow early on for the Kings, but an unlikely candidate stepped up in a big way. Peter Budaj — who had been kicking around in the AHL for the past two seasons but had a tremendous 2015-16 with the Kings' affiliate, the Ontario Reign — seized control of the crease and ensured the Kings didn't get buried early. He posted an outstanding .917 SV%, 2.12 GAA, and a 27-20-3 record.
Budaj's resurgence made what would come next all the more confounding.
Kings' Trade for Bishop Was Inexplicably Timed
On Feb. 26, three days before the trade deadline, Kings general manager Dean Lombardi (who, as an aside, would be fired less than two months later) decided he would solve his team's non-existent goalie problem by acquiring the towering Bishop.
BREAKING: @DallasStars acquire pending UFA G Ben Bishop from @LAKings for a 4th-Round pick in the 2017 NHL Draft #TSNHockey pic.twitter.com/ONG81LMmLm

— TSN Hockey (@TSNHockey) May 9, 2017
The trade's timing was inexplicable. The Kings, at the time, were 30-27-4 — fifth in the Pacific Division but still very much in the playoff hunt. Making the timing even weirder was the fact Quick had finally recovered and made his triumphant return to the crease just one day prior to the trade. The Kings' front office, with the trade, also kicked Peter Budaj in the teeth — thanking him for navigating their team through rocky waters and keeping them afloat by handing him a ticket out of town.
A King for a Day
The trade would have been understandable and necessary if it had happened in October, soon after Quick's injury and before Budaj proved he had more miles left in him. However, given Quick's return and Budaj's strong play, many in the hockey world had trouble wrapping their heads around it. It's not like the Kings were going to be able to afford to sign Bishop to an extension at the season's conclusion.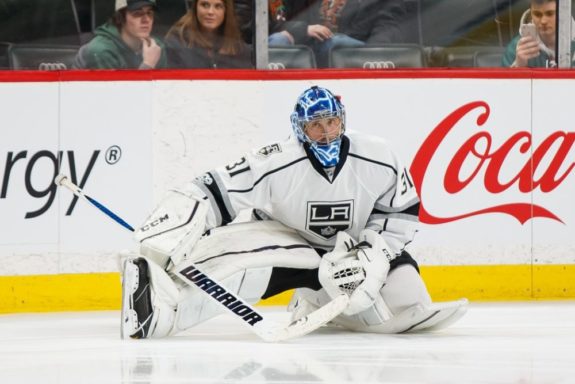 Bishop's tenure with the Kings was short-lived and is a mere footnote in the context of his entire career. He made just seven starts for the team, going 2-3-2 with a SV% of exactly .900 and a GAA of 2.49. The Kings failed to qualify for the postseason, finishing eight points out of the second wild-card spot.
Kings Deal Bishop for Paltry Returns
In April, the Kings cleaned house and fired Lombardi and head coach Daryl Sutter in one fell swoop. A month later, new GM Rob Blake rolled up his sleeves and quickly undid the February trade struck by his predecessor.
Blake found a suitable partner in the Dallas Stars, who, despite having a strong offensive attack featuring Tyler Seguin, Jamie Benn, and Jason Spezza, finished under .500 due to poor goaltending. Their duo of Finnish netminders, Kari Lehtonen and Antti Niemi, struggled throughout the season; the Stars allowed 262 goals that year, second-worst in the entire league.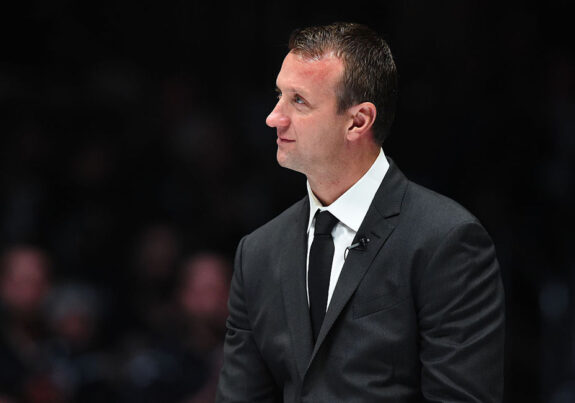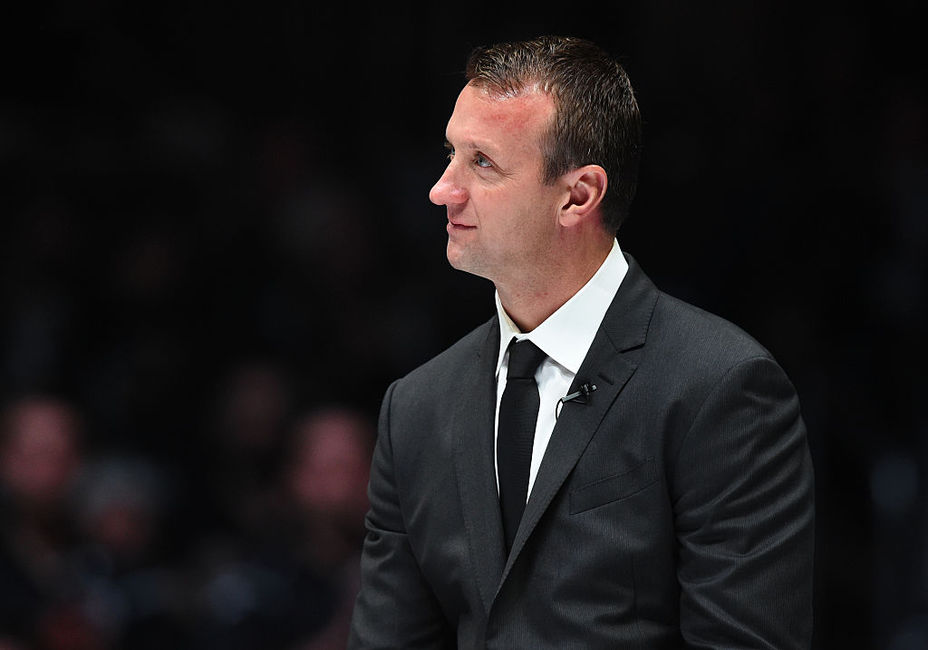 Unfortunately for Blake, he was not dealing from a position of strength. Bishop was set to become a UFA in July — trading for a player without a contract is inherently risky business — which kneecapped Blake's negotiations and limited the potential return.
Blake traded the rights to Bishop to the Stars and only managed to get a fourth-round pick in the 2017 NHL Entry Draft in exchange — a pittance for a goaltender who finished second in Vezina voting a year before.
With the pick, which Dallas had previously acquired from the Montreal Canadiens, the Kings took Markus Phillips, a defenseman just off his rookie season with the Ontario Hockey League's Owen Sound Attack.
Dallas Stars the Biggest Beneficiary
Our last stop before the riveting conclusion is the Lone Star State. The Stars are true beneficiary of the Kings' bizarre dealings with Bishop. Three days after the trade, Bishop signed a six-year deal with Dallas worth nearly $5 million a year. Bishop has become a big part of an improved Stars squad, both literally and figuratively, and looks well worth the investment.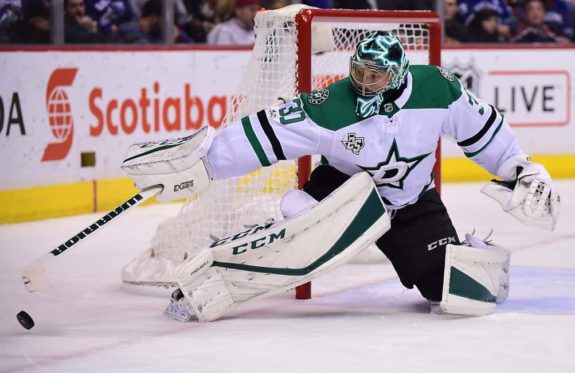 In 2017-18, while he didn't play quite to the echelon of Vezina-nominated goalies Pekka Rinne, Connor Hellebuyck, and Andrey Vasilevskiy, he had, by all accounts, a solid season. He made 53 starts, posting a 26-17-5 record, .916 SV%, and 2.49 GAA, sustainable numbers in line with his career averages.
The Stars still missed the playoffs in the ultra-competitive Central Division, but did improve by 13 points — to 92 from 79 — and cut down on their goals against to 225 from 262. They should contend for a spot in 2018-19.
A Final Summary of the Bishop Trades
Acquiring Bishop was ultimately pointless for the Kings. It may not have been if he'd have helped them grab a playoff berth, but he didn't. He really didn't make any impact in his short time, nor was he was given much of an opportunity to make one.
The trade was inessential and inconsequential — a shaggy dog story akin to a Coen brothers film where a lot of stuff happens, but ultimately, nothing changes.
https://twitter.com/hullonhockey/status/992211466576113666
If anything, the Bishop saga was detrimental to the Kings. They gave up a good prospect in Erik Cernak, touted by Elite Prospects as "a big defenseman with excellent reach and strength" and "brilliant defensively and in front of his own net."
They simply didn't need to make a change in goal — Budaj was holding the fort just fine — nor could they afford to have a second All-Star calibre goalie. Bishop's expiring contract meant they weren't able to get anyone of substantial value in return.
The Kings acquiring Bishop simply didn't make sense when it happened, nor does it a year and a half later.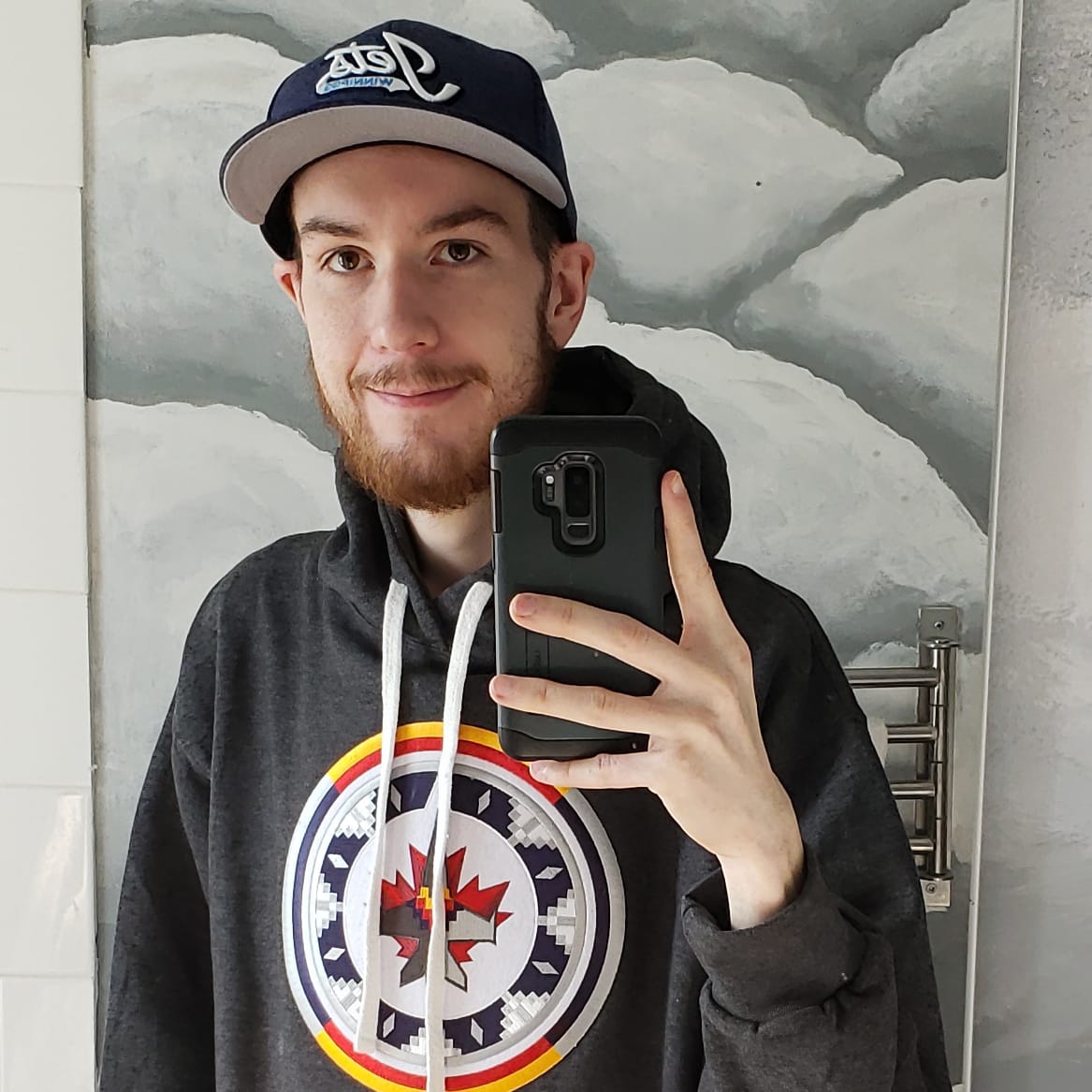 Declan Schroeder is a 27-year-old communications specialist and freelance journalist in Winnipeg, Manitoba. He holds a diploma in Creative Communications with a major in journalism from Red River College and a bachelors in Rhetoric and Communications from the University of Winnipeg.
Deeply rooted in the city's hockey culture, the original Jets skipped town when he was two and the 2.0 version came onto the scene when he was 17.