The Carolina Hurricanes signed first round draft pick, Haydn Fleury last week.  Fleury signed a 3-year deal, making $832,500 per season at the NHL level and $70,000 at the American Hockey League level. He will pocket a signing bonus of $277,500.  Not a typical day's work for an 18-year old.
So proud to have signed with the @NHLCanes #dreamcometrue #canes — Haydn Fleury (@fleury96) August 8, 2014
But then, Fleury is not a typical 18-year old.
Haydn is a bright, young hockey talent who is hitting the marks along the way to becoming a player in the NHL.  At 6'3" tall and 207lbs, he is sized well for the next level.  He has shown scoring prowess in the Western Hockey league – 12 goals/65 points in 140 games during his two seasons with the Red Deer Rebels, and was named best defenseman at the 2014 IIHF Under-18 World Championships in Finland.  He is participating in several development camps this offseason, and will be in the Hurricanes' training camp in a few weeks.
In a statement, Hurricanes General Manager, Ron Francis has given his Fleury endorsement, saying "We feel very strongly that Haydn is an important part of our team's future."  Haydn has got to be pumped about the boss' blessing.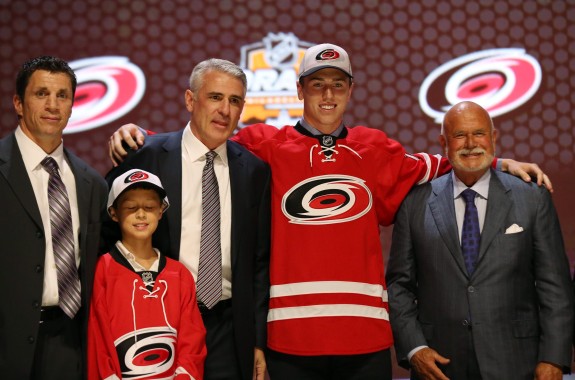 The reality is that it will take more than Ronnie's praise to get NHL ice time for Fleury.
He will be competing with at least 7 veteran NHL defensemen, who will not easily be displaced by the youngster.  Names like Faulk, Sekera, Gleason, and Hainsey will more than likely be inked-in on the roster long before Fleury's is even seriously considered.  And Ryan Murphy will not rollover and give up the spot he's fighting to earn.
But the veterans might not want to get too comfortable.  Fleury is for-real – at least at this point, and is definitely not going to skate with the mindset that he is too young to have a real shot at the big league.  He'll probably get some ice-time in some of the early games, and if he makes the most of his opportunity, may not be wearing a Charlotte Checkers sweater as long as everyone assumes.
The Hurricanes are building a team that is younger and bigger.  The fans in Raleigh don't particularly care about age and size; they just want their team to make the playoffs.  Haydn Fleury can be a part of helping Canes fans see that desire come true.  His contribution may not be a factor this season, but look for the youngster to be a regular in the PNC Arena not too far down the road.