Edmonton has been at the bottom of the NHL for years now. With some many top picks you'd have expected them to have turned it around by now. Instead they are still faltering, but their prospect pool continues to contain top players looking for their shot to make it into the NHL and realize their boyhood dreams. While the Oilers still have things within their coaching and management to work out, perhaps it won't be that long before the young guns start to click. Here is a look at their top five prospects.
Criteria:
Skaters can not have played more than 42 games.
Goalies can not have played more than 25 games.
5. Oscar Klefbom – NHL – Edmonton Oilers – D
Klefbom has been an anchor for Farjestad and Team Sweden on defense. He's won a bronze, silver, and gold medal in international competition and is now ready to play for the Oilers this upcoming season. As you see with many Swedish skaters, their skating is elite. Klefbom is no different and at his size he's a formidable defenseman. He can push the pace of the game, but always makes it back into the play. He's been looked at for his two-way play, but he'll succeed in the NHL for his defensive play, not his offensive skill.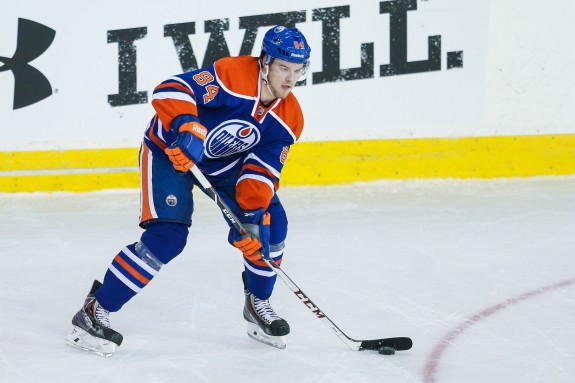 4. Mitch Moroz – AHL – Oklahoma City Barons – LW
It took time, but Mitch Moroz's offensive game was finally found this season in the WHL. The bruising power forward was known to mix things up on the ice and received over 100 PIM in each of his three seasons for the Edmonton Oil Kings. The Oilers have had the pleasure of watching him develop and had scouts watching his every move. He's ready to make it to the AHL and hopes to work on his skating, which has been a major question. Overall, he needs some more time playing against older competition, but should be an effective player when the Oilers come calling.
3. Mark Arcobello – NHL – Edmonton Oilers – C/RW
There aren't many 25 year olds that are still considered prospects, but given the criteria of these top five rankings I've been doing, Mark Arcobello fits the bill. Last year he played 41 games for the Oilers and showed his playmaking style that made him a prevalent point producer in the AHL and NCAA. Hannah Stuart, a THW writer, has covered the Edmonton Oilers during their rebuild. She had this to say about Arcobello having the stars align for him:
"With a one-way contract and Sam Gagner out of town, Mark Arcobello has his best chance yet to stay up with the Oilers for a full season. He's their best prospect outside the NHL, and despite any concerns about his size, the Oilers would be well-served by giving him a shot."
2. Darnell Nurse – OHL – Sault St. Marie Greyhounds – D
Given his age (19), Darnell Nurse has one of two options this year. He can either return to the OHL and play for the Greyhounds or have a major impact on coaches and management during training camp and stay with the Oilers. Right about now, the latter is looking to be talked about more frequently. Edmonton has always lacked top defensive talent, and Darnell Nurse is looking to change that. A physical two-way defenseman, Nurse is a nasty player that you want on your blueline. The rearguard is poised with the puck, can blast it from the point, and set up plays in the offensive zone. He's a jack of all trades the Oilers have been looking for.
1. Leon Draisaitl – WHL – Prince Albert Raiders – C
The teen labeled as the "German Gretzky" is getting a lot of hype…and for good reason. Leon Draisaitl has just about everything you could possibly want in a center – size, skill, shot, puck protection, vision, playmaking, positioning, and is responsible defensively. He lit up the WHL with 105 points in 2013-14 on a rather average Prince Albert Raiders team. While many fans want him to play in the NHL sooner rather than later, he still has some issues in his skating that would be exposed at the professional level. It's better for him and the Oilers to let him develop further in the WHL for another year before testing the NHL waters.