Ron Francis is uniquely qualified to help the Carolina Hurricanes make the playoffs and that's just one reason why so many fans have placed their faith in him. As a former professional hockey player ranking second for most assists in the NHL (Wayne Gretzky ranks first), Francis has become a high-profile general manager. His track record for assisting teammates speaks volumes about his character, which is also one of the biggest contributing factors to winning a Stanley Cup Championship.
It's become quite clear the Carolina Hurricanes are in need of some elite scorers if they want to take a run at the Stanley Cup. Fans know this. Under the circumstances, it makes sense for Francis to spend a good portion of the 2016-17 season prowling for potential candidates to fill this desperately needed role.
Hurricanes Rebuild Tactics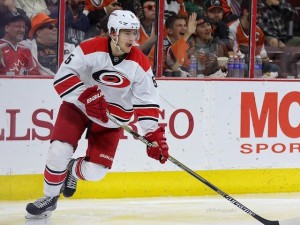 Having used the majority of high-end draft picks on defensemen over the last few years, Francis has successfully secured defensive prowess in the club's younger players and prospects. Now, the club must forego a different means of retaining assets.
With a little over $31.5 million in projected cap space next year, Francis has five restricted free agents whose contracts expire at the end of the 2016-17 season. Of course, we can expect some trades to happen since none of their forwards have the elite scoring abilities needed for the playoffs. Among the list of reasonable players available for trade, Francis still has another option. That is the option of an offer sheet.
Offer sheets in the NHL today are few and far between. The last time one wasn't matched was in 2007 when the Edmonton Oilers gave one to Dustin Penner, who was playing for the Anaheim Ducks at the time. The Oilers signed Penner to a $21.5 million contract for five years. Anaheim was compensated with a first, second and third-round pick in the 2008 Draft but, unfortunately, what they did with these picks was wasteful. Anaheim quickly traded them for what eventually turned into two third-round picks, a fourth-round pick, and a non-drafted player.
http://gty.im/74043313
Although offer sheets are rare and for that reason unlikely, they have some benefits that can't be denied. The first is the immediate impact the player can have on his new team. The second being that the player has a decent amount of years left in their NHL career, meaning they can still have an impact for many years to come.
Offer Sheet Candidates for 2017
In 2016, the offer sheet compensation values indicated that no contract worth less than $3,755,233.00 would result in a first-round draft pick. Although this amount changes every year, it can still give us a good understanding of how much an offer sheet could potentially cost. Below is a list of top forwards becoming restricted free agents after the 2016-17 season: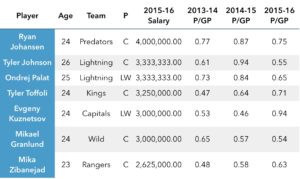 Mikael Granlund has been steadily decreasing his point production over the last three seasons. Tyler Toffoli and Mika Zibanejad are the only players who've steadily increased their point production over the same period. Ryan Johansen and Evgeny Kuznetsov had excellent point-producing seasons last year, while Tyler Johnson and Ondrej Palat have been quite sporadic with their point production.
Considering the improvement we've seen in Toffoli over the course of his hockey career and how many points he produces right now, he'd be an excellent addition to the Hurricanes' roster. For the Kings, a first, second and third-round draft pick would be a Godsend.
Although their reputation for thinking long-term allowed them to win a couple Stanley Cups, they've constantly had to balance present demands as well, which meant trading away youngsters and paying top dollar to hold onto their elite goal scorers. Perhaps an offer sheet for Toffoli is exactly what the Kings AND the Canes need right now.