When we look at the history of teams offering restricted free agents (RFAs) offer sheets, in hopes of plucking players from another team, we can see that the practice is a rarity in today's NHL. Whether it's because of the compensation a team must pay for essentially stealing a player, or because of the hardships of the salary cap facing many NHL teams, general managers have vowed to stay away from formulating offer sheets for the most part.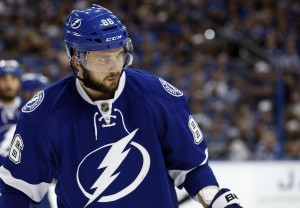 However, as some sources report, it looks like offer sheets may be flying in for Tampa Bay forward Nikita Kucherov should Tampa fail to sign the Russian winger before their season opener on Oct. 13 at Amalie Arena. With approximately $5.5 million of remaining cap space, and Kucherov seeking between $6-7 million annually, the Lightning are feeling the pressure to sign their star-winger now more than ever after negotiations for an extension failed to come through during the summer.
With approximately $5.5 million in remaining cap space, and Kucherov seeking between $6-7 million annually, the Lightning are feeling the pressure to sign their star winger after negotiations for an extension failed to come through during the summer.
Bob McKenzie Provides Insight on Potential Offer Sheets for Kucherov
Hockey insider Bob McKenzie recently made an appearance on Montreal's TSN 690 to break down the Kucherov situation and the possibility that teams could be ready to make a move on Kucherov by presenting an offer sheet for the young winger.
"If anybody's going to get offer sheeted, you would think this would be the guy," says McKenzie in convincing fashion. He went on to touch on the Lightning's cap crunch and how this impacts Kucherov re-signing in Tampa, saying:
"Steve Yzerman and the Tampa Bay Lightning are really, really up against it in terms of the cap, and that's going to continue to be the case. Next year, Drouin is a restricted free agent. Palat and Tyler Johnson are both restricted free agents. So they've got three critical players that are coming up for big raises next year.
"Now you've got Kucherov sitting here, who, if you were to give him market value, which would be anywhere between $6-7 million dollars a year on a six or seven or eight-year deal. They're not in a position to give him that. So I'm sure Tampa Bay would say (to other teams offering him a contract), 'Offer-sheet him if you want, but we're going to match no matter what.' But boy oh boy… What a nightmare scenario that would be for the Lightning if someone did."
Though McKenzie predicts the Lightning would be willing to match any offer that comes Kucherov's way, he acknowledges the fact that Kucherov is a star player and teams would be willing make a move for the winger if they believe he would fit their organization's needs. It would be a headache and then some for Tampa to match the offer and many moves would have to be made in order to make their financials fit under the NHL's current salary cap. Who knows, maybe other teams see this as an opportunity to take advantage of the Lightning and this prompts them to offer-sheet Kucherov in order to force Yzerman's hand in making other moves. It's a scramble game in Tampa Bay and just about everyone in the hockey world is aware.
Kucherov Must Agree to Leave Tampa Bay
While everyone is quick to jump to the idea that Kucherov will sign with the first team to give him an offer sheet, realistically that's not the case. Kucherov actually has to commit to leaving Tampa Bay – the only city and organization he's ever known – in order to sign that offer sheet. Bob McKenzie brought this to light during the same interview with Montreal's TSN 690:
"And here's the other thing—Kucherov has to want to go (to the team submitting an offer sheet). A team that has nothing but cap space is probably not a team that's going to contend for the Stanley Cup this year. So he would get his money, but he'd not be playing in a venue that would be anything close to what he's got going with Tampa right now," McKenzie said.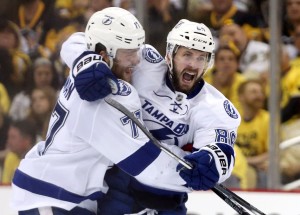 That may be the biggest thing going for Tampa Bay and GM Steve Yzerman in this situation – the fact that Tampa Bay remains a legitimate Stanley Cup contender.
Kucherov wants to win with the team that drafted him, developed him, and gave him the opportunity to blossom into the star player that he is today. This can go a long way in the negotiation process and his decision to stay in Tampa, regardless of whether or not another team tries to obtain his services.
Kucherov has also found undeniable chemistry playing with Tyler Johnson at center and either Ondrej Palat or Alex Killorn on the opposite wing, earning the nickname the "Triplet Line" league-wide. While money is always a strong motivator, chemistry and a sense of belonging go a long way in a player's decision to either stay or move on from their current team.
Lightning captain Steven Stamkos will tell you all about it, as he turned down big money this summer to remain with the Lightning in a similar situation to Kucherov's, although Kucherov's RFA status binds him to Tampa Bay and gives the team more negotiation leverage. Would Kucherov be willing to part ways with Johnson, Palat, Killorn, and co.? It's hard to say.
Compensation Would Be High
When another team submits an offer sheet on a player, the team offering the new contract to the RFA must compensate the RFA's current team with future draft picks, something many teams are hesitant to do. However, GMs have done it before and Tampa is aware of it. It's not all terrible news on this front, as Tampa would likely receive high compensation for letting Kucherov walk (this being a last-hope kind of scenario).
Bob McKenzie spoke of the compensation Tampa could expect to receive from a team going after Kucherov, a player McKenzie describes as 'special' who would bring in high compensation on a new deal:
"If you really believe Kucherov was a special player—and he's demonstrated fairly quickly that he might be… he's got 22 goals in 45 playoff games—if you were to give this guy $7 or 7.5 million a year times seven, which would be the max number of years you could give him, it would cost you a first round pick, a second round pick, and a third round pick," McKenzie projects.
Although it's better to get something rather than nothing for losing Kucherov, you have to think the Lightning would much rather keep their star player in-house moving forward, even if it requires major roster moves in order to accommodate the new deal. Yzerman's hand would be forced to deal away other players eating away at their cap, a move that could potentially offset the chemistry and tight-knit group they currently own now.
It will be an intriguing few days leading up to the Lightning's season opener on Oct. 13 against the Detroit Red Wings at home. Will Kucherov be wearing Tampa Bay's blue and white that day? Donning another team's logo on his chest? Or remain an RFA with the Lightning while missing playing time in order to give the Lightning more time to accommodate him? The clock's hands can't tick any slower in Tampa. Let's see what happens.