The New York Rangers reduced their training camp roster to 29 Wednesday afternoon, assigning nine players to the organization's AHL affiliate in Hartford. Forwards Marek Hrivik and Nicklas Jensen were the most notable cuts, joined by goaltender Mackenzie Skapski, defensemen Mat Bodie, John Gilmour, Ryan Graves and Chris Summers, and fellow forwards Robin Kovacs and Malte Stromwall.
#NYR have 29 players remaining at #NYRTC presented by @SAPSports. Here is the roster breakdown. pic.twitter.com/GGAJRJPKML

— New York Rangers (@NYRangers) October 5, 2016
It would seem that Alain Vigneault and company still have their work cut out for them in reducing the roster to 22 or 23 players by opening night next week, but a closer look shows that coaches and management are left with only one or two big decisions.
Moving Forward
The Rangers have 18 forwards remaining in camp, with the team likely to carry 13, and possibly 14, to begin the season.
Two players can be eliminated from the list immediately: Rookie center Boo Nieves was injured at the Traverse City Prospects Tournament in early September and has not practiced as of yet in camp, not that he was expected to vie for a spot on the varsity this season anyway. Also, 2016 sixth-rounder Gabriel Fontaine is hurt, not to mention ticketed for a return to the QMJHL.
So that cuts the number of viable forwards down to 16. That number decreases by another two because Oscar Lindberg is still working his way back from off-season hip surgery and is not expected to be ready until the calendar flips to November, and former Calgary Flame Josh Jooris suffered a strained groin early in the preseason and has not played a game, nor practiced with the team, since, though he has resumed skating.
While Lindberg seems assured of a spot in the lineup when healthy, Jooris was in a serious battle for a roster spot with several others. Vigneault admitted earlier in the week that it has been very difficult to evaluate Jooris, meaning that the newcomer is likely ticketed for Hartford. Coupled with Lindberg not being ready to play, that leaves 14 forwards remaining on the roster.
Arguably the Rangers could keep 14 forwards, seven defensemen and two goaltenders, though Vigneault always points to salary cap concerns when considering a roster of 23 players. So that could mean veterans Tanner Glass and Nathan Gerbe are battling it out for the last forward spot, assuming that Brandon Pirri has solidified a spot with his NHL-high four preseason goals and six points and that highly skilled rookie Pavel Buchnevich has also solidified his place on the team.
Though largely unpopular with the fans, Glass has long been a favorite of Vigneault, who coached him in New York and Vancouver. He is a physical player, though limited offensively, and adequate on the penalty kill.
Gerbe, signed as a free agent this past summer after three years in Carolina and four in Buffalo, is a diminutive speedster who has some offensive touch and is a big asset on the penalty kill. Like Glass, Gerbe is known to be a great teammate, a real leader, and solid in the locker room.
The bet here is that Gerbe grabs the 13th forward slot on the roster, joining Pirri, Buchnevich, Mika Zibanejad, Derek Stepan, Chris Kreider, Rick Nash, Mats Zuccarello, Jimmy Vesey, J.T. Miller, Kevin Hayes, Michael Grabner and Jesper Fast.
Getting Defensive
Vigneault has stated in the past his preference for carrying eight defensemen on the roster to make even defense pairs during practices. However, as stated above, that has rarely been an option for the Rangers due to the salary cap.
Since the Rangers have some room under the cap, they may start the season with the eight defensemen remaining in camp: Ryan McDonagh, Marc Staal, Dan Girardi, Kevin Klein, Brady Skjei, Nick Holden, Dylan McIlrath and Adam Clendening.
The likely scenario is that one of those eight will be cut before next week, meaning Skjei, Clendening and McIlrath are fighting for the final roster spot.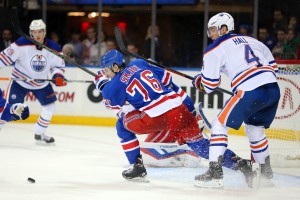 It was widely assumed that Skjei, the team's 2012 first round draft pick, who fared well when pressed into duty during the first round of the playoffs last spring after a strong season in Hartford, would grab a top 6 role with the Blueshirts this season. However, his unsteady play during the preseason, which Vigneault discussed publicly, leaves in question whether Skjei is in the starting lineup come next week, or even on the roster. He could be sent to the Wolf Pack for a bit more seasoning.
Clendening has outplayed Skjei, not to mention the struggling Girardi, so far in the preseason. He has been an asset on the power play, has registered four assists in four games, and has played better defensively than expected. The 23-year-old has been a pleasant surprise and is clearly making this a difficult decision for the team's brass.
The fan's choice to make the team, and play a top 6 role, is McIlrath. The 2010 first-rounder appeared in 32 games as a rookie and has been given a long look in the preseason. McIlrath has played well at both ends of the ice in his four exhibition tilts, and, at 6-foot-5, 220 pounds, provides a rugged stay-at-home option on the defense corps, something the Rangers lack in their other options. Vigneault has praised McIlrath during training camp, though in the past he has not trusted the rugged blueliner.
One could argue that the declining Girardi should be the odd man out here, but that is not going to happen. The easy choice would be to send Clendening to the minor leagues and keep the two first rounders, Skjei and McIlrath.
My gut says that this is the way it will fall in the end. Clendening goes to Hartford, McIlrath is in the top 6 to start the season, and Skjei starts out as the seventh d-man, though not for long as he soon supplants either McIlrath or Holden.
Tending Goal
This is the easiest of the cuts the Rangers have to make. Magnus Hellberg remains the third goaltender for now, but he will be shipped to Hartford before long. Henrik Lundqvist and Antti Raanta are cemented as the top two goalies in the organization.