When Dan Boyle announced his retirement on Wednesday, he became the last remaining member of the Tampa Bay Lightning's 2004 Stanley Cup team to call it an NHL career. The only other remaining players from that team, forwards Vincent Lecavalier and Brad Richards, each ended their respective careers earlier this offseason.
Boyle, 40, spent five and a half seasons with the Lighting and was the team's leader on the blueline before being traded to the San Jose Sharks during the 2008 offseason. After six years in San Jose, Boyle played two seasons with the New York Rangers but retired as a San Jose Shark on Wednesday.
Congrats on the great career!#ThanksBoyler pic.twitter.com/37LYs3N6IS

— San Jose Sharks (@SanJoseSharks) October 5, 2016
During Boyle's 17-year NHL career, he played in 1093 regular season games and registered 605 points. He also added 17 goals and 64 assists in 130 playoff games and was a key piece of the Lightning's 2004 Stanley Cup team. Internationally, he won a gold medal with Team Canada at the 2010 Winter Olympics and a Silver Medal in 2005 at the World Championships.
A closer look at Boyle's time as a member of the Lightning shows how a skilled defenseman who had initially been overlooked at the NHL level began his rise to being one of the league's top blueliners and how his legacy continues on with the franchise today.
How Boyle Changed the Lightning Blue Line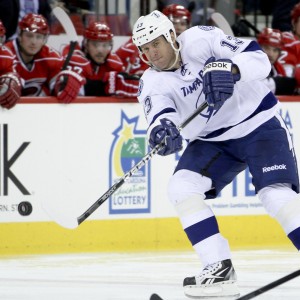 Boyle arrived in Tampa Bay when Lightning general manager Jay Feaster was able to engineer a trade with the Florida Panthers for the 25-year-old in exchange for a 2003 fifth-round draft pick on Jan. 7, 2002. At the time, Boyle had played just 129 NHL games over parts of three and a half seasons with the Panthers and had only started playing with regularity in the NHL the previous season.
A standout defenseman at Miami University (OH) for four years, Boyle went undrafted out of college and began his professional career with a brief stint in the International Hockey League followed by a longer one in the American Hockey League. At the time Boyle ended his college career, there had been an increased emphasis placed on big-body defensemen and at 5'11", Boyle was viewed as "undersized" in the eyes of many NHL scouts.
Boyle joined a Lightning blueline built much the same way, but Feaster traded for Boyle because he saw an opportunity to diversify the team's defense. Bigger, physical defensemen like Jassen Cullimore, Pavel Kubina, Nolan Pratt and Cory Sarich were what the unit was built around, but Boyle was a different sort of player. As a smooth skating defenseman who could quarterback the power-play, Boyle brought a missing piece.
Boyle's Rise and the Lightning's Run to the 2004 Stanley Cup
After being traded to the Lightning in the middle of the 2001-02 season, Boyle made an immediate impact with the club, registering 20 points in 41 games. His increased role with the Lightning— where he averaged over 22 minutes per game that season, compared to under 16 minutes with the Panthers— were a sign that the "undersized" defenseman had what it took to play regularly at the NHL level.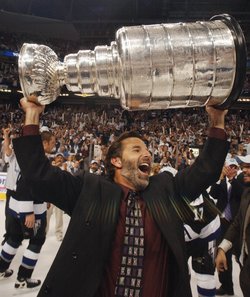 In 2002-03, Boyle set many career-highs at that point in his career and the Lightning set a franchise record with 93 points, winning the Eastern Conference's Southeast Division for the first time. Boyle was the team's top scoring defenseman and his 53 points in 77 games were fifth on the team. The Lightning advanced to the Stanley Cup playoffs for only the second time in team history before being eliminated in the second round by the New Jersey Devils. The season was a turning point in Boyle's career and also in the Lightning's existence, as the league began to take notice of both.
The following season the Lightning went 46-22-8-6 and won its second straight Southeast Division title. Boyle scored 39 points, including 15 on the power play, and finished fifth on the team with a plus-23 rating during the regular season. The Lightning entered the playoffs on the heels of a 106-point season in route to the 2004 Stanley Cup Final against the Calgary Flames. During Game 1 of the series, Boyle's house suffered significant damage during an electrical fire that took place when no one was home— ruining much of his home and forcing him to stay in hotels during the most important games of his career. Boyle, however, did not miss a game in the finals and the Lightning won the best-of-seven series on home ice in Tampa.
The NHL Lockout and Boyle's Contract Extension
After the NHL's Collective Bargaining Agreement expired and the league's owners and players were unable to come to terms on a new one, the 2004-05 NHL season was lost to a lockout. When play resumed for the 2005-06 season, Boyle picked up where he left off and followed a 53-point campaign by setting career-highs in goals (20), assists (40) and points (63) in 2006-07.
During the 2007-08 preseason, Boyle suffered a freak accident when a skate hanging from a hook in the Lightning locker room fell off and severed three tendons in his wrist. After multiple surgeries and missing significant time that season, Boyle played just 37 games but still managed 25 points. In February 2008, Boyle signed a six-year, $40 million extension which figured to keep him in a Lightning uniform through the tail end of his career.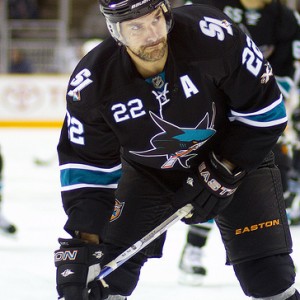 'The Trade'
The Lightning were in financial trouble off the ice and on June 30, 2008, the team was sold to an ownership group led by Oren Koules and Len Barrie. Despite Boyle's success and the leadership role he played for the team, the pair put pressure on him to waive his no-trade clause in an effort to shed his salary. Boyle initially refused, but after the pair reportedly threatened to place him on waivers—preventing Boyle from choosing where he landed—he approved a trade to the Sharks.
While Boyle's Lightning career did not end the way he wanted it to, just months removed from signing a long-term contract extension, he continued to thrive during the better part of six seasons with the Sharks and two more with the Rangers.
Boyle's Lightning Legacy
While today's Lightning team includes talented defenseman like Victor Hedman and Anton Stralman, Boyle will always be remembered in Tampa Bay for being the franchise's first true bonafide star at the position.
Congrats on an incredible career, Dan!

Thank you for spending six of your 17 seasons with us. ⚡️ pic.twitter.com/bKneAHrASK

— Tampa Bay Lightning (@TBLightning) October 5, 2016
After Boyle arrived in Tampa Bay in 2002, he spoke with head coach John Tortorella about his game.
"We sat down and I asked him, I said, 'Can you please trust me?'" Boyle said on Wednesday, according to The Mercury News. "'I know I play the game a little differently than most, I know it might be a little risky at times, but I know what I'm doing. Just please trust me.'" That's kind of when my career took off."
In 394 career regular season games with the Lightning, Boyle tallied 253 points and is the highest-scoring defenseman and ninth overall in franchise history. He also added 22 points in 45 playoff contests and earned the first of two all-star selections.
Perhaps it was Tortorella—a coach who is known for only giving out compliments when they are earned by his players—who summed up Boyle's legacy the best.
"I don't think you've ever received enough credit for what a fierce competitor you were," Tortorella said on Wednesday, according to The Mercury News. "You were the engine of our Stanley Cup team."
Boyle's career may not have ended in a Lightning uniform, but his legacy with the franchise will not be soon forgotten.
Steven is a lawyer and writer with a passion for the game of hockey. He's the Lead Writer covering the Tampa Bay Lightning with THW. He's also been press credentialed through the Lightning since 2016. His work has been published at The Fourth Period, LightningInsider.com, Bolt Prospects, The Sports Daily Network, U.S. College Hockey Online and College Hockey News. He's had radio appearances on TSN 690 in Montreal, Lightning Power Play Live and multiple podcasts to give insight and analysis on the team. He can be reached on Twitter @StevenDiOssi and by email at sdiossi@gmail.com.