The Toronto Maple Leafs are one of the most promising teams in the entire National Hockey League, of this, there is no doubt. Flush with a seemingly endless supply of talented young players, led by 2016 first overall pick Auston Matthew, to say the future is bright in Leaf Land would be an understatement.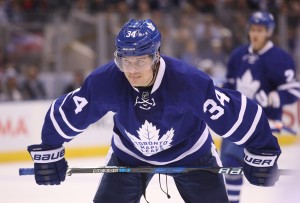 Heading into the 2016-17 NHL campaign, the likes of Matthews, Mitch Marner, William Nylander, Connor Brown, Nikita Soshnikov and Zach Hyman, amongst a large cast of others, will all be looking to make a lasting impression in their first years in the League. While some will quite understandably enjoy greater success than others as rookies, the Leafs, and their prospects, in particular, are moving forward into a highly promising future which is much closer to being realized than one might think.
However, despite the team's incredible quantity of talent up front, there are still other key areas of Toronto's roster which remain to be addressed. In fact, back in March, when a number of the Leafs prospects were getting their first taste of NHL action, I wrote about Toronto's need to add additional defensive prospects and depth at the position in general.
You can check that out here: "Leafs Rebuild Needs to Address Defense"
Since, the Leafs signed Nikita Zaitsev, a standout defender in the Kontinental Hockey League with CSKA Moskva, to a one-year entry-level contract. The young Russian, already a favorite of Head Coach Mike Babcock, is an offensively gifted defender with size and will see considerable time in Toronto this season, holding the talent to develop into a future top-pairing defenseman. Then, at the 2016 NHL Entry Draft, the Leafs used four of their 11 selections to draft defenders, the most promising of which being J.D Greenway, a tank on the ice who spent last season with the U.S National Development Team and will play at the University of Wisconsin this year.
Help Wanted
With the Leafs' defense of the future adequately improved, for the time being, at least, the primary focus of Toronto's rebuild must now shift to the crease, where the situation is as bleak as ever.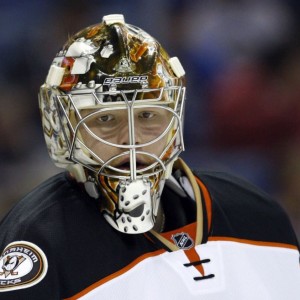 Of course, in the offseason of 2016, Toronto traded for and then quickly signed Frederik Andersen to a five-year deal worth a total of $25 million; a netminder who is slated to start for the Leafs in the present and near future. Further, Toronto picked up Jonas Enroth on a one-year deal worth $750,000 to back up Andersen. These two signings indicated just how depleted the Leafs were in terms of NHL capable goaltenders, having traded both Jonathan Bernier and James Reimer earlier in the year.
Yet, what these two signings also made quite clear was the fact that the Leafs do not currently possess a goaltender in their organization with which they are willing to entrust with the organization's future.
If we take a quick glance down the Leafs' goaltending pipeline, there is no specific goaltender which projects to become the Leafs' netminder of the future. Of course, each and every netminder within Toronto's organization retains the potential to do so, the problem being, however, is that none have taken the next step in their development, although it is often said that netminders develop slower than forwards or defensemen.
With that being said, of the lot, Garret Sparks, who saw time with the club in the 2015-16 season, is arguably the most promising, yet even his game is in need of improvement. Otherwise, Antoine Bibeau, Jeff Glass, Ryan Massa, Kasimir Kaskisuo and Jay Williams will all compete for playing time at varying levels of the Leafs' system.
Looking to the Future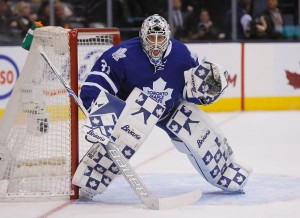 Looking ahead, it is safe to say that the Maple Leafs will not be a successful team this year, or next. Heck, Toronto could go another three or four years before their team is adequately developed and capable of competing at a high level on a consistent basis. Given the team's current timeline, by the time the Leafs are ready to truly compete, Andersen will be in the final years of his deal and over 30 years of age. Of course, his long-term presence in Toronto will be dependent on his play in the coming years, but in the long-haul, will Andersen be the goaltender to lead the Leafs into the playoffs?
While this is certainly a possibility, in all likelihood this will simply not be the case. Playing behind one of the NHL's best defensive teams in the Anaheim Ducks for his entire career, Andersen, whose individual statistics may have been slightly inflated due to such, essentially shifts to one of the League's worst, albeit improving, defense-cores.
Given Toronto's long-term development plan, the Leafs will need to develop a quality goaltending prospect who could one day become a legitimate starting goaltender at the NHL level.
For the Leafs, there are a mere two legitimate candidates:
A former standout in the Quebec Major Junior Hockey League (QMJHL) with the Lewiston MAINEiacs, Prince Edward Island Rocket, Charlottetown Islanders, and Val d'Or Foreurs, the Leafs grabbed Bibeau in the sixth round, 172nd overall in the 2013 NHL Draft.
Since joining the Leafs' organization, Bibeau has spent two seasons in the American Hockey League (AHL) with the Toronto Marlies. In his rookie season of 2014-15, Bibeau jumped in the crease and was solid considering his lack of professional experience, pounding out a 2.69 GAA and .913% SVP. His second and most recent season with the Marlies saw Bibeau tend the pipes in a career-high 40 games, where, although his numbers dropped slightly, recording a 2.70 GAA and .909% SVP, the young goaltender recorded an impressive 28 wins, up 13 from the 15 he won as a rookie.
A tall goaltender at 6'3″ and weighing in at 210 pounds, Bibeau's greatest asset is, in fact, his size. He has the ability to fill the net, making it hard for shooters to find any holes in his positioning. Further, Bibeau has the uncanny ability to step up in big moments when he is needed most and is most certainly a goaltender who performs well in pressure-packed situations. It is this intangible asset which allows Bibeau to, quite simply, steal games from his opposition.
While he certainly carries considerable upside and motivation as a former sixth-round pick, one factor which has hampered Bibeau's development is his consistency. While this issue is commonplace with goaltending prospects, especially in those who are in the infancy of their development, it is a problem which Bibeau must overcome if he hopes to not only reach the NHL but become a workhorse netminder once he arrives.
Headed to the NCAA and Boston College in 2016-17, Joseph Woll, the Leafs' third round pick, 62nd overall in 2016 Draft, is fresh off of two impressive seasons playing with the U.S National Development Team and is arguably Toronto's top goaltending prospect.
Bruce Racine, a former Maple Leafs farmhand who spent two years with the Marlies in the mid-90's, has been Woll's goaltending coach since the goaltender was just eight-years-old and speaks very well of the young prospect. In fact, above all else, Racine cites Woll's incredible mental toughness and work ethic as his top abilities as he has progressed as a young netminder, from the USHL to the NCAA.
In addition to Woll's understanding, anticipation, and love of the game, the netminder also, quite simply, plays a very strong and positionally sound game in the pipes. At 6'3″, 200 pounds, Woll is a highly athletic goaltender who can traverse the crease with ease, while retaining the tremendous flexibility necessary to make game changing saves.
As mentioned, Woll is off to Boston College for the 2016-17 season, where he hopes to see a significant amount of playing time as a freshman. Nicknamed "The Brick Woll", Woll has tremendous upside, and Assistant General Manager Mark Hunter believes he's "on an upwards swing."
A Shift in Focus
Well, there you have it, the current state of the Leafs' goaltending situation.
To say the future is bleak in the pipes would be an understatement, as, other than the addition of Andersen, Toronto holds far too few goaltending prospects within their organization. Yes, drafting Woll was certainly a great move, and Bibeau could certainly find the consistency necessary to his development this coming season, but the fact remains that the Leafs must continue to add depth at the position. If both Woll and Bibeau fail to pan out, how can Toronto truly compete once the likes of Matthews, Marner, and Nylander are at their best in a few years time?
This is a question which Leafs management will undoubtedly have to face in the near future. Sure, you can build a team ripe with offensive talent, but if you can't keep the puck out of your net at the same time (see the Edmonton Oilers), then can a rebuild be truly successful?
Yes, the Leafs are in the first few years of their rebuilding process, but having drafted just four goaltenders over the past eight years, and Garret Sparks being the only one of which to see NHL ice, Toronto must shift its focus to goaltending, and quick, if they hope to build a roster sound from top to bottom and in all positions.