On Nov. 17, 2014, tragedy struck University of North Dakota forward Lisa Marvin. Her pickup had run out of gas on Gateway Drive in Grand Forks, ND. While Marvin was refueling her vehicle, she was rear-ended by a Chevy Cavalier driven by Tristan Johnson of Arvilla, N.D. Marvin was hit by Johnson's vehicle and thrown violently into the air, landing on the pavement.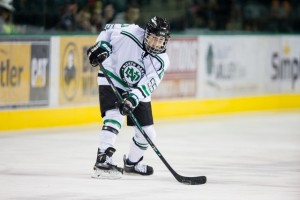 Marvin was severely injured in the accident and would go on to have major surgeries on her right arm, her anterior cruciate ligament (ACL), medial collateral ligament (MCL) and posterior cruciate ligament (PCL). According to an interview conducted by Brad Schlossman of the Grand Forks Herald, Marvin had no recollection of the accident. Some have said that Marvin was lucky to be alive.
Marvin put in many grueling hours of work to make it back to the Fighting Hawks lineup. Marvin's perseverance and hard work has paid off and her recovery has come full circle. Last Friday, the junior forward played in her first game in 22 months against the Mercyhurst Lakers in Erie, PA. During Game 1 of the series, Marvin was announced as a starting forward during the pregame introductions.
"A couple of years ago, to think that she'd come back and play at the level that she has, and to be able to compete … I don't think a lot of people thought that would be the case," UND head coach Brian Idalski said. "The fact that she even survived the crash was amazing in itself. I don't know if anyone can fully understand the days – the anguish and the time that she put in on her own — to get to this point. You have to respect what she did to get to this point."
I've hung many a game jerseys in my career to see this one back in a stall for a game is amazing pic.twitter.com/8Ws9vyOUan

— WIH Beauts (@WIHbeauts) September 30, 2016
Fighting Hawks Are Glad Marvin Is Back
The Fighting Hawks players are glad to have Marvin back on the players' bench with them and her presence gave them an emotional lift.
"It's awesome," Fighting Hawks senior forward Amy Menke said. "It's unbelievable seeing how far she's come the last two years. A lot of us didn't know where she would be at … at this point in time. I think she blew all of our expectations out of the water. It's going to be fun watching her keep growing and develop as a player this year because she keeps getting better.
"She got the start on Friday night, so it was really exciting. I was there on her left wing. It was fun to have her back winning some draws."
Marvin Is Ready to Resume Her Hockey Career
Finally, it would appear that Marvin is ready to move on and resume her hockey career; she has two seasons of eligibility remaining. When asked if she got emotional stepping on the ice for the first time in 22 months, Marvin kind of took it all in stride. It's just part of the process of returning to the ice.
"It felt unbelievable," Marvin said. "Obviously, I was a little nervous at first going into it. After the first shift, I got into the swing of things and the lines were rolling – it felt really good. It felt more natural than I thought it would. It was a lot of fun to get out there with the girls.
"I am not a very emotional personal. My parents did [get emotional]. I was more excited than anything. I usually don't get too nervous before a game."
Eric is a 1996, 1999 graduate of the University of North Dakota. Eric covers the University of North Dakota Hockey and Division I college hockey. Eric is the Contributing Editor for Inside Hockey.