It is almost ironic that a team named the Carolina Hurricanes would find itself weathering a storm. But, they are doing just that. A supposed to be period of calm with the tenuous goaltender situation finally settled has instead turned blustery in the form of one injury after another. Rod Brind'Amour, head coach of the good ship Hurricanes will have to navigate through these rough injury waters for his first time as a head coach.
Injury Winds Blowing at the Hurricanes
Scott Darling
The Hurricanes have had their share of injuries this season. Scott Darling's redemption tour was derailed by a hamstring injury he suffered during the last game of the preseason. He never got back into what was a good rhythm at that time and has since been put on waivers, cleared waivers and sent to play with the team's American Hockey League affiliate Charlotte Checkers.
Victor Rask
Victor Rask sliced his hand instead of the intended dinner item and missed a significant part of this season. He has since returned but would have been a welcome piece to the Hurricanes' puzzle during the first 20 or so games that he missed.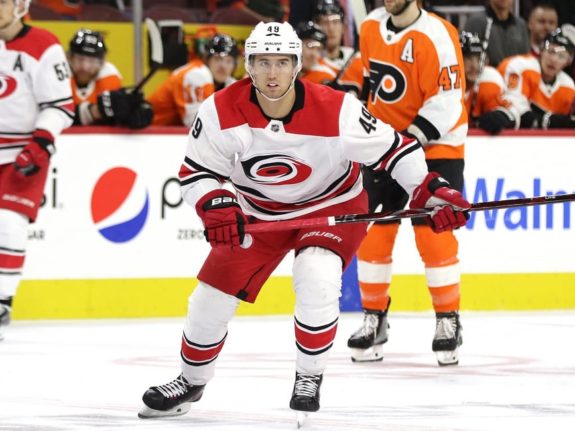 The team scored like crazy in the preseason and started the season playing an uptempo strong forechecking brand of hockey. It was working for a while and then it wasn't. Rask's return to the lineup will hopefully bring some strength to the faceoff circle and some scoring.
Rask can do all of those things and more but unfortunately has had two years of less than impressive play. Since his recent return, he has only put in one goal. Brind'Amour will need to figure out how best to use Rask now that he is back and hopefully see him contribute at the level at which he is capable.
Brett Pesce
The dynamic defensive duo of Brett Pesce and Jaccob Slavin have not seen much time together as mates on the blue line. Of 28 games played Pesce has played in 19.
Just a year or so ago, they were being touted as an elite defensive pair.
Jacob Slavin and Brett Pesce have to be the two best defenseman in the NHL that people don't even realize exist.

— Adam Herman (@AdamZHerman) December 3, 2016
Between missing games due to injury and Brind'Amour's pairing these two with others there have not been a lot of games where they were together. Whether apart or paired up, though, the Hurricanes can all-afford to have either off the ice for any length of time.
Pesce is not a big defensive scorer, but he did get the game-winner Friday night against the Anaheim Ducks.
Petr Mrázek and Curtis McElhinney
Petr Mrázek is back from injury. He was out for about three weeks starting on Nov. 3 with a lower-body injury. In fact, Curtis McElhinney was brought in to the 'Canes because of the injury to Darling and got to hang around after Mrázek got hurt. Now McElhinney is injured, having left practice early this past Thursday.
The Hurricanes called up goaltender Alex Nedeljkovic from the Checkers to backup Mrázek. It is not known how long McElhinney will be out nor if Nedeljkovic will actually see any ice time. Some have called him the next Hurricanes goaltender, but most feel that he is still developing.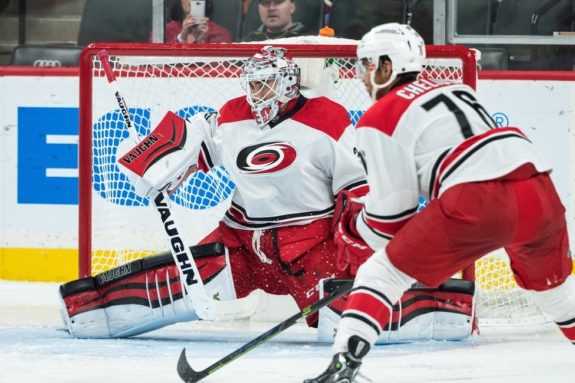 Jordan Staal and Michael Ferland
If reading this is starting to spark thoughts of, "Gee whizz, how many guys are hurt" then imagine how Brind'Amour must be feeling. The team announced on Dec. 6, that Hurricanes center Jordan Staal had been diagnosed with a concussion. Staal left Wednesday's game in San Jose midway through the third period and did not return. He did not practice with the team on Thursday and did not dress for Friday's game in Anaheim.
Staal's concussion comes on the heels of Michael Ferland being placed on injured reserve retroactive to Nov. 27 after being diagnosed with a concussion. He had been doing the bulk of the team's scoring and still leads the team with 11 goals so far this season. He had been on a three-game pointless streak when placed on injured reserve.
Brind'Amour Weathering the Injury Storm
These injuries have made the way for Clark Bishop – who scored his first NHL goal Friday night against the Ducks. Saku Maenalanen made his NHL debut for the Hurricanes in place of the injured Staal.
With so many injuries to deal with seemingly one right after another, Brind'Amour himself has remained fairly calm. Defenseman Haydn Fleury was out with a concussion in November. It has been a challenge that Brind'Amour knows can be a part of hockey.
He also knows that all he can do is play the hand he is dealt. Against the Ducks, he put Sebastian Aho back in the center slot for Staal and Aho played extremely well.
Brind'Amour's team was losing even when taking what seemed like thousands of shots a game. The win against the Ducks was crucial, as it allows the Hurricanes to finish their road trip on a positive note and get back home to try to heal.