Victor Rask, a center for the Carolina Hurricanes is out indefinitely, cutting his season short. The team announced on Sept. 13 that he had 'undergone surgery on his right third and fourth fingers." His absence will put a spotlight on the center position, although the way the team has played, one wonders if he will be missed.
Rask suffered the dreaded injury in his kitchen as opposed to getting hurt being driven into the boards by an opposing defenseman. Apparently, he sliced his fingers instead of the food he was preparing. What's intriguing, is that the team announced the specifics of Rask's injury as opposed to leaving it behind the shroud of secrecy conveyed by the phrase, "upper body injury."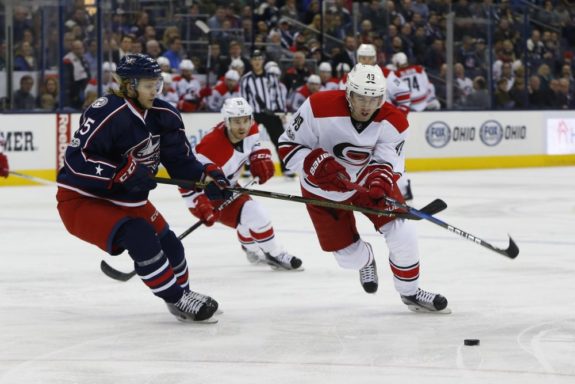 Rask's Rocky Road
I have always pulled for Rask to do well since he broke into the NHL in 2014. At that time, I saw a player who knew what he had to do to break into the league. He went to Traverse City in 2014 and played with fierce determination. He came back from that prospect tournament and announced through his play, "I'm here to stay and there's nothing you can do to get me off of this ice."
This sense of determination served him well early on in his short career. He started out with 11 goals and 22 assists in the 2014-15 season. Since then, he has scored 21 goals, 27 assists; 16 goals and 29 assists; and last season 14 goals and 17 assists. He missed 11 games last year.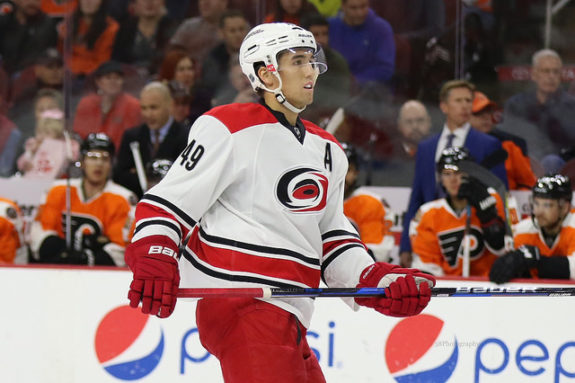 The trendline does not look good. Especially considering that the Hurricanes signed Rask to a six-year, $24 million contract in July 2016. Ron Francis was the Hurricanes' general manager at that time, and he said of Rask:
Victor has gotten better every season that he's been a part of our organization. He is a big part of this team's present and future, and we are thrilled to sign him to a longer-term deal.
Unfortunately, Rask's goal-scoring of late has not reflected the accolades Francis gave him. Nor have they justified the money the team is spending.
What's Wrong with Rask?
In February 2017, I wrote that Rask was slumping. At that time, he had gone five games without any goals or assists. The Hurricanes head coach at the time, Bill Peters said that Rask was playing from a defensive posture as a result of losing faceoffs.
Not hard to tell Victor Rask has absolutely no confidence. Shoots the puck from areas with virtually no chance to score, right into the goalies chest every time. Can barely control the puck at this point. What to do….

— Alex Ohári 🇭🇺🔴⚪️ (@FutureCanes) November 17, 2017
Winning faceoffs had been a staple of Rask's career. But, in addition to his poor production, he wasn't winning faceoffs. Something was just not right with Rask. In November of 2017, Peters made Rask a healthy scratch in a game against the New York Islanders. This fueled all sorts of speculation. In the postgame presser with the media, Peters said that they needed to help Rask. A couple of days later he shifted the responsibility back to Rask saying at some point a player needs to play.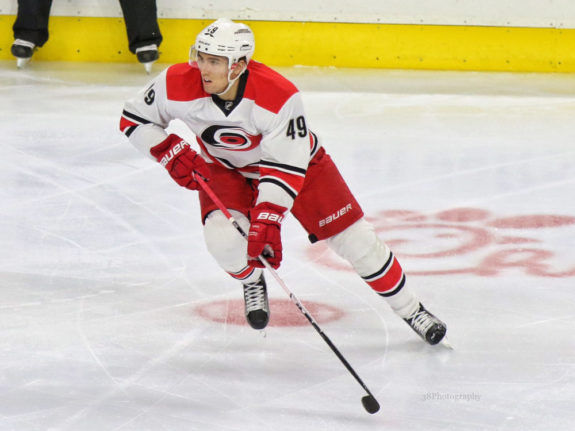 Some speculated at that time that Rask seemed to have lost interest in the game. This was a little over a year ago, and while Rask completed the season, he never looked like the fiercely competitive player who cut his own path to the NHL.
Hurricanes Roster Minus Rask
Carter Fricano, my colleague at The Hockey Writers wrote last week about the Hurricanes' season starting without Rask in the lineup. This is a big deal for the team, as Rask has been a top two or three center on the team for several years. Frankly, the Hurricanes have not missed Rask in the preseason.
The team is scoring wildly and this has to be putting pressure on him and now he has cut his season short by injuring himself. The question is, will the Hurricanes still have a place for him, still need him when he is ready to return? If they play in the regular season as they have in the preseason, the answer to that will be no.
He does have a couple of years left on his contract, so it will be in the team's financial interest to make it work with Rask. But, he will need to "show some interest" and play like the Rask of old if he intends to grab back his spot.