As writers, we are supposed to be able to use words to convey feelings, actions, scenarios, etc. However, adequate words to describe the feeling during the Carolina Hurricanes Friday night tilt against the visiting Anaheim Ducks are difficult to come by.
It wasn't euphoria or even excitement. It was more like a sense of relief had settled in knowing that the team's goaltender situation has been addressed – at least for the time being. As a result, the feeling in Raleigh's PNC arena was perhaps best described as a sense of calm.
Darling Era Over…for Now
The Hurricanes sent Scott Darling to the Charlotte Checkers after he cleared waivers on Friday, Nov. 30. The Darling saga, for the time being, has drawn to a close. The well-documented bust that was last season might finally become just a bad part of the past.
The admission that Darling came here unprepared even as he was signing his name and agreeing to be paid $4 million per year had been forgiven. The fans were in his corner. But, then the hamstring injury during the last preseason game, followed by Darling's going 2-4-1 with a 3.14 goals-against average and .892 save percentage when he came back was too much for the Hurricanes to handle.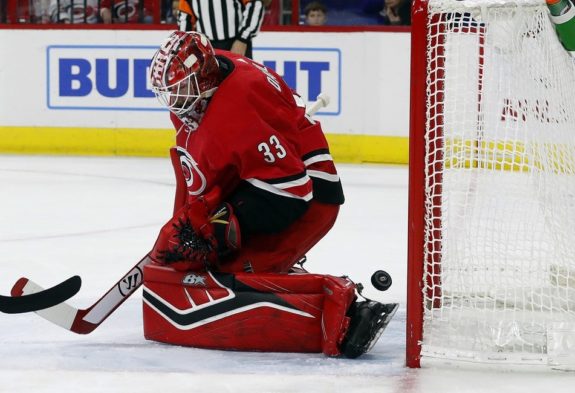 It was too much because Darling was again proving that he was not going to be reliable. Petr Mrázek was also trying to find his groove but then he also sustained an injury.  Fortunately, the Hurricanes acquired McElhinney. He was ostensibly going to be used as a stop-gap until Darling and Mrázek were fully recovered. But Darling played and it was not pretty and McElhinney was suddenly seeing more game time.
In the meantime, McElhinney did something that hadn't been done in a while for the 'Canes, he played goaltender like it is supposed to be played.  He gave his teammates a long-needed confidence in their goalie, and that is priceless.
WHAT A SAVE, @McElhinney_C30! #TakeWarning pic.twitter.com/mNwqL0FVVp

— Carolina Hurricanes (@Canes) November 28, 2018
Calm Curtis McElhinney
Curtis McElhinney has had some recent time in the spotlight which has focused on how calm he has been able to remain while playing in-between-the-pipes. McElhinney has single-handedly changed the environment from upheaval to stability. He may have been the primary reason for that feeling against the Ducks.
Yes, the Hurricanes lost in overtime, 2-1. But McElhinney made many great saves and never wavered. Unfortunately, John Gibson spent 60 minutes standing on his head.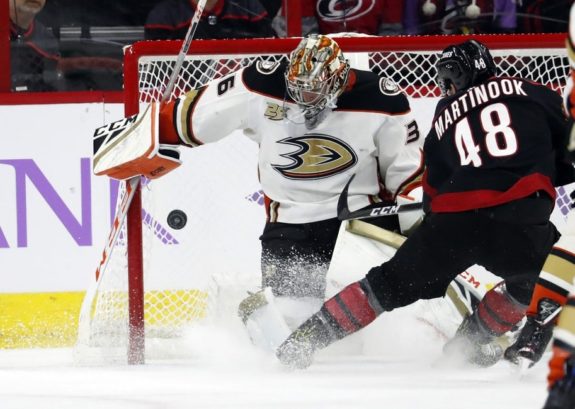 Obviously, McElhinney is human and he will have a bad game or two if he continues as the team's starter. Or he will run into elite goaltenders like Gibson who get into a zone and carry their team. But, McElhinney can do that too and that is where good feelings start to arise. He was in a zone of his own when the Hurricanes beat the Montreal Canadiens 2-1 earlier in the week.
It feels good not to be anxious when the Hurricanes opponents cross into their zone. It feels good not to have the sense that the Hurricanes do not have to score at least three goals in order to be in the game. For now, at least McElhinney has changed the entire environment surrounding this hockey club.
Nick Ashbourne wrote for Yahoo! Sports on Nov. 28, "There are plenty of reasons not to believe in McElhinney ranging from his age to the fact the eye test is rarely kind to him, to his inexperience carrying a heavy workload, to a rather lengthy track record of mediocrity. The Hurricanes don't need much more than mediocrity, though, considering they outshoot their opponents 39.1 to 27.6 on average. Considering how good he's been lately — and really in the last couple of years — it's not that crazy to think McElhinney could give them what they need."
McElhinney is defying the odds, to a degree. Head coach Rod Brind'Amour tries to downplay his game saying that McElhinney is just doing what he was brought to the Hurricanes to do. Deep down though, Brind'Amour is very likely loving what McElhinney is giving him.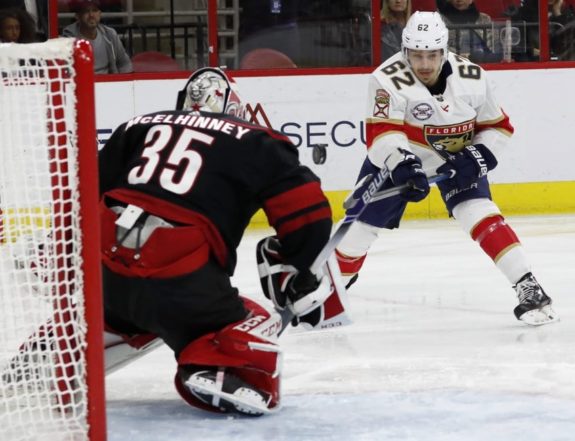 The biggest difference is the calm McElhinney is bringing to the team and their games. Whether or not the Hurricanes attempt 60 shots per game or 25, if McElhinney keeps doing what he is doing the shot total will be voluntary. It will not because they are down 4-1 in the second and have to blast away to try to get back in the game.
As stated earlier, it's not that he cannot have a bad game and get down in lopsided fashion. But the calm McElhinney is not likely to find himself in that position. His teammates feed off his demeanor and seem to play better as a result.
Mrázek and McElhinney Keeping it Close
Mrázek now finds himself playing alongside a goalie who is not getting negative scrutiny most of the time. He will need to find his own brand of magic and play his best. If he does, between the two goaltenders that the Hurricanes now have on their roster, their just might be a recipe for success.
Mrázek was in-goal Sunday night as the Hurricanes lost 2-0 to the Los Angeles Kings. Jonathan Quick did what he does, making 34 saves for his 50th career shutout. But, Mrázek held his own for the majority of the game, stopping 33 of 35 shots.
Losing is not good, but the last two games that have been lost were close, hard-fought hockey games. They were not losses created by the Hurricanes' goalie letting pucks fly into the net and putting his team in a big hole. If McElhinney and Mrázek continue to keep their team in games, especially against top goalies like Quick and Gibson, then the team will have a realistic chance of winning. It will be up to the offense to find the answer.
Mark lives in the Raleigh, NC area and covers the Carolina Hurricanes.