The Edmonton Oilers are in a precarious position standings-wise. Even though they've amassed a 4-1-1 record under Ken Hitchcock, they still remain three points out of a wild-card spot and four points out of the top three in the Pacific Division. They're well within reach but they've got to continue to squeeze as much out of this roster as they can and hope the teams ahead of them trip up.
That said, any team with Connor McDavid is capable of doing wondrous things but wouldn't it be a lot easier if they had an upgrade or two? Looking at the group of forwards Edmonton is deploying, I'd say it would be.
With Christmas being a lot closer than not, it's about that time we started writing up our wishlists and sending them off to Santa. I've got three targets on my wish list that I'd like to share with you.
FYI: None of those players have an NTC/NMC in the entirety of their current contracts.
The Little Ball of Hate Part Deux
The Oilers have a strong need for an established right-winger who has a shoot-first mentality and is a threat on the power play. Gallagher doesn't have the big body that Hitchcock likes but he plays like he's got one and that is an attribute the Oilers' coach loves. His 442 shots at 5-on-5 over the last three NHL campaigns tells us he has no problem pulling the trigger when the situation presents itself.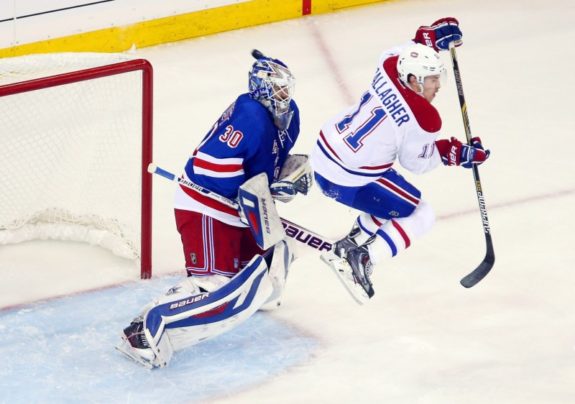 I compare him to a player that Hitchcock had in Dallas by the name of Pat Verbeek. Verbeek's nickname was "The Little Ball of Hate" and during his three years in Dallas from 1996-98, he amassed 503 penalty minutes in 305 games. He was a very irritating player but didn't take any guff from the opposition, just like Gallagher.
Another reason I think the Montreal winger would be a good fit on this Oilers team is that over the previous three seasons, he's drawn the 10th-most penalties in the NHL with 52. Why is that important? It's important because the Oilers, even with McDavid on the squad, struggle to draw penalties. So why not acquire a player who is quite good at it and then capitalize on the power play?
I can't say for sure what the Montreal Canadiens have planned for this season. At one point they were playing so well but that has tailed off. They're still in the hunt for a playoff spot, but if that changes after Christmas, would they consider moving the 26-year-old Sherwood Park native if the price was right?
Are You Afraid of Ghost Bears?
Last season, Shayne Gostisbehere took 221 shots on net at even strength. That's 18 more than Oscar Klefbom did in his 66 games in 2017-18, but what Gostisbehere did differently than Klefbom, was that he scored. Thirteen times did the Flyers rearguard twinkle the twine on route to a 65-point year for Philadelphia, but times are tough in Rocky's hometown and does that mean the Ghost Bear could be had?
Since 2016-17, Gostisbehere has shot the most pucks on net on the PP with 174. Brent Burns is next with 171 and then there's a significant drop-off at Roman Josi, who is third with 149.
I know what you're thinking. He's a lefty and the Oilers have more than enough left-shot defenders. That's where the Oilers would have to get creative. Unless they're willing to unload Oscar Klefbom, another one of their lefties would have to be moved.
The Flyers are looking to get a bit of their old identity back and if there's one player on the Oilers that would fit that mold, it's Darnell Nurse.
Nurse is a fine NHL defenseman who is still finding his way. He's got all of the necessary physical tools to be a dominant blueliner but I don't feel like his hockey sense is where it should be at this point in his career. From time to time we'll see him wind up behind the net and drive that puck through the neutral zone like a runaway freight train but then he'll get to the other team's blueline and he's a deer caught in headlights. At that point, he'll either dump it in carelessly or lose possession through indecision.
If the Oilers were to find a way to package Nurse with other assets for Gostisbehere, that'd be a clear win for the Oilers' defense.
Colt .55
The St. Louis Blues are doing everything in their power to obtain the best shot at drafting Jack Hughes or Kaapo Kakko this summer, or at least it seems that way. To say they're struggling this year is an understatement. Blues general manager Doug Armstrong went out and swung for the fences in the offseason, acquiring Ryan O'Reilly, Tyler Bozak, David Perron, and Patrick Maroon, but it's all gone to Hades.
If I'm Peter Chiarelli, I'm picking up the phone and inquiring about the availability of St. Louis' towering right-shot defender, Colton Parayko. The Oilers have been missing exactly what he brings since Chris Pronger engineered his way out of Edmonton in 2006.
This year hasn't been the best for any St. Louis Blue, let alone Parayko. The St. Albert native has finished the last three seasons with 33, 35, and 35 points but is only on pace for around 22 points this year. He's shooting less and he's hitting less.
Could you imagine what kind of damage a 104 mile-per-hour slapshot could do on a power play that features McDavid, Leon Draisaitl, Ryan Nugent-Hopkins, and Alex Chiasson? And don't forget about how Parayko played alongside McDavid at the IIHF World Championship last spring.
Do I believe there's even a fleeting chance that the Oilers could pick up one of the players on my wishlist? Not really. But I'm here to tell you that if the opportunity were to arise and the Oilers took advantage of said opportunity, trading for one of Gallagher, Gostisbehere, or Parayko would be a game changer.
Stats courtesy of Natural Stat Trick and Hockey-Reference.
Hey there! My name is BLH and you might know me from such websites as Beer League Heroes or from Oilers Twitter. I'm a diehard Edmonton Oilers fan who lives in Taipei City, Taiwan! I'm originally from a small town outside of Edmonton called Camrose.
I write as a fan for the fans.
When you read my content you're not going to be getting vanilla. I'm going to give you a debateable thought-provoking point of view on the Oilers.