Everyone seems to like Carolina Hurricanes goaltender Scott Darling. He's a nice guy, easy to talk to and has a cool dog. His Great Dane pup is fitting for Darling's larger-than-life presence in the net.
What's not to like about a guy who was honest and confessed to the world that he came to the Hurricanes unprepared and mailed it in last season? He owned his actions and spent the summer trying to atone for them and trying to improve his game. It's a great story about second chances and pulling for someone to do well.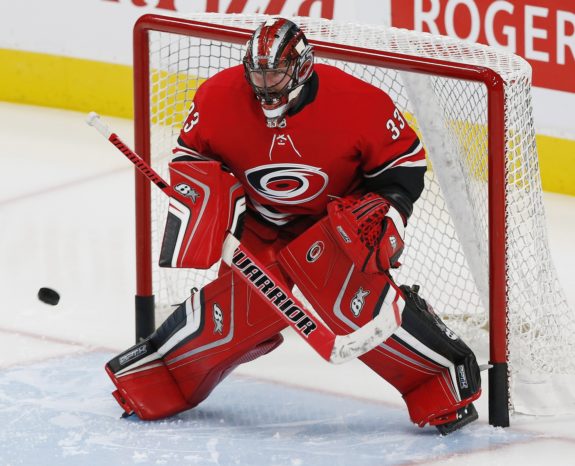 What's Not to Like Is Darling's Performance
The problem is that with all of the emotional "what's not to like" associated with Darling's story, there is his game on the ice. That is clearly what is not to like. A look at last season yields the best thing that can be said, which is that it could have been worse. He started 40 games and put up a record of 13-21-7. His goals-against average (GAA) was 3.18 and his save percentage was .888.
Darling left a lot of points on the ice last season. A loss total of 21 is a large number that contained points which could have gotten the Hurricanes closer to making the playoffs. Obviously, the entirety of the team's failure to make the playoffs does not rest alone on Darling's shoulders, but it can be argued that a large share of the responsibility was his.
The most glaring problem is that Darling seems to be too slow in front of the net. Him repeatedly looking over either of his shoulders to watch the puck whizzing by is a memory not easily forgotten. Neither is the constant sprawling on the ice that characterized his effort last season. Fortunately, that has been removed from his play this season.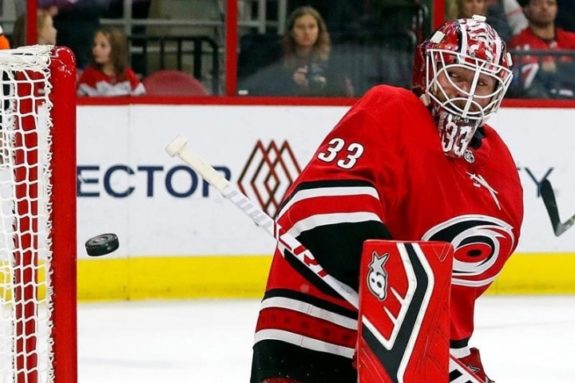 Darling's Game Still Struggling
Darling's numbers are not quite as bad as they were last season. But they are not inspiring. He is 2-4-1 this season with a 3.14 GAA and a .892 save percentage. It can be argued that the injury he sustained prior to the start of the season disrupted the good rhythm he had going in the preseason. Perhaps he has just not been able to find that good groove he had before the injury.
What is puzzling is that Darling has played at a good level in the NHL. As a backup with the Chicago Blackhawks, he was 12-8-4 in the 2015-16 season and 18-5-5 in 2016-17. He even contributed during the Blackhawks' 2015 Stanley Cup run, going 3-1 in the playoffs.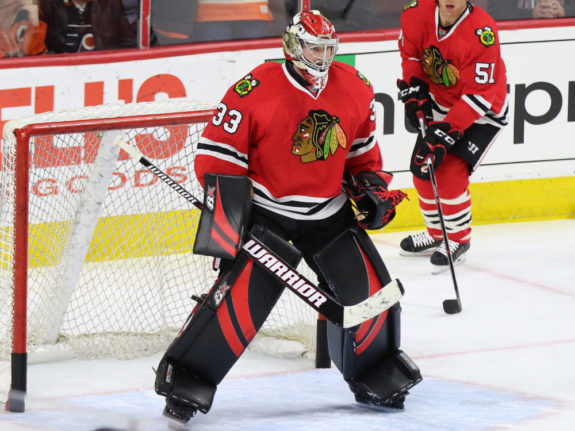 Does this sound like the Darling that has been struggling for two seasons with the Hurricanes: "We could count on Scott in any situation as he was always reliable, we appreciate his contributions to the Blackhawks organization — including a (Stanley) Cup Championship team — and we wish him well as he continues his career in Carolina." (from 'Blackhawks Trade Goalie Scott Darling to Hurricanes for Third Round Draft Pick' – Chris Hine, The Chicago Tribune April 28, 2017).
Darling has shown that he can play goaltender in the NHL. But, that was as a backup. I asked him last season if the pressure was greater as a starter and he essentially said no. Of course, no one would expect him to admit that the pressure as a starter was too great. But perhaps that is all that is wrong.
Stop Making Excuses for Darling
There are those in the media who write or say that this goal or that goal was "not Darling's fault." That glossing over the truth is not helpful in any way. Sure, the puck has to get by everybody else before it gets to the goaltender. But, goals that Darling lets by that a goaltender of even average quality would likely have stopped have to be talked about candidly.
I haven't really paid much attention to Scott Darling, but man he's awful:
– Poorly positioned
– Unable to track the puck
– Slow lateral movement in net
– Glove positioning too low
– Very slow recovery
I thought he was going to be a great pickup for Carolina. Whoops.

— Les Mavus (@HockeyGoalieEh) November 25, 2018
It does not help Darling to be coddled by the media. He's a professional athlete who knows what is expected of him, and he certainly has a salary that carries certain notions of performance. Making over $4 million a season brings with it the assumption that earning it on the ice would be expected.
The Hurricanes have three goalies for the time being. Curtis McElhinney has separated himself from Darling and Petr Mrázek. What the future holds regarding the three is anybody's guess.
In the meantime, making excuses for Darling does not help. He held himself to a higher standard this summer, trying to get back into shape and be ready for the season. He needs to be held to a higher standard on the ice.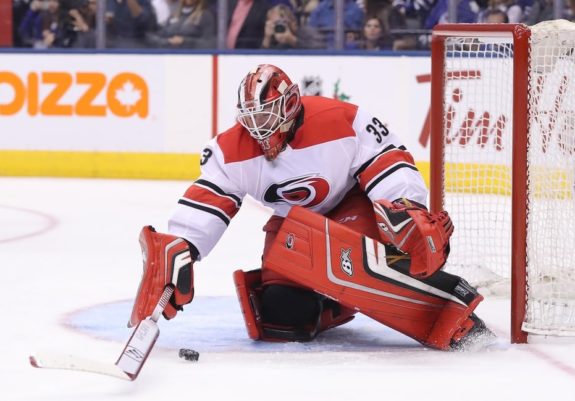 Brian LeBlanc at Canes Country wrote on Nov. 25, "It probably is a waste of time to speculate about why that's the case. The fact is that the Hurricanes play demonstrably worse in front of Darling than they do against either of the other goaltenders and continuing to play him in spite of that fact is going to cost the Hurricanes points. They can't afford to squander any more points in pursuit of some other goal."
LeBlanc gets it. Darling is going to have to play much better when given the chance, or just not be allowed to play. A $4-million scratch is not something Hurricanes owner Tom Dundon wants to envision. But, unless Darling can find whatever it is he is missing, having him play is likely more costly in the long run.