The absence of Wade Megan and Colin Campbell from the Grand Rapids Griffins lineup has been noticeable. The spark in the penalty kill unit since their return has been equally palpable. Both skaters add a unique edge to the team's offensive power on the penalty kill, which has boosted Grand Rapids in recent games. Though their return has been short, the chemistry of the team has shown an almost instantaneous change.
Wade Megan Returns From Red Wings
The Detroit Red Wings recalled Wade Megan in early November. Making his Detroit debut on Nov. 1, Megan became the 172nd Griffin to play in the NHL for the Red Wings. During his time with Detroit, Megan tallied nine shots and averaged a little over seven minutes a game. Megan is no stranger to the NHL, however. He's spent the better part of his nearly 10-season career, alternating between the ECHL, AHL, and NHL. Prior to Detroit, Megan made his NHL debut with the St. Louis Blues, where he scored his first NHL goal.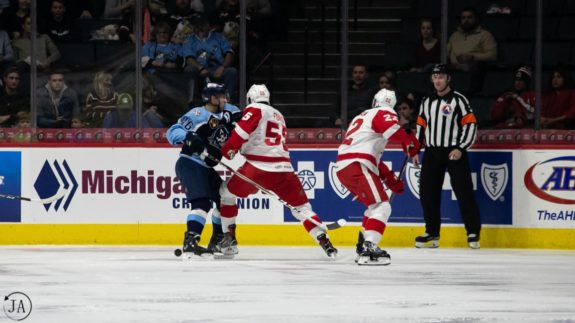 Already bringing a massive amount of experience with him upon signing with Grand Rapids, Megan has had the opportunity to learn the Red Wings system first hand. Picking up on the little things, Megan was able to learn from veterans as well as a team in development; an interesting combination.
"I think it was just a combination of so many little things," Megan told me. "I think that's the difference really between this league (AHL) and that league (NHL). The more little things you can pick up from players, the more helpful it'll be and the further it will take me."
Megan brought those little things back to Grand Rapids with him. From poke checks, dekes, trapezoid work and everything in between, Wade made decisions less-experienced players wouldn't have thought of.
Top Penalty Killer Colin Campbell Concussion-Free
Colin Campbell was another missing force on the special teams. I often reference Campbell because he's one of the most underrated skaters in the AHL. He's composed, an exceptionally smooth skater, and a leader. Griffins forward Matt Puempel agrees. "He works hard, he gets pucks back, he does a lot of dirty work. I think he's got more skill than people give him credit for," Puempel told me.
To Campbell's credit, he's rarely injured. The last time he was seriously injured was during his junior year in college in 2012-13. Unfortunately for him, however, he suffered a concussion prior the regular season start. Colin was sidelined with residual symptoms for 13 games. Given his constitution, he likely would have skated had he been permitted to. However, the rise in awareness of concussion repercussions made it necessary for him to remain benched.
Campbell's penalty kill ability received a standing ovation during the 2016-17 Calder Cup Championship run and helped power Grand Rapids to an 84.5-percent penalty-kill percentage, fourth in the league. Beginning the season without Colin, though he is not the only talented killer, hurt the Griffins.
Griffins Get a Much-Needed Penalty Kill Boost
Head coach Ben Simon is confident in his team and excited for the assets Megan and Campbell present. Megan's veteran status and mature play are obvious in how he controls himself on the ice. He plays with gritty intention. "I think he's a guy we can put in a lot of different spots," Simon told me. "He's reliable defensively, he's more capable offensively, he's responsible with the puck, he's responsible away from the puck. As a coach, he's a great resource to have and he's good with the young guys."
Initially seeming like he was testing the waters with Megan, Simon saw a difference almost immediately with he and Campbell sharing PK responsibility. "Just adding those guys to the lineup, (it's) more experience, more composure," he told me in a postgame interview. "Meegs (Megan) with some more power play and PK time and also Campbell helps out the PK tremendously."
There's of course, lingering concern surrounding Campbell. Concussions are hard to shake however, Simon is confident he's put in the work and is ready to bear the load, " I think he's done everything he can in the interim to get himself ready. He's fine as to where he is, I think." Thankfully for Grand Rapids, it would appear as though both he and Megan are in fine shape to be packing on the penalty kill minutes.
Griffins Eyeing Special Teams Future
On top of Grand Rapids' ongoing power-play woes, the penalty kill needed a bit of a spark. With the return of Megan and Campbell head coach, Ben Simon hopes to see progress with the special teams.
Prior to Monday night's away victory against the Iowa Wild, Grand Rapids sat second to last in the league at 79.5 percent. Affecting their penalty kill efficiency is their seemingly constant struggle with allowing breakaways on their man-advantage, "We can't be giving up short-handed goals against. We can't be giving up breakaways against," coach Simon said.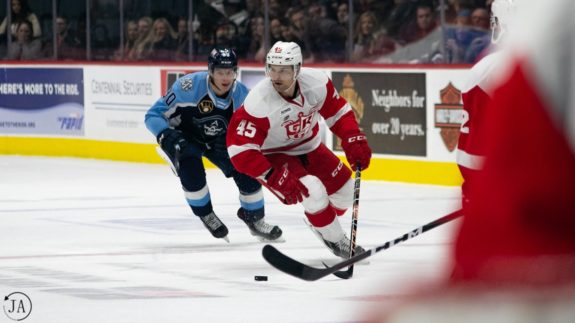 With Campbell and Megan back in the lineup, the Griffins have improved their penalty kill percentage to 80.3 percent. It's still not the best, but its tangible improvement. Now sitting at 11th in the league, Grand Rapids seems as though they're finding a little rhythm.
All of the credit can't solely go to Megan or Campbell, however, having two very skilled offensive style players return to the lineup will always make an impact on a team. Especially if those two are used in the capacity in which they best perform. In this case, its offensive power on the penalty kill. As they get re-acclimated to the team there is no doubt the Griffins' ranking will improve.