Following Friday's loss to the Ontario Reign, the Grand Rapids Griffins sit last in the league for power play efficiency. They have a 10.6% success rate and have scored seven times in 66 power plays awarded. The Griffins have struggled since the start of the season to get a solid setup, but why? There are a few possible reasons why Grand Rapids is stuck in a power-play slump.
Griffins Special Teams Missing Colin Campbell
I've long believed that Colin Campbell is one of the best power play forwards and penalty killers for Grand Rapids. His puck handling ability and spot-on shot powered the Griffins' special teams in the 2017-18 season and enabled Campbell to tally 35 points during the regular season. He was fifth among his teammates with a plus-10 rating for the season. His dynamic skating and precision was the driving force behind much of his power play unit.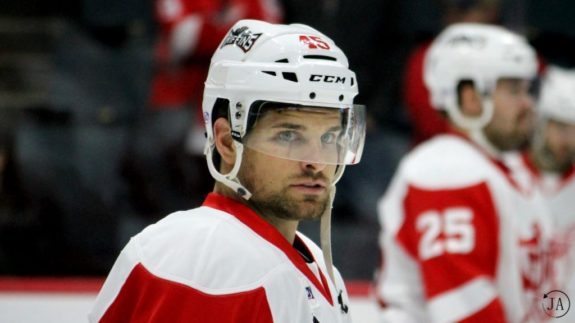 Grand Rapids held a 20.3% power play efficiency during 2017-18; third in the Western Conference. Though the Griffins are without many of their top scorers due to trades, like Eric Tangradi and Ben Street, the lack of force from Campbell is noticeable. Unfortunately, his absence due to a concussion has impacted the team more than they thought it would.
Campbell is due to return shortly, as he's making a rapid recovery, "…Yes, they're closer than we thought they were. Its kind of a day-to-day thing right now," coach Ben Simon stated. Until then Grand Rapids will have to find other ways to capitalize on the man-advantage.
Special Teams Hitting Everything But Net
One of the obvious issues is that pucks aren't going in. What isn't obvious is why their scorers aren't scoring. Aside from the seven goals, pucks are hitting everywhere but the net. Dominic Turgeon, alongside Campbell, was one of the biggest contributors aside from Matt Ford during the 2017-18 season. Turgeon was eighth in the team in points and second for plus-minus.
Coming into this season, however, Turgeon has been struggling, with only one goal (empty net) and four assists so far.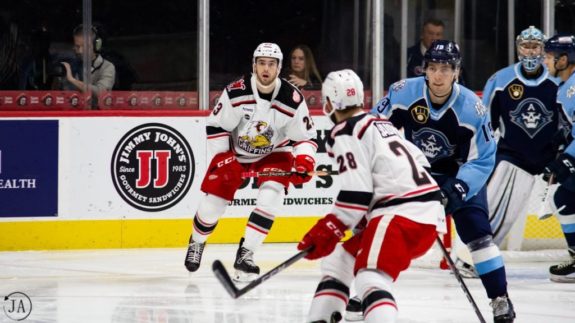 Ford, another incredible special teams leader, is off to a slower start than he'd like. Ford led the team last season with 12 power-play goals and was sixth in the AHL in 2017-18. His seven points total this season may not be where he wants it to be. He has consistently put up more than 30 points a season since 2013-14.
Coaching Shift Equals Efficiency Shift?
After Todd Nelson moved on from Grand Rapids, the entire coaching staff was overhauled. Brad Tapper has assumed the role of special teams coach after a franchise record-tying season with the ECHL's Adirondack Thunder, 41-24-3-4.
Tapper's style isn't so different from what the team was already accustomed to according to defenseman, Vili Saarijarvi. He spoke to Bob Kaser in an ESPN Radio 96.1FM post-game interview following Wednesday's victory. According to Vili, the culture is good, the coaching is excellent, the players are the ones not pulling their weight.
Grand Rapids Needs a Mental Reboot
According to Saarijarvi, the team's biggest struggle has been playing with the correct mindset. Even without Campbell, Grand Rapids has some of the top scorers in the league on their roster including Carter Camper and Chris Terry. For Vili, the issue lies with the team's lack of mental effort on the power play, playing with a 5-on-5 mentality is key. He told Kaser, broadcaster for the Griffins, that their effort hasn't "outworked" the opposition's penalty kill units and that needs to change.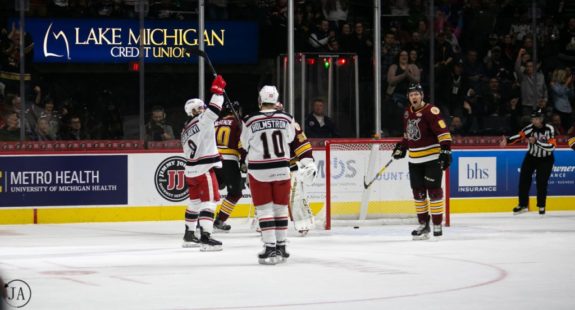 Though there have been a few bright spots in recent games for Grand Rapids, the long-term work has yet to be done. Changing the mindset is key in this instance.
No Such Thing as Luck of the Draw
Larry Figurski of the local channel, Wood TV 8, had stated during Wednesday's broadcast, that one of the main reasons for a poor power play is losing the draw. Often times, the faceoff is lost, the puck cleared, thereby wasting valuable time chasing it down the ice. Winning draws and changing their mindset going forward will help light the fire under the Griffins' special teams.
They have three more home games to draw off of home-ice advantage. If a change is going to come to their power play execution, it needs to be now. Head coach Ben Simon told me following Friday's game, "We've got some of the most talented players on this team. It doesn't matter what we do, whatever breakout, whatever setup we use, if they can't execute and they want to point fingers at each other then we're not going to have success." Grand Rapids can't bank on luck. They have top scorers and an excellent defensive core, so there's no room for excuses.