The Grand Rapids Griffins are struggling to get off to a good start. With a few wins under their belt, they're still playing with a limp. They haven't been able to take advantage of scoring chances and with their defense slowly returning to normal, the Griffins will look to their league-leaders to help them.
Griffins Trying to Rebuild Scoring Power
The Griffins lost many of their veteran leaders and scorers and now have a gaping hole in their offense. They've added several rookies but in order to give the lines a boost, Grand Rapids has sought the aid of a few AHL veterans, including Carter Camper of the Tuscon Roadrunners. Camper is an elite scorer.
Camper finished his 2017-18 season with a career-best 61 points in 68 games. Finding himself on his eighth team in just as many seasons, he has had no trouble adapting to the Griffins' culture. In a post-game interview, he told me that he wants "to create something special here (in Grand Rapids). Even though I've been around for eight years, you want to try and build that trust and confidence with your teammates and your coaches."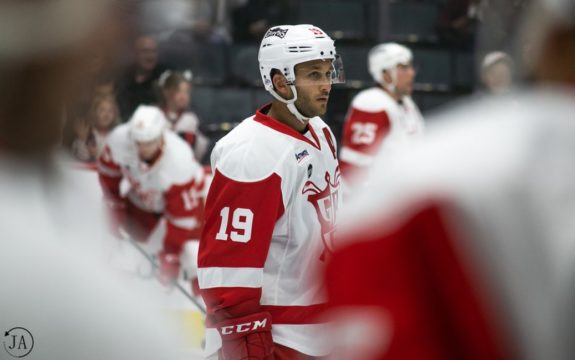 So far, Camper has done a good job of fulfilling the role of veteran leader. Averaging almost a point a game, he's not only getting on the scoresheet but working hard to make sure others do as well. He said, "Whether I'm playing with a young guy like (Filip) Zadina or a veteran like (Chris) Terry, just trying to make guys around me better."
Restoring Defensive Structure
Grand Rapids is working overtime to restore their defensive structure as well. They have been forced to surrender numerous top-performing defensemen to injury or the Detroit Red Wings, causing chaos on the blue line. The return of Libor Sulak and Brian Lashoff was impeccably timed as the younger defensemen have been having a hard time holding the line.
Lashoff, who was previously out due to an offseason injury, returned to the Griffins lineup last week in their successful contest against the Chicago Wolves. Recovered, for the most part, Lashoff was able to keep up with his teammates and add some structure to the faltering rookies.
"I think we've always had a good room in here," Lashoff said. "Management does a good job of bringing in guys that fit into the culture we've tried to build here for a while." Though Grand Rapids has a deep defensive pool, much of their young talent isn't quite up to the caliber it needs to be.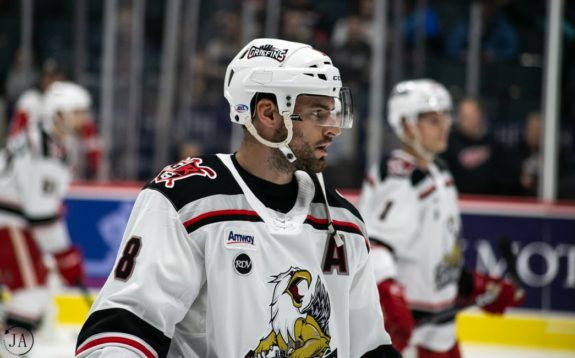 Sulak's return to Grand Rapids didn't disappoint. He spent the preseason and the first few weeks of the regular season in Detroit and the experience was evident. Being one of the "older" guys at 24, Sulak had power where it had been lacking. His board play is needed and though he's new to Grand Rapids, he's having no trouble making a name for himself. Often paired with Vili Saarijarvi, Sulak presents a healthy balance between speed and presence.
Filip Hronek Returns to Grand Rapids
Another returnee has Grand Rapids almost back to their full strength. Filip Hronek was recently re-assigned to Grand Rapids by the Red Wings. Citing that Hronek's penalty killing needs to be addressed, and Blashill opted to hold onto Joe Hicketts instead and I can't say that I was surprised by the choice. Hronek is a phenomenal defenseman and a little more time in the AHL will fine tune his areas of struggle, like the penalty kill. With his return to the Griffins, he'll be a boost to the team with his quick defensive decision-making and offensive contributions.
Hronek is one of the stronger two-way skaters on the team. His presence back in Grand Rapids will give the Griffins a bit more of an edge among their current veteran forwards. He is an adaptable skater and can play most positions with equal ability.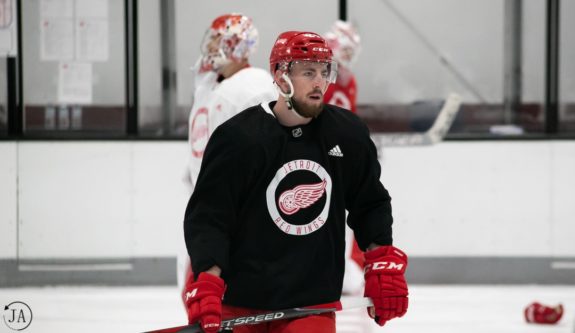 Though there's a few who are scratching their heads at Blashill's decision(s), this is one that will benefit Grand Rapids and Hronek in the long run. If he can improve on special teams, he'll likely earn a roster spot by next season, the final season of his entry contract.
Griffins Creating a Winning Culture
They've struggled to get a winning streak going, but the team is confident in their leadership and each other. In a sense, the Griffins are developing. The shifting rosters of the AHL can cause a few hiccups when it comes to creating a winning culture, but the team is up for the challenge. With Camper helping create momentum and the defensive structure slowly taking shape again, the Griffins should be able to get their legs under them once more.
Detroit is still holding on to Hicketts and Evgeny Svechnikov is on injury-reserve until the end of February, so Grand Rapids will have to make due without them. With the lines slowly taking shape and chemistry building, I have no doubt that the Griffins are on their way to a better regular season.
I am a Detroit Red Wings prospect journalist for Access Hockey MI covering the Grand Rapids Griffins and Toledo Walleye prospect development. Draft analyst for USHL hockey with the Muskegon Lumberjacks.