The Detroit Red Wings blueline has been a question mark for some time. Thankfully, the end is near in terms of finding the right fit for the team's development plan. In addition to the existing talent of Joe Hicketts, Filip Hronek and Dennis Cholowski, the Red Wings have added Libor Sulak to the mix. Sulak, a native of the Czech Republic, hasn't been on the fanbase's radar, but definitely should be now.
Libor Sulak's International Roots
I first saw Sulak take the ice in Traverse City at the Red Wings development camp in 2017. Initially, my notice of the towering Czech was primarily because he was enormous and had hair just like Tyler Bertuzzi. Being from Grand Rapids, I had grown accustomed to the shaggy pirate-like mane and thought for an instant, that perhaps Bertuzzi had put on some weight. I was pleasantly mistaken.
At the time, Detroit's need for defenseman wasn't as obvious to me as it is now, so I paid little attention to Sulak. Once I returned to Grand Rapids, I began to hear whispers and rumors starting to spread about Sulak taking up residence in the United States. His arrival was much anticipated and I was beginning to grow curious – much like Red Wings fans presently are.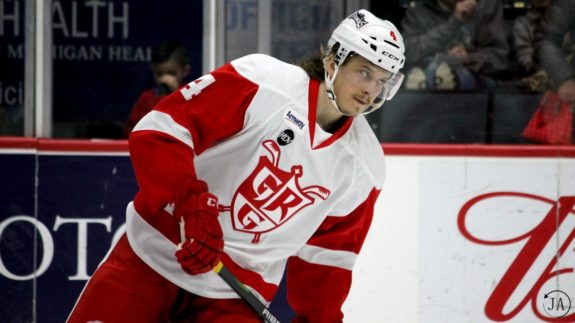 Until the 2017-18 season, Sulak had never once played for a United States team. Since his years in juniors, Libor played in his home country aside from season on loan to the Liiga's, Pelicans (Finland) where he tallied 32 points in 42 regular season games. Almost overnight, he was packing his bags and heading to the U.S.
He was assigned to Grand Rapids and benched, still recovering from a minor injury. As Detroit's defense began to crumble, fans were anxiously looking to the Griffins to produce a saving grace and future hope.
Red Wings Adding Size to the Blueline
Sulak mastered the art of space-control on European ice and adopted a consuming style of play. Standing at 6-foot-2 without skates, and 207 pounds, he utilized his large leg and wingspan to fend off all opponents. Taking the ice in Grand Rapids, this style was unmistakable. He was a little clumsy at first; adjusting to the ice size and style of game. It didn't take long, however, for him to find his groove and prove why he belonged in the pros. Still getting to know his teammates, many of which he couldn't communicate with due to language barriers, Sulak let his game be his mouthpiece.
His control over his own body, especially along the boards, was impressive. Every guy that wanted the puck was effectively shut down. Sulak only skated in two regular season games with the Griffins but tallied two points before returning to the Czech Republic for the World Junior Championship. It was enough to create a lasting impression.
Sulak Impresses at Training Camp & Preseason
This season's training camp saw massive improvement from the big guy. His skating was more powerful and sharp. Though he doesn't have the weathered NHL mind yet, he performed each drill with the veterans with equal energy. He battled hard, especially in the corner-board drills. According to Helene St. James of the Detroit Free Press, "In addition to his skating, Sulak's assets include his shot."
Sulak has a cannon-like shot. His wrist shot is effortlessly powerful and his slapshot rivals Martin Frk, except is more accurate. Libor was called a "sleeper" by Niklas Kronwall during training camp, who was implying that Sulak seems like an unlikely candidate for a rush, but loves to be a part of them. Sulak has speed on his side, and during the suicide lap drills in Training Camp, even came out on top of the pack on a few rounds.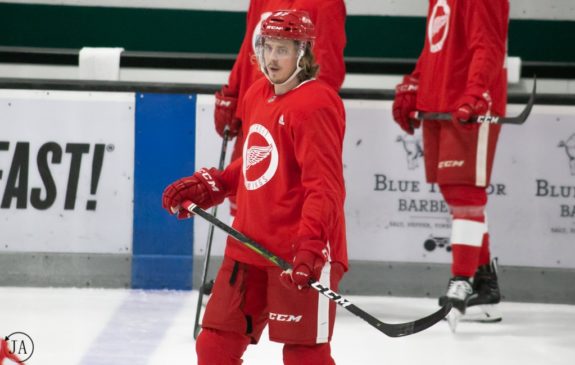 Libor impressed not only Jeff Blashill, but his future teammates as well. Thomas Vanek of the Detroit Red Wings, told MLive, "If you can skate like that, you better join (the rush). I wish I had a quarter of his speed…" Sulak, at the age of 24, has an opportunity in the regular season to take his place on the blue line for good. His size is an added benefit to the Red Wings, who have several smaller skaters (Filip Hronek, Joe Hicketts) vying for the open defensive spots. He creates his own momentum on a rush that has the potential to be a very lethal defensive/offensive combination. Having earned a few points during the preseason, including a breakaway goal, Sulak is showing immense potential.
Eying a Red Wings Roster Spot
Entering the regular season, of course, the roster will change quite a bit as the weeks progress. Sulak at this point isn't guaranteed a place. However, in the absence of defensemen Jonathan Ericsson, Mike Green, and Niklas Kronwall, Sulak along with his cohorts will have a unique opportunity to fill a big void.
Measuring up in size to the competition, Libor could very well be ready for the jump to the NHL. He has more collective experience than the others in question. It is not to discredit any of them – I would love to see all of them in the lineup this season. However, the physical presence and skating ability of Sulak is needed on the Detroit blueline. Sulak is in tune with the pace of the game and knows how to use his size to create offense. His skating will be his biggest asset going into the regular season. The Red Wings have several fast skaters, so to add power to the blueline in terms of speed as well as control, would be just another added bonus for the developing team.
He is at a disadvantage due to his inexperience with North American hockey, however, he has proven to be adaptable. Whether Blashill decides to keep him as a roster spot or not, he'll be a valuable asset to have ready and waiting. If he's not with the Red Wings, Grand Rapids will have a place for him with Brian Lashoff being out for at least a month. If he remains with the Red Wings, I am confident he'll improve his point production and be a wall of defense as the season progresses.
I am a Detroit Red Wings prospect journalist for Access Hockey MI covering the Grand Rapids Griffins and Toledo Walleye prospect development. Draft analyst for USHL hockey with the Muskegon Lumberjacks.