Detroit Red Wings defenseman Mike Green has recently been diagnosed with a liver-attacking illness, sidelining him indefinitely. The Red Wings have more spots than ever needing to be filled, and young stars are making convincing cases throughout the preseason. Filip Hronek, a golden boy in the eyes of Red Wings management, will almost certainly earn a roster spot this season. Now that Green is out of the picture for the time being, the next deserving defensive choice would be undoubtedly, Joe Hicketts.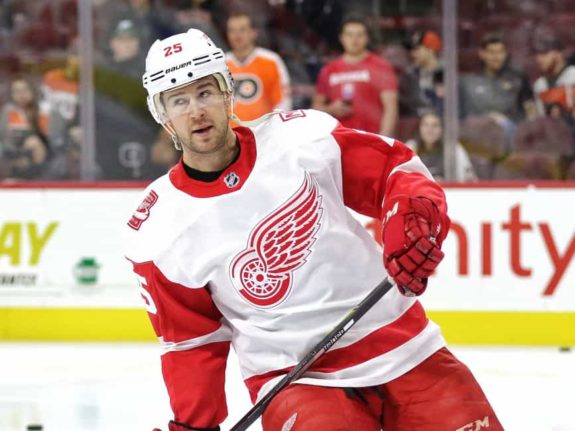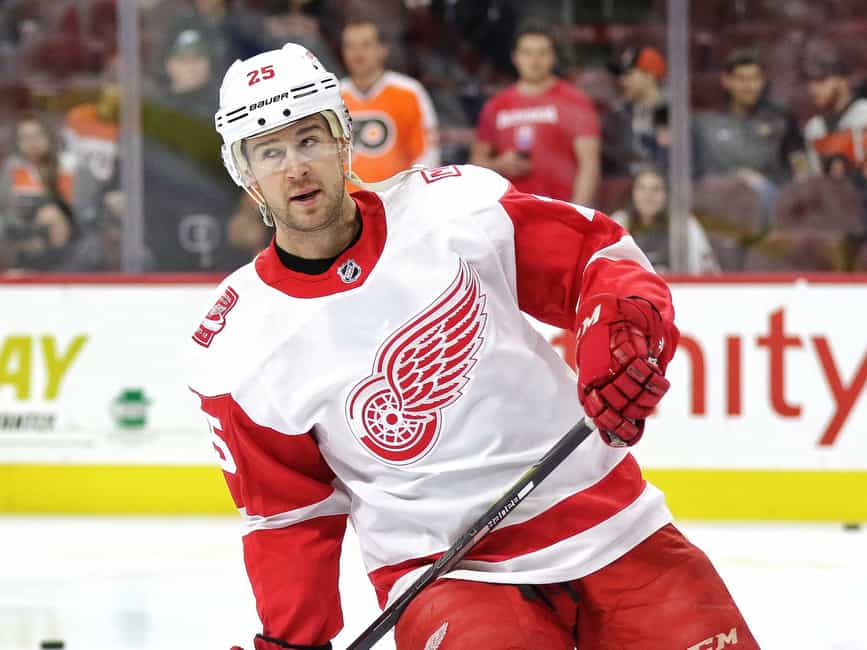 The short-stack defenseman has been working around the clock long before taking the NHL for the first time. Hicketts was invited to participate in the NHL Prospect Tournament proved to be the turning point in his career. Coming off of an incredible season with the WHL Victoria Royals, where Joe served as captain, he finished his 2015-16 season with 61 points in 59 games—as a defenseman. Let that sink in for a minute.
I was at the Prospect Tournament that season and recall seeing Hicketts take the ice for the first time in a Red Wings jersey. I have never seen such a compact person with so much drive. My first thought was that he was like a cannonball. Small but deadly. He'd drive the net, check any guy no matter how large, and he always came out of board battles with the puck. His mom sat in front of me, and as I gushed about how incredible of a player he was, she was heartily nodding her head in agreement. She had every reason to do so.
Hicketts Making His Case
Following the tournament, Hicketts signed a three-year entry contract with the Red Wings and was assigned to Grand Rapids. He instantly became a crowd favorite. The 2016-17 season, Joe put up 34 points in 73 regular-season games and went on to tally eight points in 19 postseason games. He was instrumental in the Calder Cup victory for the Griffins that season and made numerous game-saving plays—including acting as goaltender a few times.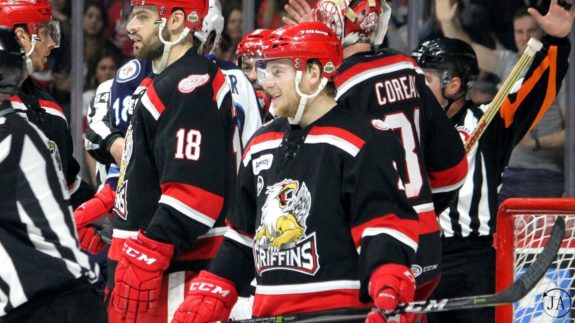 The drive that drew the eye of the Red Wings management during the tournament is still heavily focused on him now. Hicketts stole the hearts of many doubters during his NHL debut in 2017-18. Joe earned three points in five games played with the big club. Following his debut game, Red Wings head coach Jeff Blashill told the Detroit Free Press, "He doesn't look like an NHL player. Now some guys break the mold because of character and heart and swagger. I think he's a guy that can potentially break the mold of what successful NHL defensemen are. We'll see."
Spots are vacating and as of now, Hicketts has an opportune moment to prove himself further. He has skated in several preseason games and has put himself in every situation and come out successfully, proving his physical ability and hockey sense. He is a tenacious and fearless player.
Better Than Hronek?
There is no denying Filip Hronek has immense talent; however, Joe is a veteran at this stage. He has discipline and composure and has shown consistent leadership on the ice. Hronek had an incredible rookie season in the AHL— scoring 39 points—and has a lot of promise. Hicketts has the advantage over Hronek in the sense that his maturity level is higher.
Though most wouldn't consider that an asset, as many hotheads have been amazing players, Hicketts is a well-spoken teammate as well as good representation of the organization. Hronek has the foundation but has a ways to go with his on-ice maturity. Hronek gets fired up, which can derail him at times. So I'm not mistaken, I'm not saying Hronek is a hot head — he's just flustered a little more easily.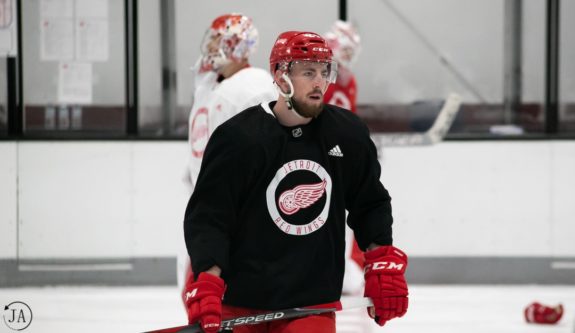 Hronek and Hicketts both have remarkable skills, but in terms of expectations for a pro, Hicketts is dominant. Joe is familiar with the grueling schedule, physical expectations, and responsibility of being a pro. He will be entering his third season in AHL and has only improved since his rookie season.
A Head Above the Rest
Hronek will most likely get a roster spot right out of preseason—there's little argument about that. Since Green will be down for quite a while, hopefully not as long as it seems, Detroit has a myriad of options to fill the void. Libor Sulak, Dennis Cholowski, and Vili Saarijarvi are all very talented skaters with well-rounded abilities, but I would be astonished if Detroit opted for one of these young men. They are all talented but in need of work in the physical and strategic areas of the game. The AHL is a good place for them in the coming season.
Developmentally, Joe Hicketts stands a head above the rest (yes, that's a short joke). He's a creative skater who has packed on quite a bit of weight since joining the Griffins. Often paired with Dylan McIlrath or Brian Lashoff, two of the largest defensemen on the team, Hicketts has been taught to manage large bodies using what he has. Skating by two large and veteran defensemen has improved his technique and playmaking ability in demanding situations. The other defensive players, given a season or two, will be ready as well. Joe is ready now.
From Kamloops With Love
Now entering the third season of his entry-level contract, Hicketts is at a point in his game where he can be lethal on the ice. He's a leader and plays as such. He's determined, hardworking and has an advanced understanding of his game. Detroit has a very deep defensive talent pool, all of which will be good options in the future. The Kamloops-native knows that in order to overcome what people see on the exterior, being that his a pocket-sized player, he has an enormous game. He can match the physicality of the game and produce. In the absence of Green, Hicketts would be the best choice.
I am a Detroit Red Wings prospect journalist for Access Hockey MI covering the Grand Rapids Griffins and Toledo Walleye prospect development. Draft analyst for USHL hockey with the Muskegon Lumberjacks.