Just over a year ago it was a big surprise to many of the team's fanbase when it was announced that Blake Coleman had made the New Jersey Devils opening night lineup. Fast forward to the present day and it's hard to fathom the Devils lineup without Coleman, who just turned 27-years-old. After four seasons at Miami University and less than a full season with their AHL affiliate when it was in Albany he has carved out a role for himself in the NHL through hard work, determination, and speed for days. Not bad for a 3rd Round pick (75th overall) at the 2011 NHL Draft.
Self-admittedly he has always been a slow starter, but 125 games into his NHL career he has found a home in New Jersey. "For whatever reason, I've done this at every level. I've made my way onto the team with being detailed and responsible, and then kind of built upon it year after year," Coleman told The Hockey Writers after a recent home game. "It was the same story in college, juniors, all the way up. Maybe it's confidence, maybe it's just learning things here and there as you play in a league, understanding where the time and space is and bearing down on the chances you do get. I'd like to keep that pattern going."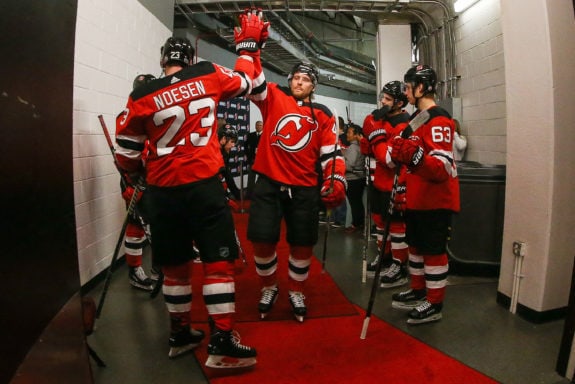 Cool Hand Blake
He's been a crucial part of their penalty kill since game one last season and in 79 games Coleman finished with 25 points (13g-12a) including three shorthanded goals. This season in only 23 games he already has 14 points (8g-6a) and two shorthanded goals. Though the Devils haven't gotten off to the hot start that they did last season, not much of that blame can be placed on the Plano, Texas native.
His 14 points are good enough for third on the team, his eight goals rank him second, as a plus-6 that also ranks him second, his 62 shots on goal is third on the Devils, and he's the only player on the team with a shorthanded goal. "It's (been) good," said Coleman of the start to his season. "There's always things I'm looking to improve on and get better at. I feel like I'm starting to show a little bit more of an offensive upside, even compared to last year. I think that's good. I want to keep focusing on being responsible, killing penalties, and doing the things that makes me me. If I can contribute offensively it's going to help this team win games."
[Insert obligatory pickle reference]

Blake Coleman with the shorty for the #NJDevils. pic.twitter.com/tsf7e51h5Z

— MSG Networks (@MSGNetworks) November 27, 2018
Kind of a Big Dill
As many fans know he recently launched a community platform, Pickles Pals, which supports the Salvation Army Boys and Girls Club of Newark Ironbound for the betterment of Newark's youth. He also created his own merchandise and pickle juice line, P20, to raise funds to support charities throughout the Newark community. This all came about last season when he was noticed sipping pickle juice in the penalty box during a game to combat cramping.
If you ever wanted to know the story behind the Pickles and @coleman20_shop, here it is. Thanks for covering it, @theathleticnyc and @cmasisak22. https://t.co/7C8ryKC8ml 🥒🥒🥒

— Blake Coleman (@BColes25) November 16, 2018
Back on the ice, the Devils need to start picking up the pace and keep up with their Eastern Conference rivals in the standings if they hope to replicate their playoff qualification from last season. "We need to pick up points; it's still early but points matter and we need to pick up wins against divisional teams. We stressed that from the beginning and we didn't come up with it," said Coleman after an overtime loss to the New York Islanders on Hockey Fights Cancer Night.
"I think our start was nowhere near it needed to be and it obviously put us behind the eight-ball. I thought our guys battled back in the second, had a better period and then found a way to get a couple of tying goals," he told THW. "It would've been nice to pick up the extra point in OT but at least we fought back (and tied it) in the last ten seconds."
The speedy Texan picked up an assist in that game on Brian Boyle's goal that tied the game early in the third period. "It's meant to be man. It's his day and I'm happy for him. I'm sure that one felt really good, and obviously, it was his first game back from injury. It just seems like it's one of those things that was written in the stars," he said of his teammate who was declared cancer-free prior to the start of the season.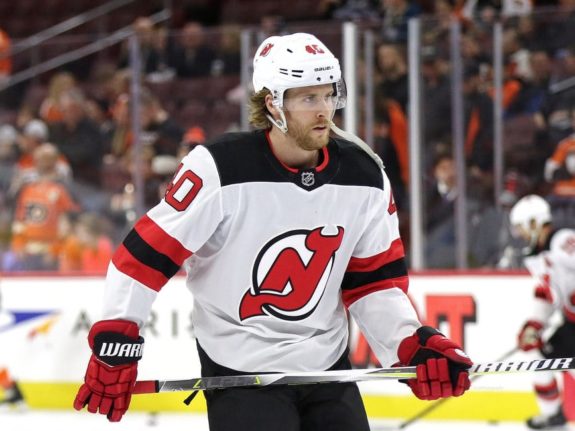 "I was shooting for a tip. I picked my head up and there was a lot of traffic in front (of the net). I just tried to shoot to the side with two lefties there, I just tried to put it on their forehand side and Boyler made a nice play on it."
Coleman's performance last season earned him a new three-year contract that will pay him $1.8 million in each of the three seasons. It seemed like a bargain for New Jersey at the time and with each passing game (and the escalated salaries throughout the league) it appears like a win-win for both sides.