When Cory Schneider signed a seven-year extension with the New Jersey Devils in July of 2014, he became the new face of the franchise. He had a career save percentage (SV%) of .923%, making him one of the NHL's top goalies. He had big shoes to fill as the successor to Martin Brodeur, but it looked like he was up to the task.
A little over four years into that contract and things haven't gone as envisioned. Schneider's play has fallen off a cliff, and he's struggling to make ends meet as an NHL goalie. Injuries have also become a problem, with him making no more than 40 starts last season. How can the Devils remedy the situation and help him become a meaningful part of the team again?
Schneider's Decline Accelerating
Schneider's poor play dates back to the 2016-17 season. His SV% has been below .910% since then, and it continues to regress. He has a .863 SV% this season and hasn't picked up a win in any of his five starts.
His struggles began to take a more significant turn for the worse during the second half of last season. He began 2017-18 looking like his old self and had a .920% SV% heading into the New Year. In 12 starts after the holiday, he had a .863 SV% and a 0-10-2 record. Add those losses to this season and he's 0-15-2 in his last 17 regular season starts.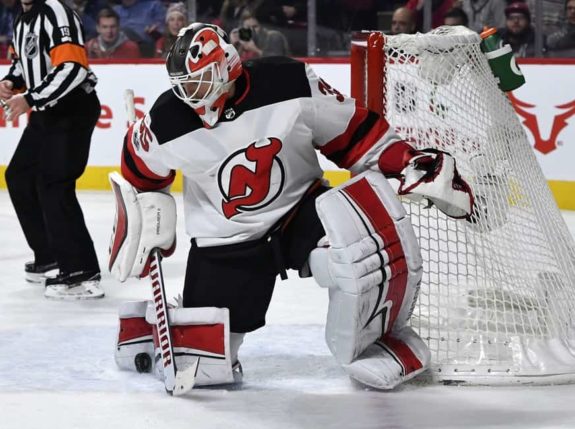 One of the biggest reasons for Schneider's rough start to 2018-19 has been his high-danger SV% (HDSV%) at five-on-five. From 2013-14 through 2017-18, he had an HDSV% no lower than .789%, with .848% being the highest in 2014-15. Through six games played, he has an HDSV% of .666%. Only Andrey Vasilevskiy and Alex Stalock have a worse HDSV% ( > 200 minutes played) this season.
The Devils do a good job of limiting high-danger chances against, but Schneider has to make high-danger saves when needed. The team has an expected goals-against (xGA) of 14.88 in all situations with him in net but have allowed 25 goals against. He also has a goals saved above average (GSAA) of minus-8.29 in all situations. That's in the bottom five of the league (> 200 minutes played) and further demonstrates his struggles.
The Devils Need to Help Schneider Out
Sunday's 5-2 loss to the Tampa Bay Lightning was a microcosm of how things have gone for Schneider. He made a poor decision playing the puck early in the first period, and things unraveled from there.
"It's tough when your goalie gives away the game in the first period," Schneider said to reporters. "It's not fair to my teammates. This team is hard enough to play in their building to spot them a 4-1 lead. It's just disappointing for me. The first period is all stuff I've been working on. I've been working on the exact things that they scored some of their goals on. I have to figure that out and give my team a chance."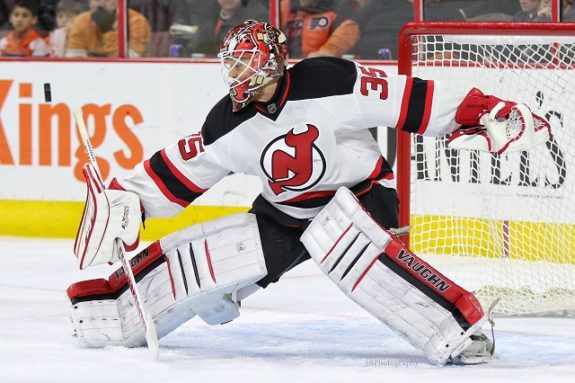 Schneider was understandably hard on himself, but it's difficult to blame his woes entirely on him. The team has played noticeably worse in front of him. For example, the Devils gave up two goals in the first 30 seconds of a 2-1 loss to the Carolina Hurricanes on Nov. 18 because of two defensive miscues.
He hasn't had luck on his side, either. In their 5-2 loss to the Lightning, his teammate Sami Vatanen fired a slap shot past him (yes, you read that correctly) after he whiffed on a clearing attempt. Couple those mishaps with his struggles to make timely saves, and it's snowballed to the point where he's posting below replacement-level numbers.
Related: Devils Need Healthy Schneider and Consistent Kinkaid
What Should the Devils Do With Schneider?
For a goalie that's making $6 million a season, the Devils need Schneider to perform much better. His numbers dating back to the second half of last season don't even cut it for an AHL goalie. I wouldn't count on him posting a plus-.920 SV% again, but the Devils don't need that. If he can give them league average goaltending, it would make a huge difference.
If Devils general manager Ray Shero doesn't think Schneider can give them average goaltending, then he could look to trade him. But how many teams would be willing to take on a goalie who's signed through the 2021-22 season with a cap hit of $6 million and is posting replacement level numbers? The answer is not many if any at all.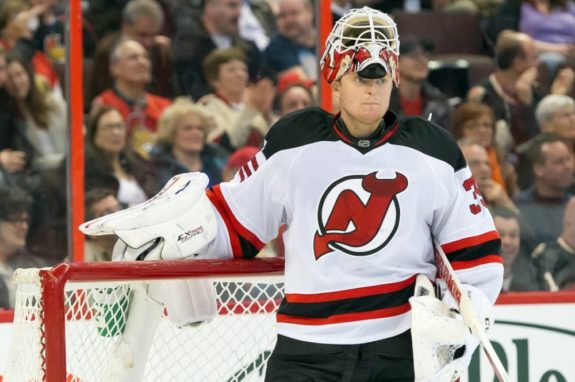 Another option to consider is giving Schneider sheltered starts. The Devils have been a significantly better team at home than on the road. All five of his starts this season have come on the road and against difficult opponents. A start or two at the Prudential Center against an opponent that is struggling, or they've had success against in the past seems logical and could help him feel more comfortable in net.
There is no easy answer to this situation. Schneider hasn't been good for a while, and things aren't going to change overnight. It's possible he came back too early from offseason surgery for a hip issue, and that he still needs to get into a rhythm after a long layoff. If he can regain some semblance of his first half of 2017-18, it'll help mend the situation. But there's still a long way to go before getting there. And with the Devils at the bottom of their division, they need it to happen sooner than later.
*    *    *
Advanced stats from Corsica Hockey, Evolving-Hockey