The Carolina Hurricanes have three goaltenders. They've needed all three since Scott Darling suffered a hamstring injury just before the season. Petr Mrázek, who was brought on in the offseason, was front and center. Curtis McElhinney was added presumably as a temporary backup.
Goaltending is the area that needs improvement the most if the Hurricanes want to seriously make a run at postseason play. Lately, McElhinney has been providing that improvement. I asked him recently if he is trying to be number one or playing a role. McElhinney said,
I don't know where this team's at right now with their decision making and if they want to make a clear-cut decision. It's more just an opportunity, I guess to get in there and provide some quality games for however many games that ends up being. If it's not here, hopefully, there's a job somewhere else. It just comes down to playing well when you get that chance.
Since that time McElhinney has provided two more quality games and has played well when given the chance. So well in fact, that he has separated himself from Darling and Mrazek as the guy who has earned the starting goalie job. The goalie hierarchy is management's call. Right now, they should be calling McElhinney the starter.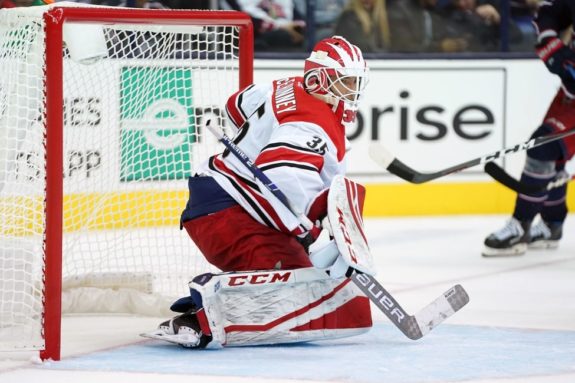 It's only Nov. 24 and there is still a lot of hockey to be played this season, but most felt that McElhinney's services would be short-lived. Whether they assumed that he'd be gone by American Thanksgiving or not doesn't matter. What does matter is that McElhinney has played his way into being considered at the starting goaltender for the 'Canes.
How Did the Hurricanes Get Here?
A quick review of how the team got here reveals three things: First, Darling didn't apply himself last season and cost the team dearly. He has admitted that he showed up in Raleigh in the 2017 offseason completely unprepared and out of shape. Luke DeCock of the Raleigh News & Observer documented Darling's intense workout regime during the offseason, a penance of sorts for letting the team down last season. DeCock summed it up like this:
It's the kind of offseason workout NHL players all over the world are doing to get ready for the season, and it's what Darling apparently wasn't doing last summer when he signed a four-year, $16.6 million contract, came in out of shape, struggled in net and became the single most critical factor why the Hurricanes missed the playoffs yet again (although there were several),
(From "After awful year, Scott Darling tries to rise again. Can he save his career – and the Canes?" The News & Observer – 07/09/18).
At summer's end, all eyes were on Darling. He'd been forgiven and Hurricanes fans were behind him hoping for his success. Ironically, Darling sustained a lower-body injury on Sept. 30 in the team's final preseason game. The 5-4 loss to the Nashville Predators was not nearly as concerning as the instant question mark planted firmly in the Hurricanes' crease.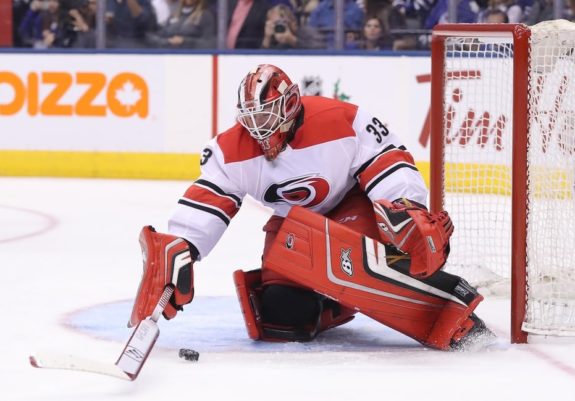 Mrázek Front and Center
Mrazek stepped in and did an okay job. I wrote after he made his debut with the Hurricanes:
Mrázek has shown in the past that he has the skills and the mental toughness to play at a very high level. At times however, he has lapsed into mediocrity, and consistency will be what he needs to help the Hurricanes succeed.
This aptly describes his play with the Hurricanes this season. Mrazek could have grabbed the starting goalie position while Darling was out with his injury. Instead, he has played an average brand of hockey goaltending.
Many may be disappointed in how he was playing before he sustained a groin injury in a match against the Arizona Coyotes on Nov. 2. Mrazek has a 3-3-2 record this season with a 2.76 goals-against average (GAA) and a save percentage of .880 (SV). He is hanging right in there with Darling who has a record of 2-3-1 and a GAA of 2.99 and an SV of .903. Neither's stats are impressive.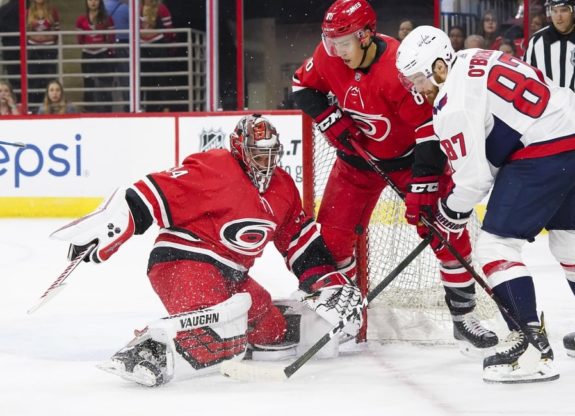 McElhinney is Earning a Spot by His Play
Neither goaltender has lit it up, turned heads or made the statement that they deserve the starting job. By not distinguishing themselves, they've left room for McElhinney to let his play advocate for him to be a clear choice.
He knows that he is most commonly thought of as a journeyman. He's played in the league since 2007 and is with his seventh team. But, he is not playing like a 35-year-old on the back side of his career. McElhinney's GAA is 2.25 this season and his SV is .919.
Curtis McElhinney might just be the new full time starter for the @NHLCanes. Dude absolutely deserves it

— Britton Phipps (@PhippsBritton) November 22, 2018
No one would call him an elite goaltender. He might not make the list of top five backup goalies. But, McElhinney can be characterized as pretty good. His 6-2 record has helped the Hurricanes get back to a decent spot in the standings. Most importantly, in four of his six wins, he has held the opposing team to under three goals. In fact, in three of those four, he only allowed one goal.
This is huge because whenever Darling is playing, it feels like their opponent is going to get at least three goals. There is a similar feeling when Mrazek is playing. McElhinney is giving the team confidence which helps them play better as a unit. This has not been the case with Darling.
The bottom line is that McElhinney should be given the starter's role and put Darling and Mrazek on the hot seats to demonstrate with their play who wants to stay with the team. The Hurricanes will not make the playoffs giving up three or more goals per game. McElhinney is keeping them under that threshold and putting his team in a position to win. Let him play.
Mark lives in the Raleigh, NC area and covers the Carolina Hurricanes.