Scott Darling, the goalie for the Carolina Hurricanes, took time out from his intense workout regimen to gear up and play some hockey Wednesday night. Although it was a preseason tilt – the second game of a back-to-back against the Tampa Bay Lightning – I was anxious to get a look at the leaner, meaner Darling at PNC Arena. Would he play any better after a commitment to get in shape, something he did not embrace this time last year or would we see the same problems that plagued him last season?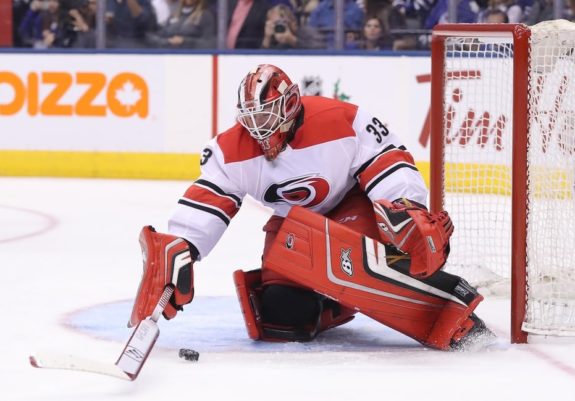 Darling's Apathetic Attitude Last Offseason
During the offseason, Darling has spent his days in self-imposed absolution. He has been on a mission to absolve himself of his apathetic attitude. More specifically, his inability to take things seriously, which characterized his approach to becoming the Hurricanes' replacement for perennial goaltender Cam Ward.
In an article in July spotlighting Darling's workouts, Luke DeCock of the Raleigh News & Observer quotes Darling on his less-than-enthusiastic approach to last season: "I think I just let my foot off the gas and figured it would just work out as is. I learned pretty quickly you can't do that at this level." (From "After awful year, Scott Darling tries to rise again. Can he save his career – and the Canes?" – News & Observer – 7/09/18).
Also last July, in Hurricanes' Scott Darling Doing Work, I wrote that he was doing his best to get in shape for this season, and that should lead to better play. The hope is that if he is in shape and focused, Darling will perform at a higher level than an unfocused, out of shape Darling. For one night during a preseason game that hope came true.
Scott Darling says he weighed in at 225 pounds. Said he played at 250 last year. "This is the weight I was when I got to the NHL. This is a healthy weight for me, where I need to be to maximize my attributes."

— Chip Alexander (@ice_chip) September 13, 2018
Darling and the Game
The 6,007 fans in attendance got to watch a very different Darling. Last season's trademark of flopping on the ice was nowhere to be found. Nor was the on-ice sprawl. He was quick and appeared almost nimble. Darling looked very good!
Granted it's the preseason and the Lightning's roster had one player on offense, Yanni Gourde, that registered 82 NHL games last season. The truth is that Darling faced a squad of players mostly with "AHL" and "OHL" beside their names. But, he did his job and did it very well. He stopped all 16 Lightning shots that he faced.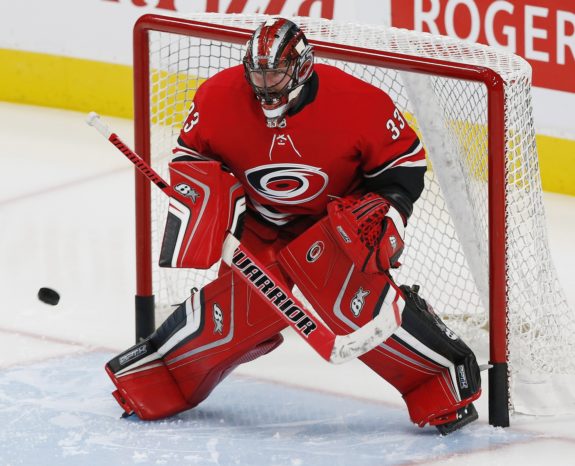 After the game, Darling spoke with the media and said, "It's just good to get on the ice again, to real game-like situations, face some power plays some rush chances. It's just good to be back out there with the guys." Darling also said,
I just felt good. I felt confident. My cardio was better. Overall I just felt sharp.
There is no question that Darling did look much better than he did last season. His 30 minutes of play was not going to make any highlight reels, but he did well. With just four more preseason games before it gets real for Darling and his fellow goaltender, Petr Mrázek, improving and staying sharp will be crucial. Mrázek also left the Hurricanes' game at the halfway point on Tuesday night without giving up a goal.
What lurks in the background of everyone's mind is how Darling will do against the likes of Nikita Kucherov, Steven Stamkos and Brayden Point. How will he fare when Andrei Vasilevskiy is at the other end of the ice standing on his head as he has many times in his short career? These are questions that only the regular season will answer. But, everyone has to like what they saw of Darling on Wednesday night.
Mark lives in the Raleigh, NC area and covers the Carolina Hurricanes.