Sometimes there's a thin line between the skill levels of No. 1 goalies and their backups in the NHL. Not only has it become more common for teams to platoon their goalies in and out, but more and more one-time starters are now finding new life in the NHL as backups, to which this list will attest.
Taking into account stats, careers up to now and overall potential, here are the top five backups in the NHL:
5. Ryan Miller (Anaheim Ducks)
Anaheim Ducks goalie John Gibson is widely considered one of the best goalies on the planet, if not the outright best. So, if his backup, veteran Ryan Miller, is technically putting up better numbers than his, well it stands to reason Miller deserves some accolades of his own.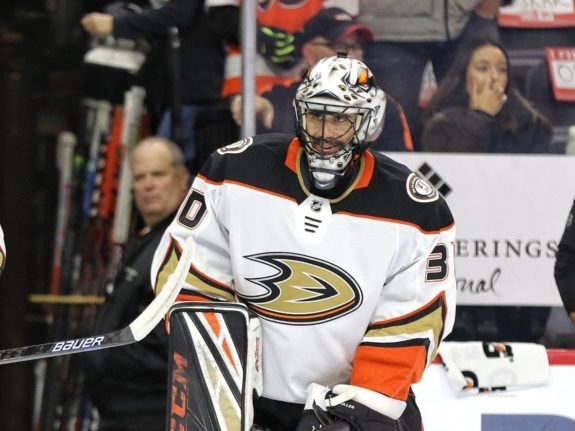 Miller admittedly makes this list in part due to reputation as he has consistently wowed since taking on more of a limited role when he first joined the Ducks in 2017-18. Keep in mind the Ducks as a whole weren't great this season and that's reflected in the duo's overall stats. However, Miller was 9-6-4 with a 3.10 goals-against average and .907 save percentage this past season, while Gibson was only 20-26-5 with a 3.00 GA and .904 save percentage.
Miller is now 39, but the reduced workload relative to his days as a starter can only extend his career from this point forward. He knows how to win, as his Vezina Trophy (2010) proves. One more reason he can hold bragging rights over Gibson, at least for the time being.
4. Jake Allen (St. Louis Blues)
At this point, there's no real hope of Jake Allen becoming the No. 1 goalie everyone envisioned during his early days with the St. Louis Blues. Consistency issues and lack of clutch ability plagued his early tenure with the team. No matter, the role of backup to Jordan Binnington more than suits him.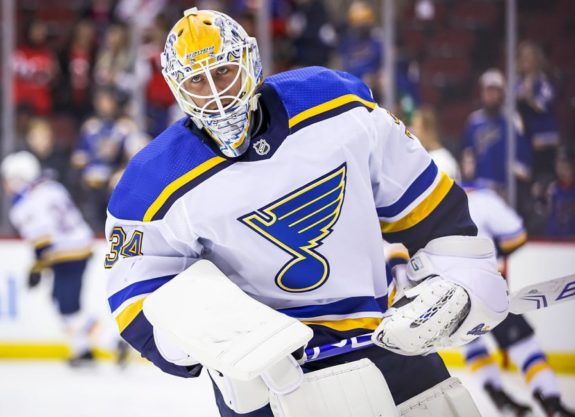 Not only has Allen turned his career around from a statistical perspective, after he went 19-17-8 with 2.83 GAA and .905 save percentage in 2018-19. With the reduced workload and pressure, he has jumped to the top of the heap, as far as backups go with a 12-6-3 record, 2.15 GAA and .927 save percentage, leading even Binnington in the latter two categories.
Allen's only drawback right now is his $4.35 million cap hit up until 2021, a deal that reeks "below-average starter." The Blues can conceivably make do though if he continues to pick up the wins, playing like one of the best backups.
3. Antti Raanta (Arizona Coyotes)
Antti Raanta is another failed starter with an excessive cap hit at $4.25 million. However, whereas Allen seemingly burned out from an effectiveness standpoint, Raanta put up solid numbers after getting traded to the Arizona Coyotes.
Raanta had previously been a solid backup with the Chicago Blackhawks and New York Rangers, from whom he had been traded to the Coyotes with Derek Stepan for Tony DeAngelo and a first-round pick. The idea was for him to become the Coyotes' new starter and he technically delivered, with a 2.24 GAA and .930 save percentage in 2017-18.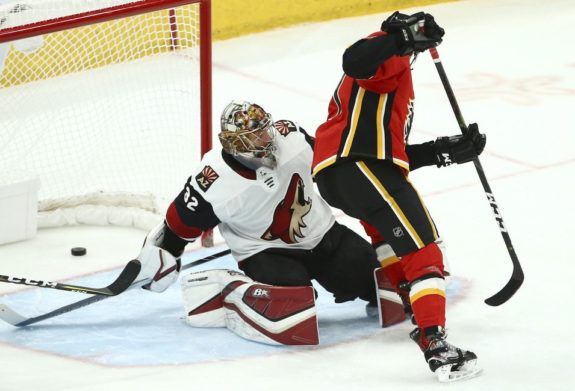 The issue is Raanta played just 47 games that season due to multiple injuries. The following season, Raanta played just 12 as a procedure on a lower-body injury revealed more damage than anticipated, opening the door for Darcy Kuemper. He ultimately stole the job, before falling victim to the injury bug himself this past season, theoretically giving Raanta a shot to retake what was initially his.
Between December and February when Kuemper was out with a lower-body injury, Raanta earned a .922 save percentage, helping the Coyotes stay afloat in the Western Conference playoff race. He only places third on this list, because he was somewhat unsuccessful with a mediocre 9-9-1 record in that time. Sometimes, the best you can hope for out of a backup is to just give you a chance to win. When healthy, Raanta has undeniably done that in spades, regardless of the end result.
Overall, Raanta went 15-14-3 with a 2.63 GAA and .921 save percentage this past season. Kuemper was 16-11-2 with a 2.22 GAA and .928 save percentage, reaffirming that he is more suited to lead the Coyotes from the crease out, but Raanta has nevertheless proven to be a solid backup plan in net.
2. Jaroslav Halak (Boston Bruins)
It was only recently that Jaroslav Halak was stuck in the minors in the New York Islanders organization. He's obviously resurrected his career in a big way with the Boston Bruins to the point that last season he played 40 games for them, blurring the lines between being a joint No. 1 and the backup to Tuukka Rask.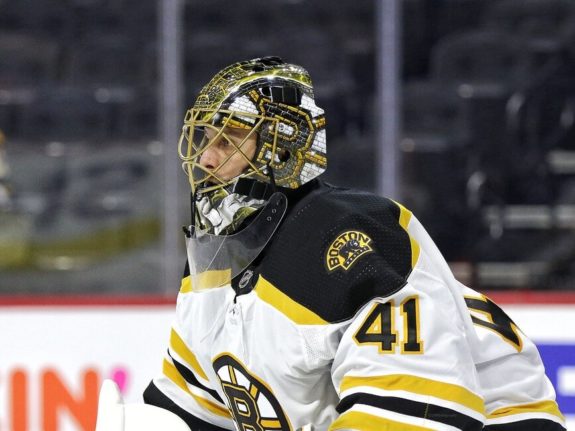 While Rask has regained the No. 1 job on a permanent basis, it's not because Halak has faltered. Rask's been otherworldly with a 26-8-6 record, 2.12 GAA and .929 save percentage. Halak's been "just" elite, unfortunately for him.
At least Halak's 18-6-6 record, 2.39 GAA and .919 save percentage this season are proof he belongs in the NHL. It may just be as a backup, but he'll take it and the unofficial raise he just got from the Bruins. He's earned it.
1. Anton Khudobin (Dallas Stars)
The man nicknamed Dobby, Anton Khudobin, continues to work some magic as Ben Bishop's backup. He may be 34 years old, but he's clearly got a lot left in the tank. Here's hoping he doesn't have anywhere new to travel to, though.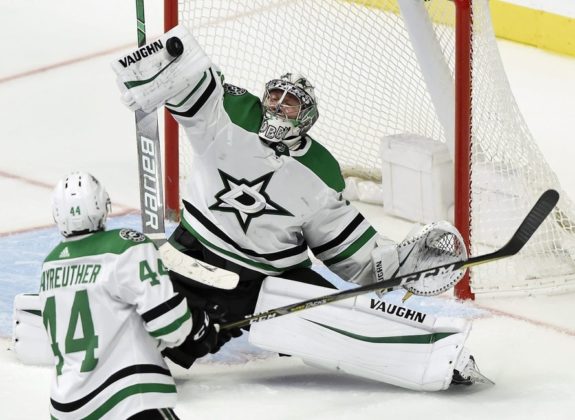 It's his second season in the role, but Khudobin's been in the position before. He's actually served a total of five separate two-season stints for five different teams as their backup (twice for the Bruins). Maybe now's the time the pending unrestricted free agent gets a longer look.
Last season, Khudobin went 16-17-5 with a 2.57 GAA and .923 save percentage. He's 16-8-4 with a 2.22 GAA and league-leading .930 save percentage in 2019-20. The not-so-big "D," who's only 5-foot-11, has still proven himself time and again with a .919 career mark. In other words, he knows what he's doing. If the Stars do, they'll try to re-sign him.