Let's make one thing clear: No one should expect Montreal Canadiens goalie Samuel Montembeault to turn into Dominik Hasek. It's doubtful any do, but there are at least a few worthwhile similarities between the two worth mentioning, in light of Montembeault's rapid ascent into the hearts of Habs fans.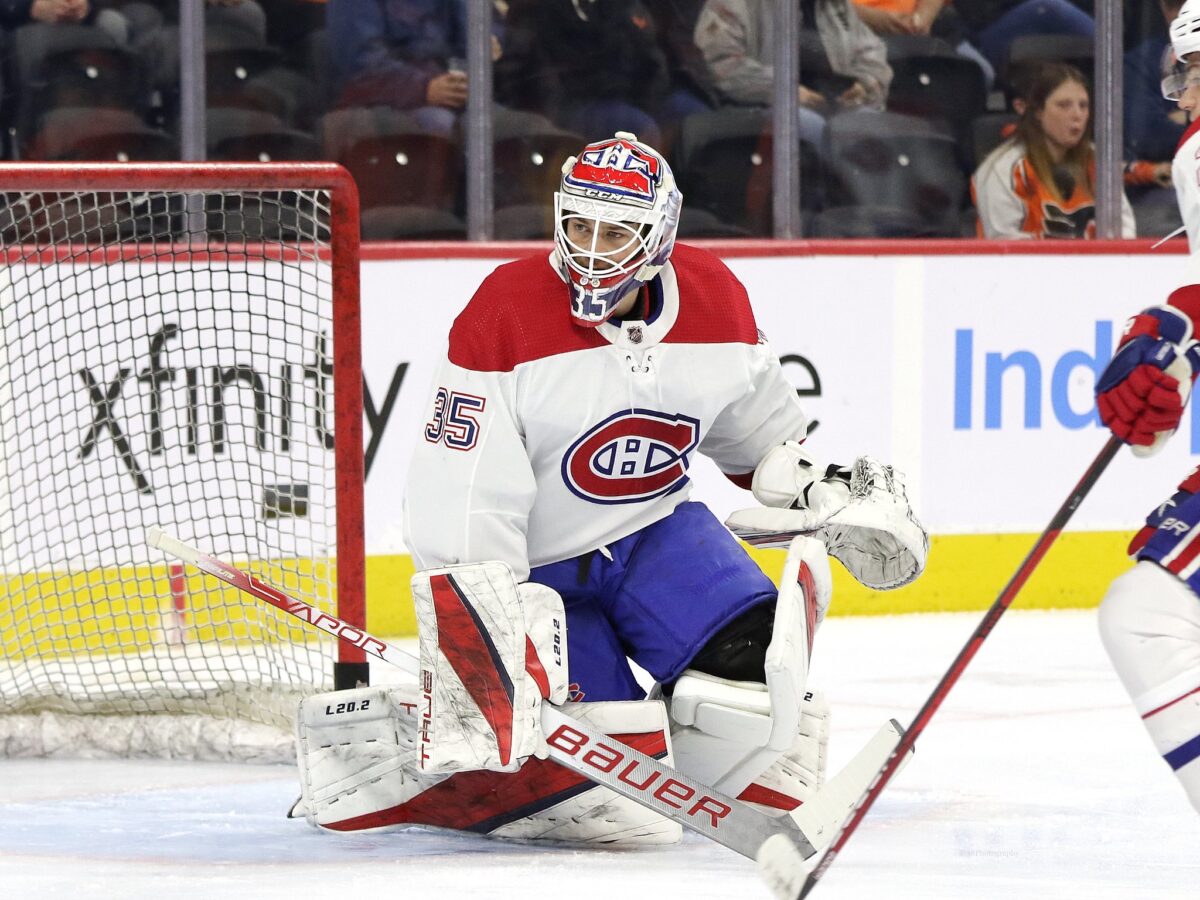 For some context, the Canadiens first acquired Montembeault before the start of the 2021-22 season off waivers from the Florida Panthers. With limited NHL experience up to that point, Montembeault, now 26, was seen, at least logically, as little more than an insurance policy… just one the Canadiens would come to need.
With Carey Price missing all but five games that season, Montembeault was thrust into the role of backup to Jake Allen. With Allen playing just 35 games though, Montembeault actually played the most of all three (38). However, even though his compete never came into question, he ended up with a stat line you'd expect of someone getting their first extended look in an NHL crease at 25, playing in front of an undermanned team that went on to set a man-games lost record and finish last in the league no less.
Montembeault finished with an 8-18-6 record, 3.77 goals-against average (GAA) and .891 save percentage (SV%). This season, he's fared much better, specifically in posting a .909 SV%, outplaying Allen, who was effectively re-signed to be the team's No. 1 goalie during the rebuild. Montembeault's even stood on his head for stretches, including a recent seven-game heater from Jan. 9-21, during which he earned a .934 SV%.
Overall, Montembeault's a respectable 10-10-2 with a .909 SV% (and 3.19 GAA, which speaks more to the team in front of him or lack thereof). The fact Montembeault is at .500 for all intents and purposes is undeniably impressive considering the Habs are where they are in the standings, i.e., low. The play of the team's goalies is arguably the only reason they're not vying for last overall.
Related: Canadiens Goalies Allen, Montembeault the Big Difference for Habs
It's prompted some to suggest Montembeault may be the No. 1 goalie for whom the Habs have been looking to replace Price. If he is, which is a — forget big — huge "if," it will have been a very circuitous path to success as an established NHL goalie for a player who had been an American Hockey League (AHL) mainstay up until last season… circuitous, but far from unprecedented.
Take Hasek, arguably the best NHL goalie in history, as just one example. Hasek only reached the NHL in late 1990 with the Chicago Blackhawks on the verge of turning 26 himself. It took an eventual trade to the Buffalo Sabres (for Stephane Beauregard) and a few seasons for him to first become an undisputed starter and then hit his stride and become the Dominator of legend. It was of course a different era, but, over his first three seasons, Hasek had an .896 SV%. The next, in 1993-94? One of .930, ending his career with one of .922 (and six Vezina Trophy wins).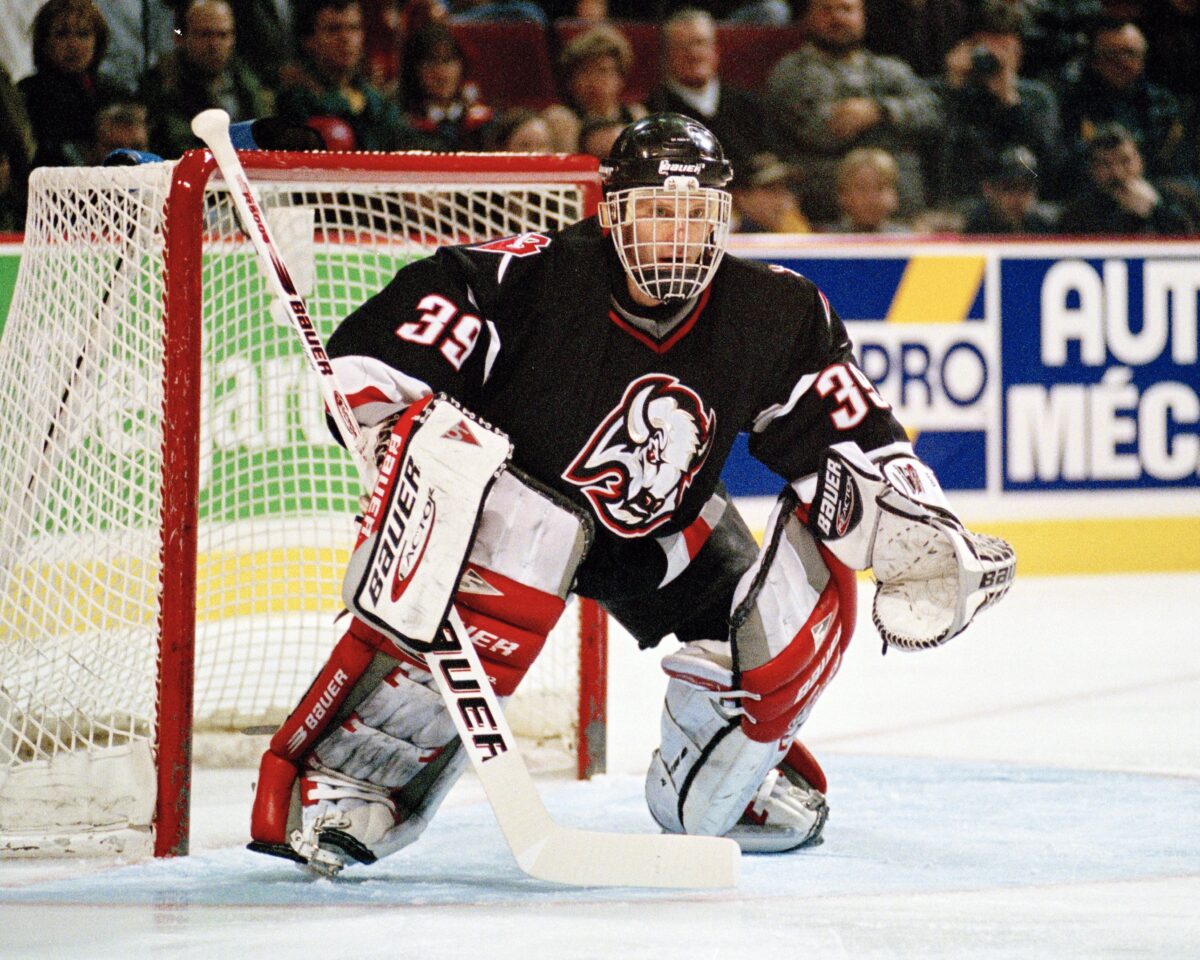 Now, just to reiterate, Montembeault is not Hasek, nor should anyone who expects to be taken seriously ever compare the two with a straight face. So, here are three examples of current NHL goalies who make for comparisons to Montembeault that are a tad more realistic:
Jordan Binnington (St. Louis Blues)
In some respects, the Canadiens should hope Montembeault doesn't develop into St. Louis Blues goalie Jordan Binnington. After all, since leading the Blues to the 2019 Stanley Cup, his SV% has had more in common with a tree meeting a lumberjack than a goalie meeting the NHL.
That fateful 2019 season, during which Binnington coincidentally stole the No. 1 job from Allen, he went 24-5-1 with a 1.89 GAA and a .927 SV% as the Blues almost impossibly surged from last place to a championship victory. Binnington was undeniably (and justifiably) the story, based on his long road to the NHL. Drafted 88th overall at the 2011 NHL Entry Draft, Binnington got in only one NHL appearance between that point and the start of his rise to stardom, a journey that includes a 40-game ECHL stint in 2013-14. Hell, he only got his first career start in the NHL 2019. That's the stuff of which movies are made.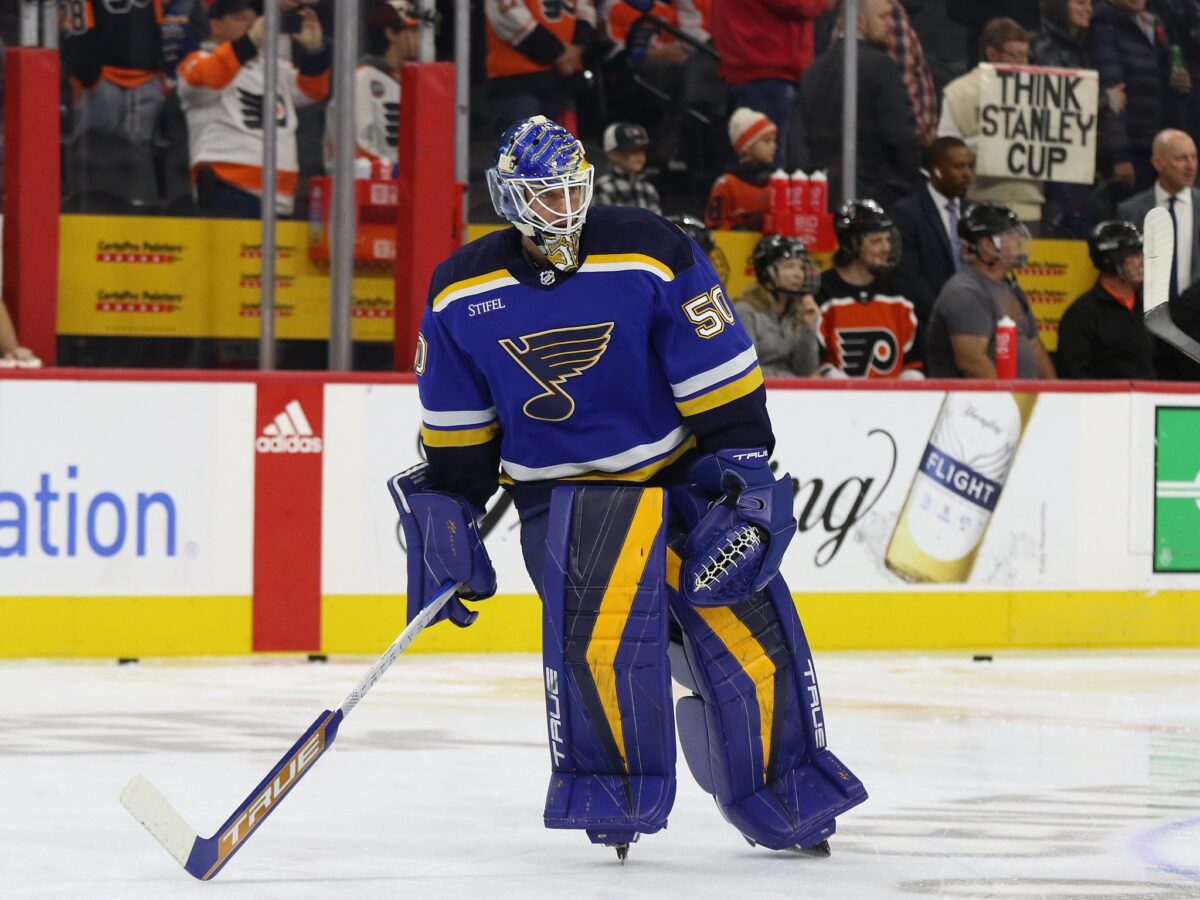 However, Binnington's kind of taken his role in his own underdog story a bit too seriously, as if he's hoping for a sequel, in that his SV% has gone down every season since. He's currently sporting one of .892. Unfortunately, having signed him to a six-year, $36 million deal in 2021, the Blues are stuck with him to the point his backup in 2021-22, Ville Husso, despite posting vastly superior numbers and appearing in more games during the regular season, was allowed to hit free agency.
So, Binnington serves both as proof that, sometimes, all a career minor-leaguer needs is a chance… and that you shouldn't count on flashes in the pan panning out. Of course, it does present the intriguing hypothetical question: If Montembeault does end up leading the Canadiens to a championship from out of nowhere, would you accept the big-money contract that comes with the victory along with a potential ensuing fall from grace? Many probably would, but who could blame them?
Vitek Vanecek (New Jersey Devils)
Like Montembeault, Vitek Vanecek is now on his second team, after having effectively struck out with his first, the Washington Capitals. Actually, officially speaking, Vanecek's New Jersey Devils are his third team, after the Caps reacquired him from the Seattle Kraken, who selected him in the NHL Expansion Draft. The Caps then traded the pending restricted free agent to the Devils at the 2022 NHL Entry Draft, for what amounts to a third-round pick, which was… curious.
---
Latest News & Highlights
---
Vanecek had posted decent numbers with the Capitals in the NHL over two seasons, earning a .908 SV%. More than that though, look to the five seasons leading up to his 2020-21 debut. After drafting him at No. 39 overall in 2014, the Capitals brought the Czech goalie over to North America for the 2015-16 season, during which he played 32 ECHL games.
Overall, the Capitals invested those next five seasons developing him in the minors, only to turn around and trade him, eventually cutting ties with their other goalie, Ilya Samsonov, too. Evidently, the Capitals decided to clean house in between the pipes last offseason, going with a duo of Darcy Kuemper, who had just won the Cup with the Colorado Avalanche, and ex-Hab Charlie Lindgren.
To his credit, Vanecek's had more success than the other three this season, four if you count Mackenzie Blackwood, whom he's usurped for the No. 1 job with the Devils. No question, Vanecek's been impressive for the Devils, with a 22-5-2 record, 2.34 GAA and .916 SV%. His career trajectory has been that much more so, though.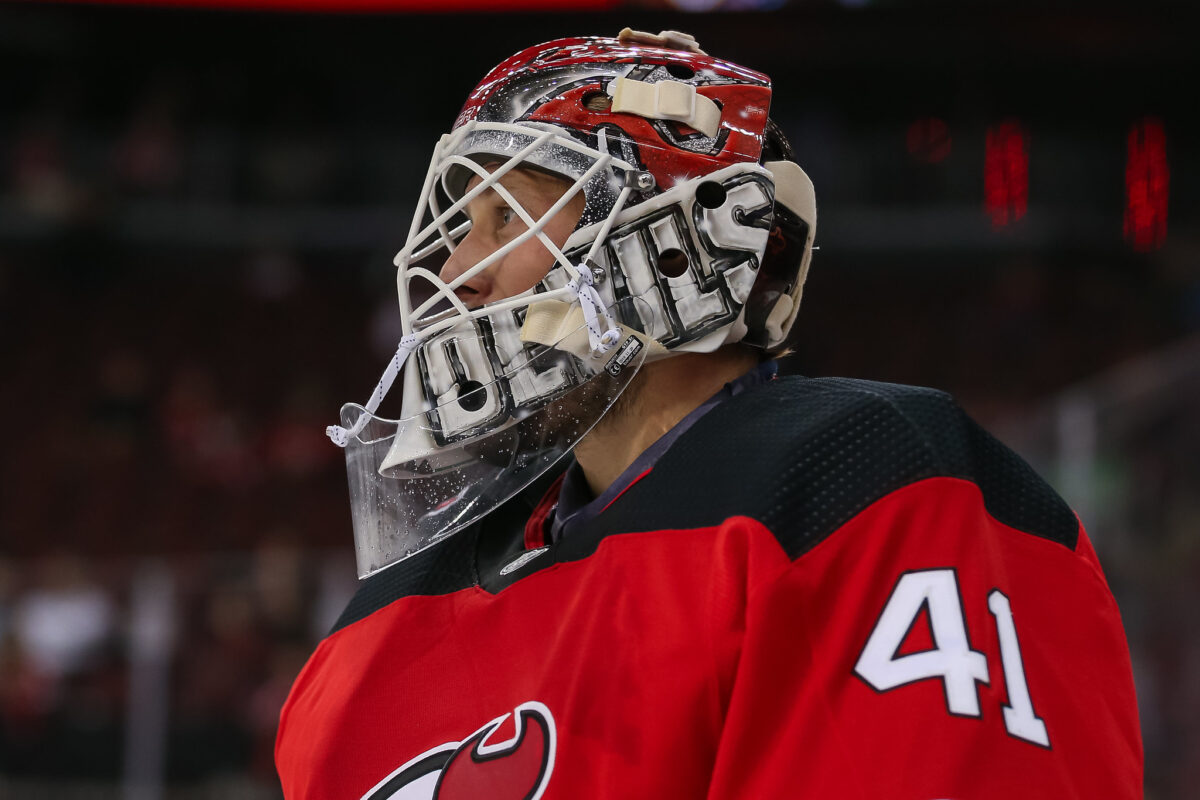 With the Capitals having signed Henrik Lundqvist in 2020 and Samsonov the projected backup, Vanecek wasn't exactly in their immediate plans. And, if not then, after so many seasons in the minors, when? However, then Lundqvist had to withdraw his services for the season due to a heart condition (ultimately retiring). So, Vanecek suddenly found himself in the mix as Samsonov's backup… eventually playing a team-leading 37 games that pandemic-shortened season.
Montembeault can certainly relate in that regard, even if his Habs debut came a season later. As Vanecek is one draft year older, it makes one wonder if Montembeault is similarly a season away from taking the reins as a No. 1 in his own right.
Logan Thompson (Vegas Golden Knights)
Similar to Montembeault, Vegas Golden Knights goalie Logan Thompson still has a lot to prove. Similar to Montembeault, he's been thrust into the position in which he now finds himself due to injury. Both No. 1 Robin Lehner and backup Laurent Brossoit started the season out due to hip injuries, the former set to miss the entire season.
As a result the Golden Knights were forced to go with an inexperienced tandem comprising Adin Hill (acquiring him in the offseason from the San Jose Sharks) and Logan Thompson, the Knights' third-string goalie. Now, Thompson wasn't a complete uncertainty, in that he won the 2020-21 Aldege "Baz" Bastien Memorial Award as the AHL's best goalie. He also played 19 games for the Knights in 2021-22, going 10-5-3, with a 2.68 GAA and .914 SV%.
Even so, it's not like anyone could have realistically predicted a) Thompson turning into a legitimate No. 1 goalie, let alone an All Star as a rookie or b) the Golden Knights leading the entire Pacific Division without their two top goalies heading into the season. As it turns out, maybe B isn't accurate, based on how Thompson's fared this season. To be fair, Hill hasn't exactly been a slouch, but, with a 20-13-3 record, 2.66 GAA and .914 SV%, Thompson's forcing the Knights' hand.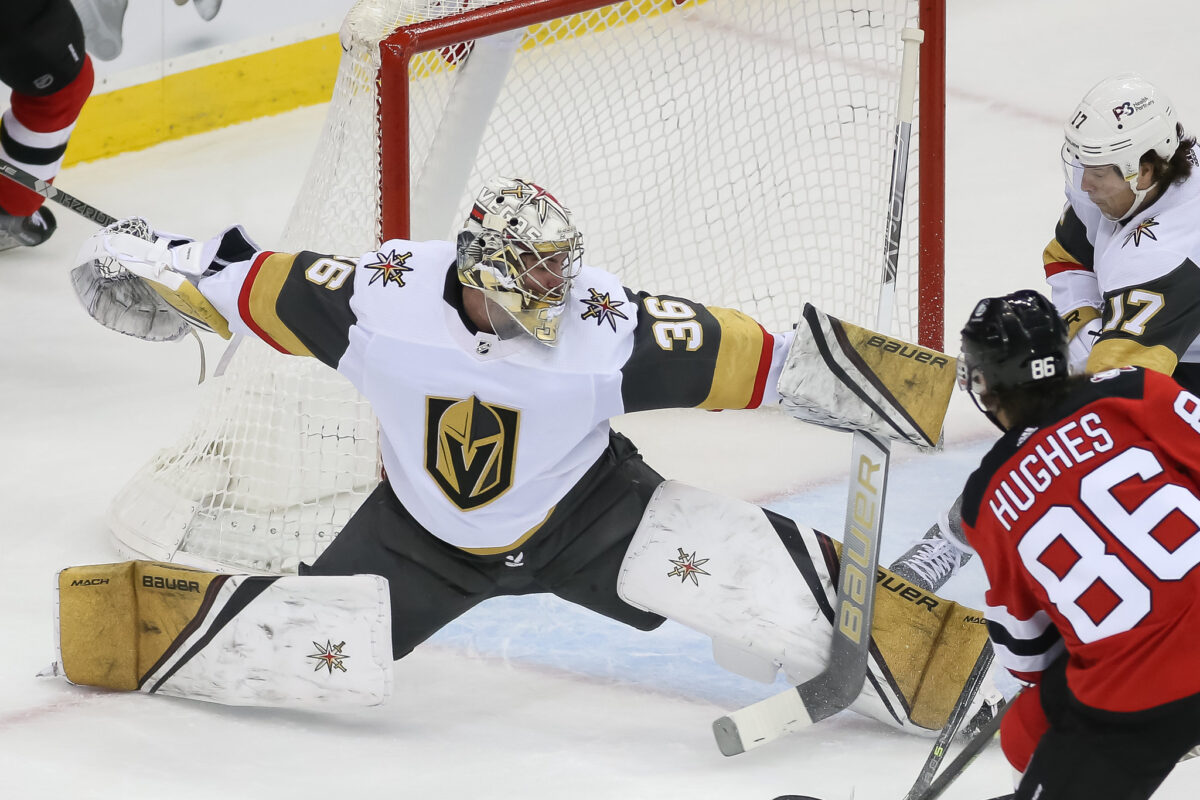 Hard decisions will have to be made once Lehner returns, in other words. Hill and Thompson have effectively already rendered Brossoit obsolete, as the latter's stayed in the AHL once healthy. Granted, an injured Thompson left the Knights' 5-1 win over the Minnesota Wild on Feb. 9, so don't speak too soon. Even so, Thompson's been a relative revelation. He did admittedly have upside entering this season. However, considering he's an undrafted 26-year-old, who had spent the vast majority of his professional career in the minors heading into 2022-23, he's exceeded expectations to put it mildly. He's also maybe the goalie on this list with the most unlikely path to success, Montembeault included.
So, it's not outside the realm of possibility that Montembeault could put together a similar success story, at least if he were playing on a first-place team himself. As Canadiens general manager Kent Hughes recently went on record as saying he wants Montembeault to stick around, Canadiens fans might get to see firsthand if he lasts the length of the rebuild. At the very least, Montembeault should realistically continue to play a prominent role during it, playing better and better with increasing regularity.
There are no guarantees Montembeault beats out Allen for the right to be this team's No. 1 for right now though, considering the commitment the Canadiens have made to the latter. However, there's no longer any ignoring Montembeault's potential, especially taking into account the above three examples. 
Montembeault's not an elite talent, but the Canadiens don't need one. They can build a powerhouse team around an everyday goalie. Having effectively been forced into that role for two seasons now, Montembeault's proven to be at least that recently, proving doubters wrong in the process. In time, he can, emphasis on "can," prove to be more. All he needs is a chance. He's getting one as we speak. More to the point, he's earned it.