The Toronto Maple Leafs had a big offseason, one that included signing John Tavares, naming Kyle Dubas as general manager and the ongoing William Nylander contract dispute. When the season finally started, those three things set the tone for the 2018-19 season, but somehow, the backup goalie became the main subject of debate among fans.
Should the Maple Leafs stick with the 35-year-old career backup Curtis McElhinney, who just had the best season of his career, or should they give one of their two NHL-ready goalies from the Toronto Marlies a chance, Garret Sparks or Calvin Pickard? Since all three goalies needed to clear waivers to be sent down, the Maple Leafs had to choose who their backup goalie was going forward.
The choice was Garret Sparks, who had just come off a Calder Cup win and was named AHL goalie of the year, but it came at the cost of waiving McElhinney and Pickard, who were both claimed off waivers. People were quick to criticize choosing Sparks over McElhinney, who had been fantastic, but Sparks has settled into the difficult backup role and is showing that he's the right choice to back up Frederik Andersen.
Comparing the Three Netminders
The choice between the three, because they had all been great, came down to the future. Who could Leafs management see being their backup behind Andersen for years to come?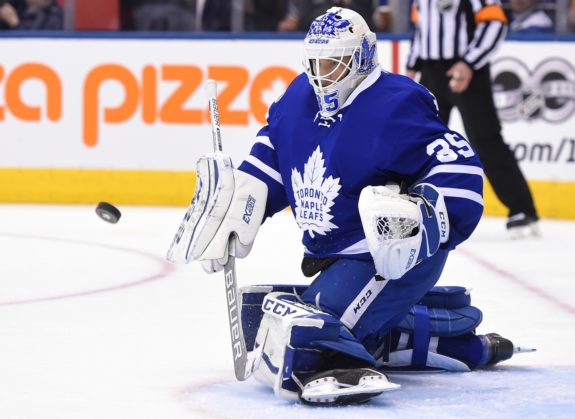 McElhinney came to the Maple Leafs when they claimed him off waivers from the Columbus Blue Jackets during the 2016-17 season. The Leafs weren't very pleased with how Jhonas Enroth was performing so they took a chance on McElhinney and it paid off wonderfully with two great seasons with the Maple Leafs.
The Leafs picked up Pickard in a trade with the Vegas Golden Knights to help shore up their goaltending depth. Not only did he have years of experience in the AHL, but he also had experience as an NHL backup for the Colorado Avalanche.
Sparks was a seventh-round pick of the Leafs from all the way back in the 2011 NHL Draft who took the long way to get to where he is today, from returning to junior to splitting time between the AHL and the ECHL until he cemented himself as the Marlies' starting goalie.
If the choice was between Sparks and Pickard it was the right call to stick with the player that had been through every level of the organization as opposed to a player that had just been brought in.
Backups Sparking Debate
Sparks didn't help his situation by having a terrible first game of the season against the Chicago Blackhawks, where he allowed six goals on 31 shots. Luckily the Maple Leafs pulled out a 7-6 win in overtime, but the damage was done.
Then in his third game, which was against the Boston Bruins, Sparks let in five goals on 34 shots. Unfortunately, in the game against Boston, the rest of the team did nothing to help Sparks as they couldn't shut down the Bruins top line.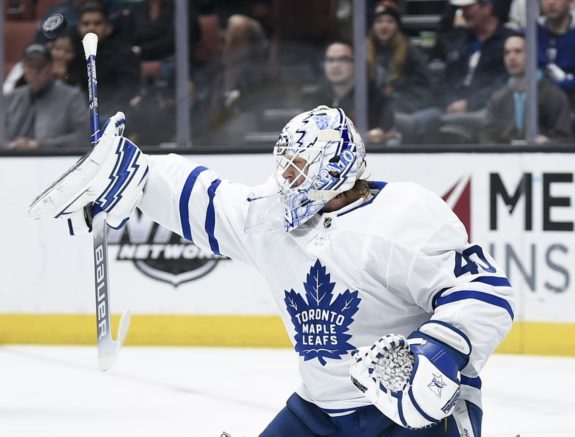 Despite those two dreadful outings Sparks has otherwise been solid in net. Through five games, Sparks has a 4-1-0 record and a 2.57 goals-against average along with a great .924 save percentage. And then there is the 34-save shutout against the Philadelphia Flyers, which was his second NHL shutout since his NHL debut in 2015-16.
Meanwhile, McElhinney was claimed off waivers by the Carolina Hurricanes and he has worked his way to becoming the starting goalie. Of the three goalies that the Hurricanes have used this season, McElhinney is the only one with a winning record and a save percentage over .900. Through nine games McElhinney has a 7-2-0 record, a 2.12 goals-against average and a .930 save percentage.
Carolina has long struggled to find decent goaltending, so it's come as a welcome surprise that a waiver claim would become their starting goalie and give them a chance to win every night.
Then there's Pickard who was claimed off waivers by the Philadelphia Flyers, who much like the Hurricanes have struggled to find reliable goaltending. Unfortunately, Pickard is having a rough time in Philly.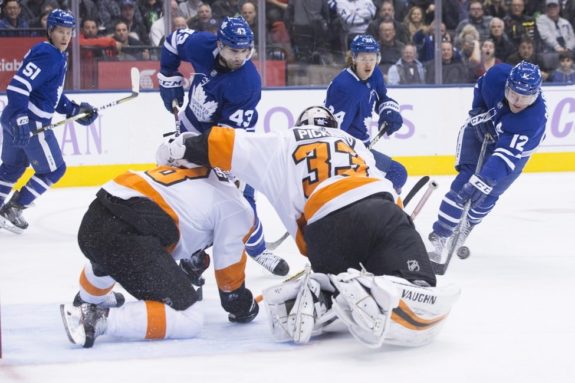 Through eight starts and 11 games played he has a 4-2-2 record and an awful 4.01 goals-against average and an equally terrible .863 save percentage. It also didn't help that Pickard was in net for the Flyers when they were shut out against Sparks and the Maple Leafs with Pickard being pulled after allowing four goals on six shots. Pickard's time in Philly is making everyone forget that there ever was a debate between him and Sparks for the backup spot.
Sparks as the Clear Choice
We all knew that McElhinney was a placeholder for one of the Marlies' goalies so it was an inevitability that he would be replaced. It just happened sooner than many of us expected because the waiver situation forced management's hand.
Despite his critics, Sparks has played as well as expected from a Maple Leafs backup and is posting similar stats to McElhinney. In McElhinney's first five games last season he had a 3-2-0 record, a 2.44 goals against average and a .925 save percentage which is almost the same as Sparks' stats this season.
With Sparks' matching McElhinney's performance it's clear that Dubas made the right call.