Building from the net out is the essential recipe for success for any NHL franchise. You're only as good as your goalie is. Many of the elite teams around the NHL this season (Washington Capitals, Chicago Blackhawks) are in their current position because they have received quality goaltending from both their starter and backup. The Carolina Hurricanes have not.
'Canes fans were optimistic when acquiring Eddie Lack from the Vancouver Canucks for spare parts (2015 3rd round pick, 2016 7th round pick). It seemed as if the Hurricanes had a legitimate 1-2 punch between Lack and veteran goalie Cam Ward. However, the Hurricanes failed to even receive league average goaltending and can thank their current predicament, being six points out of a playoff spot, on lackadaisical goaltending.
The league average save percentage currently stands at .911 but the Hurricanes have only received a .902 save percentage between their two goalies. A 2.65 goals against average, 16th in the league, can be attributed to bad play by the tandem. These below average stats come despite the 'Canes allowing the fewest shots in the league at 26.8 shots against per game.
Cam Ward will hit unrestricted free agency come July 1st and it would not be prudent for the team to re-sign an aging, declining goaltender despite his history with the club. Eddie Lack may not be ready for full starting duties and top goaltending prospect Alex Nedeljkovic is still another 2-3 years away from making the club.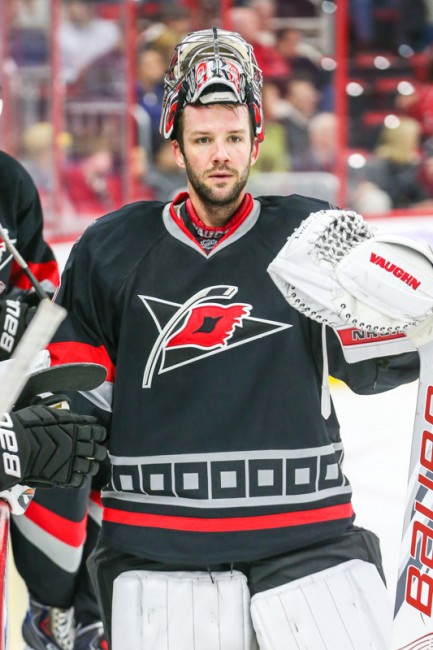 A quick fix may not be in the books necessarily unless general manager Ron Francis is willing to take risks. The Hurricanes are currently ranked tied with the Toronto Maple Leafs for first in number of draft selections in the 2016 NHL draft at 12 selections. It would be prudent and beneficial if the Canes packaged together one of their first round selections or multiple later round selections in order to upgrade at the goaltending position.
Solution
The NHL salary cap is not projected to rise as much as originally projected so many teams around the league will look to cut down on salary which will make many players available on the open market. The Hurricanes will need to be aggressive on the trade market in order to surround their young core with talent.
There have been cases in which trading draft picks for goaltending has paid off. Former New Jersey Devils general manager and current Toronto Maple Leafs general manager Lou Lamoriello packaged a first round pick to acquire Corey Schneider from the Vancouver Canucks and it has paid off big time for the Devils ever since with Schneider currently ranking in the top of most goaltending statistics. Ron Francis must also be aggressive when it comes to goaltending if the Carolina Hurricanes have any chance of competing in 2016-17 and beyond.
Featured image was provided by Amy Irvin / The Hockey Writers