Locally, the Columbus Blue Jackets have a loyal following that has endured some of the darkest of times in their brief history. Even with just two playoff appearances and no series victories since their initial season, fans have irrationally, at times, stuck by their team.
While the Blue Jackets have a level of popularity on the local level, the same can't necessarily be said on the national level. Although there are Blue Jackets fans in many places, the following just isn't the same as it is with more established teams (See Blackhawks, Chicago).
Anytime you listen or watch the national media, on occasion there might be something about the Blue Jackets. Various programs on SiriusXM will have some Blue Jackets personalities on, such as Jeff Rimer, Aaron Portzline, and others. So they are a topic of discussion, but not nearly at the level of any team in Canada or most markets in the United States.
Although the Blue Jackets will miss the playoffs again this season, their relevance is slowly starting to increase, not only at the local level but at the national level. There is more interest in this team on a wider scale than anytime I can remember. One of the main reasons for that is head coach John Tortorella.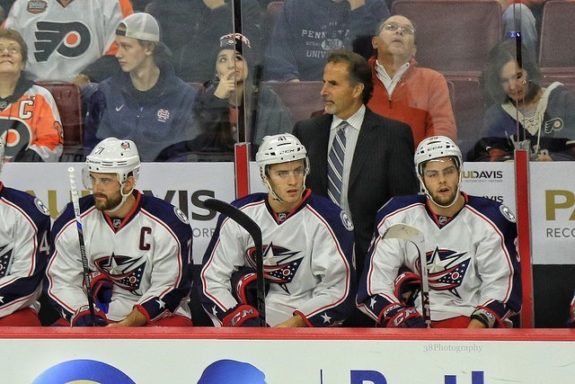 When the Blue Jackets announced Tortorella as their head coach, the reaction it received from those around the country was something to see. Some were happy to see him back in the game while others immediately assumed that his earlier hijinx would eventually return. The crowd was split on what could happen. Regardless, he immediately gave the team a level of relevance rarely seen in their history. Fans, media, and the like were now paying attention to this team because Tortorella was there. Just look at the media scrums when he speaks.
Saturday night's 6-0 loss to the Philadelphia Flyers was one of the worst games the Blue Jackets have played since Tortorella took over. Many (myself included) were expecting some type of meltdown. It was interesting to see what Tortorella would say. To the surprise of some, he didn't say anything controversial. He told the media that the game tape would never see the light of day. He kept it composed and to the point. Moments like this prove that he has learned from earlier mistakes (See Hartley, Bob). He is genuinely happy coaching in the league again, after saying he felt like he had his last chance.
Still, as long as Tortorella is behind the bench, the Blue Jackets matter more than they've ever used to. This is just the beginning for them.
Torts isn't Torts anymore. Just said "I already told the coaches to throw the tape out."

— Dave Isaac (@davegisaac) March 6, 2016
A More Important Type Of Relevance
While Tortorella brings a level of respect, a more important type of relevance has slowly crept into the Blue Jackets locker room. It's the kind that comes from playing good hockey. Winning makes you important, no matter what place you're in.
The Blue Jackets have a young team. But this young team has major potential. Yes, Blue Jackets fans have heard this narrative before. The summer was full of promise, only to have October and November crush their dreams yet again. This situation feels different from the rest, for one simple reason. Name a time in Blue Jackets history in which they've had this collection of young talent together at the same time. You won't find a time.
It starts on defense. The Blue Jackets added Seth Jones as a potential anchor on their blue line. Jones along with Ryan Murray and Zach Werenski provide the Blue Jackets a young core to build around. That is not to say they will hit their full stride next season, but it's easy to see why in 2-3 years this group could make an impact.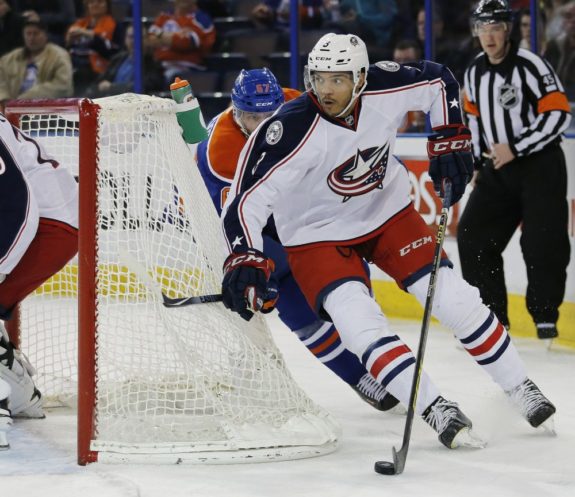 Now look up front. Boone Jenner just signed a new contract after having a career year this season. He along with Alex Wennberg and Brandon Saad lead the way for the future of this team. The Blue Jackets will soon have youngsters Oliver Bjorkstrand and Sonny Milano join them when they are ready. And Columbus gets another potential top-10 pick this June. The plan is in place. Once this talent starts consistently winning games, others will notice.
This season hasn't done anything to stop the process. The Blue Jackets sit in a good place for the future. Soon, the hockey world will see what the fans already get to see every day. There's no better time to rock the Blue Jackets jersey as it is now. The future is brighter than ever.